Two Sawyers, 81 Lambeth Palace Road, Lambeth SE1
Lambeth pub history index
The address is 18 Palace Road in 1869, and Palace New Road in 1851 and earlier. It is also given as Bishops Walk in 1825 and before, an earlier name for the same street. *
A listing of historical London public houses, Taverns, Inns, Beer Houses and Hotels in the Lambeth parish, Surrey, London. This includes Kennington, Brixton, Lambeth, Norwood, Peckham & Waterloo Road.The Lambeth parish, Surrey, London Public House Trade Directory uses information from census, Trade Directories and History to add licensees, bar staff, Lodgers and Visitors.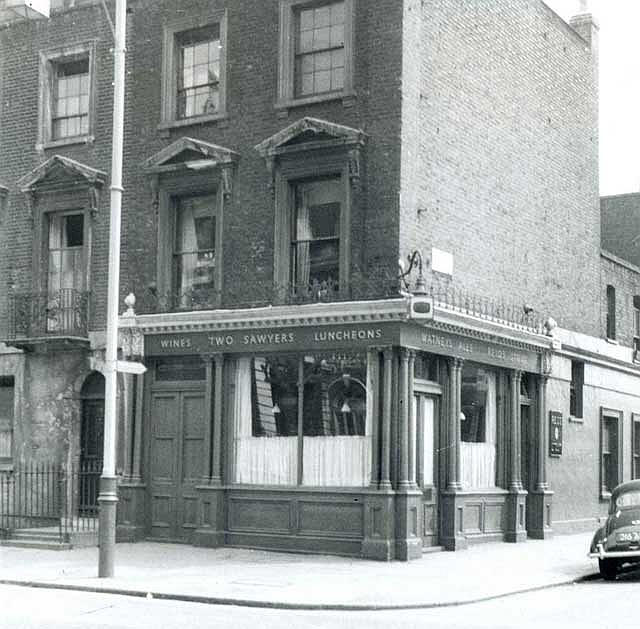 Two Sawyers, 81 Lambeth Palace Road, Lambeth - circa 1960
Kindly provided by Fred Roll
Residents at this address.
1792/James Agnew/victualler/../../Sun Fire Office records held at the London Metropolitan Archives *

1805/M Agnew, Two Sawyers, Bishops walk, Lambeth/../../Holdens Directory

1825/Mr Nelson/Two Sawyers, Bishops Walk, Lambeth/../../Licensed Victuallers Association

1825/Mercy Nelson/Two Sawyers, Bishops Walk, Lambeth/../../Victuallers Recognizances

1841/Edward John Carter/../../../Post Office Directory *

1843/William Dangerfield/Two Sawyers, Palace New road, Lambeth/../../Post Office Directory

1848/Thomas Smith/Two Sawyers, Palace New road, Lambeth/../../Post Office Directory

1851/Thomas Smith/Two Sawyers, Palace New road, Lambeth/../../Kellys Directory

1856/William Wright/../../../Post Office Directory

September 1857/William Wright/Outgoing Licensee/../../Era

September 1857/Frederick Parr/Incoming Licensee/../../Era

1869/Richard Prichard/beer retailer/../../Post Office Directory *

1881/John E Jones/Beer Retailer/39/Elsthorpe, Lincoln/Census
1881/Alice Jones/Wife/39/Mildenhall, Suffolk/Census

1882/John Edward Jones/Beer Retailer/../../Post Office Directory

1891/John Edward Jones/Beer Retailer/../../Post Office Directory

1895/Thomas Stokes/beer retailer/../../Post Office Directory *

1899/John Ricketts/Beer Retailer/../../Post Office Directory

1901/John J Ricketts/Publican/35/Bermondsey, Surrey/Census
1901/Julia Ricketts/Wife/35/Stepney, London/Census
1901/Harry Ricketts/Son/14/Hackney, London/Census
1901/Rose Blackwell/General Servant/19/Lambeth, Surrey/Census

1910/John Ricketts/Beer Retailer/../../Post Office Directory

1911/John James Ricketts/Beer House Keeper/44/Bermondsey, Surrey/Census
1911/Julia Sarah/Wife/45/Bow, Middlesex/Census
1911/Albert Henry Tusler/Servant/19/Plaistow, Essex/Census

1914/John Jas Ricketts/Beer Retailer/../../Post Office Directory

1915/John James Ricketts/beer retailer/../../Post Office Directory *

1921/Sidney Hansford/beer retailer/../../Post Office Directory *

1934/John T Carroll/Beer Retailer/../../Kellys Directory

1938/John T. Carroll/beer retailer/../../Post Office Directory *

1944/Joseph Clarence Stone/Beer Retailer/../../Post Office Directory



* Provided By Ewan