Search London wiki and Pub wiki history sites
All public house, restaurants, bars etc closed for the forseeable future from 20th March 2020, but this is a pub history site.
Wellington Arms & Shropshire House, 81 Waterloo Road, Lambeth SE1
Lambeth pub history index
The address is 162 Waterloo Road in 1856 and earlier, prior to street renumbering. * Lord Hill 83 Waterloo Road was incorporated into the Wellington circa 1918 on rebuild *+
A listing of historical London public houses, Taverns, Inns, Beer Houses and Hotels in the Lambeth parish, Surrey, London. This includes Kennington, Brixton, Lambeth, Norwood, Peckham & Waterloo Road.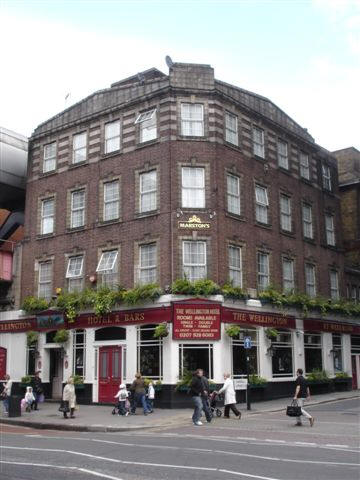 Wellington, 81 Waterloo Road, SE1 - in May 2007
Kindly provided by Stephen Harris
Residents at this address.
1851/Henry Mortlock/beer retailer/../../Post Office Directory *

1856/John Price/beer retailer/../../Post Office Directory *

1869/Mrs Elizabeth Price/../../../Post Office Directory

1871/Frederick H Price/Licensed Victualler/25/Wolverhampton Staffordshire/Census ***
1871/Margaret E Lee/Visitor/27/Ellesmere/Census
1871/Rosina Llyod/Servant Housekeeper Wid/31/Greenwich Kent/Census
1871/Mary E Stevens/Servant Barmaid/24/Farnborough/Census
1871/Mary A Mundy/Servant Barmaid/36/London Middlesex/Census
1871/Richard Wimsett/Servant Potman/23/Ireland/Census
1871/Eliza Granger/Servant Domestic/23/Frimley Hants/Census

1880/Mrs Elizabeth Price/../../../Post Office Directory **

1881/Elizabeth Price/Victualler, Widow/67/Shropshire/Census
1881/Martha Edwards/Housekeeper/26/Shropshire/Census
1881/John J Daniels/Barman/33/Kent/Census
1881/Eugenie Archer/Barmaid/21/Kent/Census
1881/Annie Godwin/Barmaid/20/Wiltshire/Census
1881/Emily Berry/Barmaid/20/Shropshire/Census
1881/Susan Ann Walker/Barmaid/19/Wiltshire/Census
1881/Fanny Crawley/Barmaid/24/Shropshire/Census

1882/Elizabeth Price/../../../Post Office Directory

1884/Elizabeth Price/../../../Post Office Directory

1891/Mrs Elizabeth Price/../../../Post Office Directory

1895/Mrs Elizabeth Price/../../../Post Office Directory *

1899/John Price/../../../Post Office Directory

1910/John Price/../../../Post Office Directory

1911/James Henry Kendall/Public House Manager/52/Wandsworth, Surrey/Census
1911/Mary Jane Clapp/Manageress, Widow/48/Croydon, Surrey/Census
1911/Florence Emma Holmes/Barmaid/28/Waldron, Sussex/Census
1911/Eleanor Elizabeth Rose/Barmaid/23/Croydon, Surrey/Census
1911/Nellie Amelia Elizabeth Horn/Barmaid/18/Twickenham, Surrey/Census
1911/Florence Hanny Luke/Servant/22/Southwark, Surrey/Census
1911/Minnie Clark/Barmaid/27/Camberwell, Surrey/Census

1915/John Price/../../../Post Office Directory

1921/Arthur J. Pry/[Wellington Arms]/../../Hughes Directory *

1929/R W Coman/../../../BT Telephone Directory [HOP 0886]

1930 - 1967/Richard Watts Coman/../../../Kelly's Directory *

1935/Coman's Catering Co Ltd/../../../BT Telephone Directory [HOP 0886]

1938/Coman's catering Co Ltd/../../../Post Office Directory

1944/Coman's Catering Co. Ltd/[Wellington Tavern]/../../Post Office Directory *



* Provided By Ewan

*+ Provided By Bill Rigby

** Provided By Stephen Harris

*** Provided By Bev Howlett



* Provided By Christina