Search London wiki and Pub wiki history sites
All public house, restaurants, bars etc closed for the forseeable future on 20th March 2020, but this is a history site. But how about the landlords give their tenants a break, no business, then please charge them no rent.
Ye Olde White Horse, 261 Brixton Road, Brixton, London SW9
Lambeth pub history index
The 1842 directory places it at Loughborough place, Brixton road; The White Horse, Brixton washway in 1872 and 1878
A listing of historical London public houses, Taverns, Inns, Beer Houses and Hotels in the Lambeth parish, Surrey, London. This includes Kennington, Brixton, Lambeth, Norwood, Peckham & Waterloo Road.The Lambeth parish, Surrey, London Public House Trade Directory uses information from census, Trade Directories and History to add licensees, bar staff, Lodgers and Visitors.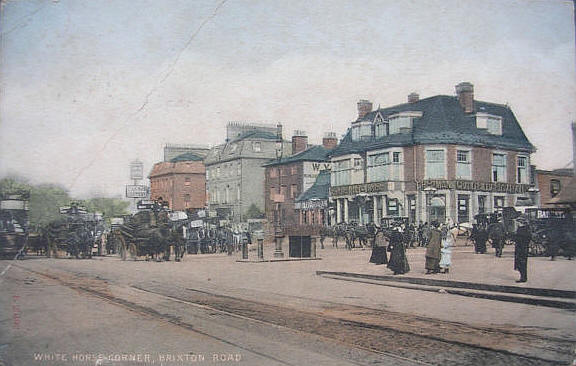 White Horse, Brixton Road - in 1905
Kindly provided by Colleen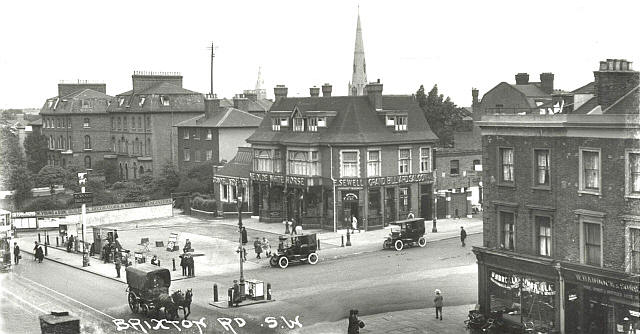 Ye Olde White Horse, Brixton Road - Licensee E Sewell
Kindly provided by John Carnaby
Residents at this address.
1825/Thomas Higgins, White Horse, North Brixton/../../Victuallers Recognizances

1825/Mr Higgins, White Horse, Brixton Washway/../../Licensed Victuallers Association

1833-34/Samuel Hawkes, White Horse, Brixton road/../../Pigots Directory

1836/Samuel Hawkes, White Hart, Alfred place, North Brixton/../../Pigot's Directory

1840/Samuel Hawkes, White Horse, Washway/../../Pigots Directory

1842/S Hawkes/../../../Robsons Directory

1856/Samuel Hawkes/../../../Post Office Directory

September 1855/executors of Samuel Hawkes/ Outgoing Licensee /../../The Era

September 1855/Jane Hawkes/ Incoming Licensee /../../The Era

1867/T S Hawkes & Co/../../../Post Office Directory

June 1872/Sarah B Hawkes and Catherine Ann Hawkes/Outgoing Licensee/../../Era

June 1872/Catherine Ann Hawkes and John Platt/Incoming Licensee/../../Era

1874/H J Reeve/../../../Licensed Victualler & Hoteliers Directory

1878/Mrs Sarah Hawkes/../../../Post Office Directory

September 1878/John Platt, deceased/Outgoing Licensee/../../South London Chronicle

September 1878/Catherine Ann Hawkes and Catherine Ann Platt, trustees of John Platt, deceased/Incoming Licensee/../../South London Chronicle

1881/Timothy Jefferson/Licensed Victualler/48/York/Census
1881/Ellen Jefferson/Wife/36/Sussex/Census
1881/Rose Jefferson/Daughter/20/Sussex/Census
1881/George Jefferson/Son/17/Sussex/Census
1881/Frank Jefferson/Son/14/Sussex/Census
1881/Florence Jefferson/Daughter/12/Sussex/Census
1881/Albert Jefferson/Son/8/London, Middlesex/Census
1881/Lilian Jefferson/Daughter/7/London, Middlesex/Census
1881/Sarah Davey/Grand Mother, Widow/74/Sussex/Census
1881/Frank Russen/Visitor/28/Surrey/Census
1881/Mary Potter/House Keeper/31/Essex/Census
1881/Elizabeth Sharp/Cok/23/London, Middlesex/Census
1881/Minnie Goodwin/Nurse/18/London, Middlesex/Census
1881/Annir Blendon/Barmaid/18/Middlesex/Census
1881/Ninnie McKrees/Visitor/23/Middlesex/Census

1896/Richard Egan/../../../Post Office Directory

1905/William Charles Budd/../../../Post Office Directory

1907/George Herbert Green/../../../Post Office Directory

1911/George Herbert Green/../../../Post Office Directory

1919/Edward Sewell/../../../Post Office Directory

1921/Edward Sewell/../../../Post Office Directory

1934/William Archibald Lashbrook/../../../Kellys Directory

1938/William Edwards/../../../Post Office Directory

1944/White's Catering Inns Ltd/../../../Post Office Directory