Search London wiki and Pub wiki history sites
All public house, restaurants, bars etc closed for the forseeable future from 20th March 2020, but this is a pub history site.
Coachmakers Arms, 88 Marylebone Lane, Marylebone W1
Marylebone index
At 24 Marylebone Lane in 1871 and earlier; It is now called the O'Connor Don (2007). ** The pub has since returned to its original name, as the Coach Makers after a period as the O'Conor Don and then the Conduit of Tybourne (2015). ***
Historical London public houses, Taverns, Inns, Beer Houses and Hotels.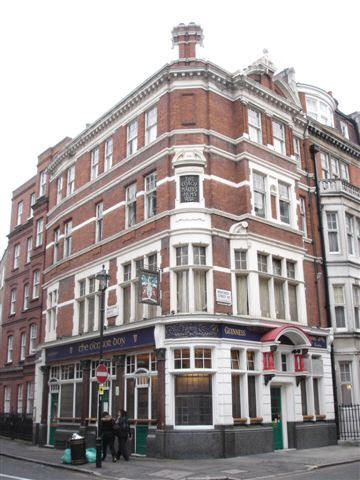 Coachmakers Arms, 88 Marylebone Lane - in January 2007
Kindly provided by Stephen Harris
The following entries are in this format:
1794/William Hanson/victualler/../../Sun Fire Office records held at the London Metropolitan Archives ***

1799/William Hanson/victualler/../../Sun Fire Office records held at the London Metropolitan Archives ***

1825/Mr Hanson, Coachmakers Arms, Marylebone lane/../../Licensed Victuallers Association

1832/John Richard Reid/victualler/../../Sun Fire Office records held at the London Metropolitan Archives ***

1833-34/Thomas Wright, Coachmakers Arms, 24 Marylebone lane/../../Pigots Directory

1839/George Edwards/../../../Pigot's Directory ***

1841/George Edwards/../../../Post Office Directory ***

1842/Thomas Dove/../../../Robson's Directory ***

1843/Samuel Gurney/../../../Post Office Directory ***

1848/Mrs Catherine Gurney/../../../Post Office Directory ***

1851/George Sadler/../../../Post Office Directory ***

1856/George Sadler/../../../Post Office Directory ***

1869/Hy Sharman/../../../Post Office Directory

1871/Henry Sharman/Licensed Victualler/50/Islington, Northampton/Census
1871/Sarah A Sharman/Wife/52/Orford, Suffolk/Census
1871/Elizabeth Cooper/Lodger/59/Newnham, Devon/Census
1871/Louisa Orme/Niece, Assistant/30/Oxford/Census
1871/William Copin/Servant/24/../Census
1871/Caroline Palmer/General Servant/21/London, Middlesex/Census

August 1874/Caroline E Clark/Outgoing Licensee/../../Kilburn Times

August 1874/George R Weyer/Incoming Licensee/../../Kilburn Times

1881/Mary Nagle/Licensed Victualler, Widow/36/London, Middlesex/Census
1881/Jessie Nagle/Sister/18/London, Middlesex/Census
1881/Louisa Clenlow/Barmaid/24/Sydenham, Kent/Census
1881/Ellen Long/Domestic Servant/25/London, Middlesex/Census

1882/Mrs Mary Nagle/../../../Post Office Directory

1884/Walter Smith/../../../Post Office Directory

1891/Jas Anthony Turner/../../../Post Office Directory

1895/Francis Dineen Ancott/../../../Post Office Directory

1899/William Edward Layborn/../../../Post Office Directory

1910/Richard Rosenberg/../../../Post Office Directory

1915/Wm Albert Jarvis/../../../Post Office Directory

1921/William Albert Jarvis/../../../Post Office Directory

1921/Moore & Jarvis/../../../Hughes Directory

T Potter & Co Ltd are also listed at the Park Tavern, Islington

1933/T Potter & Co Ltd/../../../B T Telephone Directory [WELbeck 9311]

1934/T Potter & Co Ltd/../../../Post Office Directory

1934/T Potter & Co Ltd/../../../B T Telephone Directory [WELbeck 9311]

1935/T Potter & Co Ltd/../../../B T Telephone Directory [WELbeck 9311]

1938/T Potter & Co Ltd/../../../Post Office Directory

1944/T Potter & Co Ltd/../../../Post Office Directory

1946/T Potter & Co Ltd/../../../B T Telephone Directory [WELbeck 9311]

1948/Albert J Barkwith/../../../Electoral Roll *
1948/George A Ford/../../../Electoral Roll
1948/Gladys Ford/../../../Electoral Roll

By 1949, T Potter & Co Ltd are also listed at the Old Red Lion, 72 High Holborn

1949/T Potter & Co Ltd/../../../B T Telephone Directory [WELbeck 9311]

1949/Frederick W Baker/../../../Electoral Roll *
1949/Jessie H Baker/../../../Electoral Roll

1951 - 1955/ Frederick W Baker/../../../Electoral Roll *
1951 - 1955/Jessie H Baker/../../../Electoral Roll
1951 - 1955/Alexander Booth/../../../Electoral Roll

1956/Ada F Boddie/../../../Electoral Roll *
1956/Anna D Peck/../../../Electoral Roll
1956/Charles Peck/../../../Electoral Roll
1956/John S Woodall/../../../Electoral Roll
1956/Lillian M Woodall/../../../Electoral Roll

1957/John F Cottell/../../../Electoral Roll *
1957/John S Woodall/../../../Electoral Roll
1957/Lillian M Woodall/../../../Electoral Roll

1959/Walter H March/../../../Electoral Roll *
1959/Edith R Nicholls/../../../Electoral Roll
1959/Peter M Nicholls/../../../Electoral Roll
1959/Joan V Saunders/../../../Electoral Roll



* Provided By Jon Pamplin and Chris Dunn

** Provided By Stephen Harris

*** Provided By Ewan