Rising Sun, 87 Sidney Street, Commercial Road, Mile End E1
Mile End Pubs history
Address formerly 1 Sidney Street. ** The photograph on the 3rd January 1911 depicts the Rising Sun at the corner of Sidney street and Stepney way.
The landlord is P Goldapple. This is the Siege of Sidney street, police have cordoned off the road keeping the public back in Stepney Way
while Scots Guards (from the Tower of London) fight heavily armed Latvian anarchists, holed up in number 100. The events were filmed by Pathe News and shown in cinemas the next day.
The pub closed some time in the mid 1930s, but much of Sidney street was destroyed during WW2. If you compare the 1941 and 1942 directories, many buildings disappear during this time. ***
A listing of historical public houses, Taverns, Inns, Beer Houses and Hotels in Mile End, East London - in East London.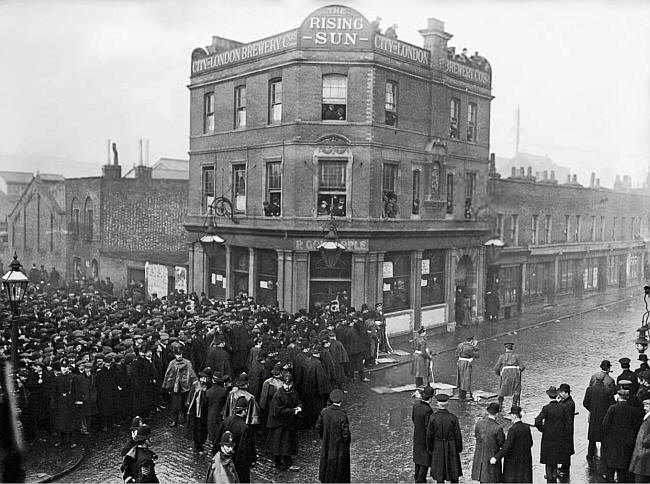 Rising Sun, 87 Sidney street & Stepney way, Mile End E1 with landlord P Goldapple, during the famous Siege of Sidney street.
Kindly provided by Vincent O'Loughlin
Residents at this address.
1827/Thomas Ellis, Rising Sun, 2 Sidney street, Commercial road/../../Pigots Directory

1833-34/Henry Fearon, Rising Sun, Sidney Street, Whitechapel road/../../Pigots Directory

1842/H Fearon/../../../Robson's Directory **

1842/Henry Fearon / Public House Keeper /../../Proceedings of the Old Bailey **

December 1848/Catharine Goss, late Catharine Brannon/Outgoing Licensee/../../Era Newspaper

December 1848/Richard John Goss, her husband/Incoming Licensee/../../Era Newspaper

1849/David Bossom / Public House Keeper /../../Proceedings of the Old Bailey **
1849/Louisa Bossom / Wife /../../Proceedings of the Old Bailey

1849/Mrs Katherine Brown/../../../Post Office Directory **

1849/Richard John Goss / Victualler /../../London Gazette, 27 March 1849 **

1850/Richard John Goss / Victualler /../../London Gazette, 24 December 1850 **

1851/David Boston/Licensed Victualler/39/Hansham, Sussex/Census ***
1851/Louisa Boston/Wife/40/Athelboro, Norfolk/Census
1851/Lydia Boston/Sister, Barmaid/26/Highgate, Middlesex/Census

1856/David Boston/../../../Post Office Directory

Perou family are listed here

1869/Dizney Perou/../../../P.O. Directory **

1871/Disney Perou/Licensed victualler/49/Bethnal Green/Census
1871/Martha Perou//wife/45/Bethnal Green/Census
1871/Mary Ann Perou/Daughter/24/Bethnal Green/Census
1871/Disney Perou/Son/13/Bethnal Green/Census
1871/William Perou/Son/10/Bethnal Green/Census
1871/Jessie Perou/Daughter/8/Bethnal Green/Census
1871/Emma Stedman/Servant/19/Bethnal Green/Census

1877/Disney Perou/../../../P.O. Directory **

1878/Disney Perry Perou / Licensed Victualler, deceased / Died 3 September 1878 /../../London Gazette, 28 March 1879 **

Disney Perou age 51; hair dark, large scar on left cheek, black suit; on person, gold watch and chain, diamond ring on finger. The Rising Sun public house, 87, Sidney street, Mile end. Description from the lists of people who perished on the Princess Alice steamer disaster on the Thames at Galleons Reach. *

September 1878/Disney Perry Perou, deceased/Outgoing Licensee/../../East London Observer

September 1878/Mary Ann Perou, Robert Edward Sayer and Benjamin William Pickett, executors of Disney Perry Perou/Incoming Licensee/../../East London Observer

August 1879/Mary Ann Perou, R E Swyer and Benjamin Pickett/Outgoing Licensee/../../East London Observer

August 1879/Walter Hancock/Incoming Licensee/../../East London Observer

1882/Walter Hancock/../../../P.O. Directory **

1891/George Poolman/Licensed Victualler/56/Whitechapel, London/Census
1891/Sarah Poolman/Wife/52/Colchester, Essex/Census
1891/Fanny Barker/General Servant/17/Whitechapel, London/Census
1891/Kate Farroll/Barmaid/21/Ireland/Census

1895/George Poolman/../../../Post Office London Directory **

1899/Miss Adelaide Hart/../../../Post Office London Directory

1901/No details////Census

1906/Edgar Eames/../../../Post Office Directory

1911/Phillip Goldapple/Publican/55/Russian Poland/Census
1911/Julia Goldapple/Wife/47/Russia/Census
1911/Harris Goldapple/Son/25/Russian Poland/Census
1911/Nathan Goldapple/Son/20/Whitechapel road, London/Census
1911/Isaac Goldapple/Son/18/Bethnal green, London/Census
1911/Bella Goldapple/Daughter/17/Bethnal green, London/Census
1911/Leah Goldapple/Daughter/14/Whitechapel road, London/Census
1911/Aaron Goldapple/Son/13/Whitechapel road, London/Census
1911/Tobias Goldapple/Son/12/St Georges east, London/Census
1911/Lazarus Goldapple/Son/10/St Georges east, London/Census
1911/Hymon Goldapple/Son/8/St Georges east, London/Census

1913/Phillip Goldapple/../../../Post Office Directory

Phillip Goldapple moves as licensee to the Fountain, at 86 Jamaica street by 1916; where he morts two year later. His wife and then sons continue the trade there for the next twenty five years until about 1941. His son, Harry Goldapple, also ran the Knave of Clubs, Bethnal Green from about 1934 until 1961; when his son is still trading there several years later.

1916/Nathaniel Phillips/../../../Post Office Directory

1921/Nathaniel Phillips/../../../Post Office Directory

1923/Nathaniel Phillips/../../../Post Office Directory

1929/Nathaniel Phillips/../../../Post Office Directory

1932/Philip Lederman/../../../Post Office Directory



* Provided By Richard Perou

** Provided By Stephen Harris

*** Provided By Vincent O'Loughlin