Search London wiki and Pub wiki history sites
All public house, restaurants, bars etc closed for the forseeable future from 20th March 2020, but this is a history site.
Knave of Clubs, 25 Club Row, Bethnal Green E1
Bethnal Green pub history index
Pub established by 1808 at least. Pub closed in 2001 - premises now house a posh French Restaurant. At 25 Bethnal Green Road in 1891 census, and before closure in 2001 **
A listing of historical public houses, Taverns, Inns, Beer Houses and Hotels in Bethnal Green, Middlesex - now in East London.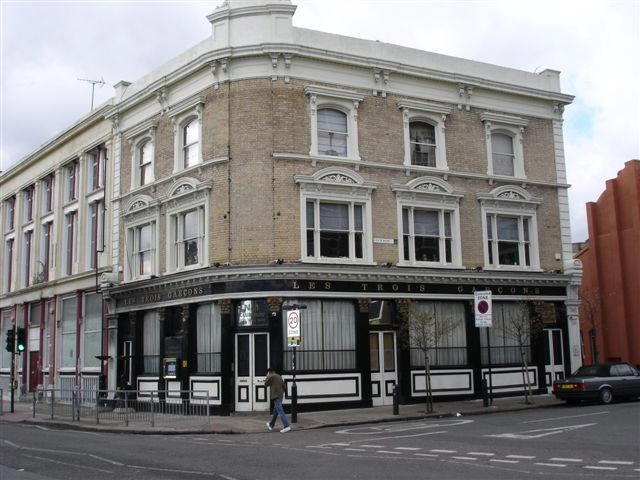 Knave of Clubs, 25 Bethnal Green Road - in May 2006
Kindly provided by Stephen Harris
Residents at this address.
1808/Samuel Hagger/../../../Proceedings of the Old Bailey **

1811/Benj Prior, Knave of Clubs, 17 Club row, Spitalfields/../../Holdens Directory

1825/Mr Richardson, Knave of Clubs, Club row, Bethnal green/../../Licensed Victuallers Association

1833-34/John Davis, Knave of Clubs, 23 Club row, Bethnal green/../../Pigots Directory

The Public Ledger and Daily Advertiser of Monday 10 November 1834 lists Pearson Goward as the landlord (he was summonsed for selling beer on a Sunday and harbouring drunken and disorderly characters). ***

Morning Advertiser lists Pearson Goward as the landlord, on Monday 26 January 1835 ***

Morning Advertiser lists Pearson Goward as the landlord, on Monday 11 April 1836 (charged with allowing betting on draughts). ***

1836/Pearson Goward/../../../Pigots Directory

1839/Pearson Goward/../../../Pigots Directory

1841/Pearson Goward/Licensed Victualler/65/Middlesex/Census
1841/Sarah Goward/../50/Middlesex/Census
1841/James Goward/Baker/20/Middlesex/Census
1841/John Goward/../10/Middlesex/Census
1841/Eliza Goward/../7/Middlesex/Census
1841/Anne Pontin/Female Servant/15/Middlesex/Census

1842/P Goward/../../../Robson's Directory **

Morning Advertiser lists Pearson Goward as the landlord, on Thursday 13 August 1846 ***

1848/Pearson Goward /../../../P.O. Directory **

The Era lists Pearson Goward as the landlord, on Sunday 26 May 1850 (at the death of his wife Sarah) ***

1851/Pearson Goward/../../../Kellys Directory

1851/Pearson Goward / Licensed Victualer / 73 / Bethnal Green, Middx/census **
1851/Pearson Goward / Son / 21 / Bethnal Green, Middx/census
1851/John Goward / Son / 19 / Bethnal Green, Middx/census
1851/Eliza Goward / daughter / 17 / Bethnal Green, Middx/census
1851/Margaret Walsh / general servant / 17 / Spitalfields, London/census
1851/Sarah Partaut / grand-daughter / 11 / Shoreditch, London/census

The Era lists Pearson Goward as the landlord, on Sunday 10 July 1853 (when the licence passed from Pearson Goward Snr to Pearson Goward Jnr) ***

July 1853/Pearson Goward/Outgoing Licensee/../../Era

July 1853/Pearson Goward, the younger/Incoming Licensee/../../Era

September 1855, Pearson Goward, aged 34, marries Susan Bird, aged 21, at St Leonards Shoreditch; witnesses are Eleanor Cooke (nee Goward) and George Cooke.

Morning Advertiser - Pearson Goward Jnr is listed as the landlord on Thursday 10 June 1858 (selling a cart) ***

Bell's Life in London and Sporting Chronicle - Pearson Goward Jnr is listed as the landlord on Sunday 24 April 1859 ***

Pearson Goward Snr died 18th May 1859 - his death announcement in The Era - Sunday 29 May 1859 lists him as "late of the Knave of Clubs, Club Row" ***

Also, John Goward, of Vicar Of Wakefield, 83 Coventry Street, Bethnal Green E1 and Princess Alexandra, 34 Charnock Road, Lower Clapton, Hackney (and possibly Duke Of Cambridge, 25 Felix Street, Hackney Road, Bethnal Green E2) is the son of Pearson Goward Snr. ***

Probate for Pearson Goward was granted in 1859 to "John Goward of "The Vicar of Wakefield" Suffolk Street, Cambridge Road, Bethnal Green... Innkeeper and Pearson Goward of 23 Club-row Shoreditch... Innkeeper... the Sons and the Executors" ***

Sporting Life - Pearson Goward Jnr is listed as the landlord on Wednesday 25 May 1859 (taking bets on a shooting match) ***

1861/Pearson Goward/Licensed victualler/40/Bethnal Green, Middlesex/Census
1861/Susan Goward/Wife/28/Limehouse, Middlesex/Census
1861/Susan Goward/Daughter/2/Bethnal Green, Middlesex/Census
1861/Mary Rufus/Servant/11/Bethnal Green, Middlesex/Census

Sporting Life - Pearson Goward Jnr is listed as the landlord on Saturday 26 July 1862 (umpiring a running race) ***

Clerkenwell News - Pearson Goward Jnr is listed as the landlord on Wednesday 06 August 1862 (letting a house and two workshops) ***

Morning Advertiser - Pearson Goward Jnr is listed as the landlord on Tuesday 05 May 1863 (selling a four wheel carriage) ***

Lloyd's Weekly Newspaper - Pearson Goward Jnr is listed as the landlord on Sunday 04 October 1863 (fined for having illegal measures) ***

Sporting Life - Pearson Goward Jnr is listed as the landlord on Wednesday 15 November 1865 (hosting a fishing club) ***

(Note that Susan Goward, Pearson Goward's first wife, died in 1864 and he married Ann in 1866 - Ann is my great great grandmother (I am descended from a child of her previous marriage). ***

September 1866, Pearson Goward, widower, marries Ann Bridgeman, widow, at St John the Baptist; fathers are Pearson Goward and William Strahan

Sporting Life - Pearson Goward Jnr is listed as the landlord on Saturday 19 January 1867 ***

Morning Advertiser - Pearson Goward Jnr is listed as the landlord on Wednesday 30 January 1867 (donation to the Licensed Victuallers Asylum; his brother
was the governor). ***

Sporting Life - Pearson Goward Jnr is listed as the landlord on Saturday 09 April 1870 (when he offered a "handsome silver cup... as a prize for the greatest take of fish by the gentlemen using his establishment. To be fished for on Wednesday next... at Dagenham Lake.") ***

Morning Advertiser - Pearson Goward Jnr is listed as the landlord on Tuesday 04 April 1871 ***

1871/Pearson Goward/Victualler/50/Bethnal Green, Middlesex/Census ***
1871/Ann Goward/Wife/44/Bethnal Green, Middlesex/Census
1871/Susan Goward/Daughter/13/Bethnal Green, Middlesex/Census
1871/Pearson Goward/Son/3/Bethnal Green, Middlesex/Census
1871/Eliza Bennett/Servant/20/Stepney, Middlesex/Census

1872/P Goward /../../../Brabner's Hackney Directory **

1873/Pearson Goward /../../../P.O. Directory **

Hackney and Kingsland Gazette - Pearson Goward Jnr is listed as the landlord on Wednesday 08 May 1878 (when the licence transferred from P Goward to James Willmott). ***

11th May 1878/P Goward/Outgoing Licensee/../../East London Observer +

11th May 1878/James Willmott/Incoming Licensee/../../East London Observer +

1882/Chapman/../../../Proceedings of the Old Bailey **

1884/William H Chapman/../../../Post Office Directory

1891/William Henry Chapman/../../../Post Office Directory

1891/William H Chapman/Son, Licensed Victualler/29/Islington, London/Census
1891/Ambrose Dolden/Barman/29/East Farleigh, Kent/Census
1891/William F Mercer/Barman/19/Deptford, London/Census
1891/Arthur C Chapman/Barman/20/Braintree, Essex/Census
1891/Mary Rudd/Housekeeper, Widow/39/Devonport, Devon/Census
1891/Jessie Barnes/Domestic Servant/20/St Georges East, London/Census

1895/William Henry Chapman/../../../Post Office Directory *

1899/William Henry Chapman/../../../Post Office Directory

1901/Ambrose Dolden/Manager of Public House/38/East Farleigh, Kent/Census
1901/Lucy J Dolden/Wife, Assistant/34/Islington, London/Census
1901/Lucy G Dolden/Daughter/5/Bethnal Green, London/Census
1901/William O Dolden/Son/3/Bethnal Green, London/Census
1901/Joseph T Blake/Barman/24/Islington, London/Census
1901/Arthur Smith/Barman/21/Peckham, London/Census
1901/Alice Jones/Domestic Servant/26/Tredegary, Wales/Census

1910/Samuel Jesse/../../../Post Office Directory

1911/Samuel Best Jesse/Licensed Victualler/35/Basingstoke, Hants/Census
1911/Amy Amelia Jesse/Wife/35/Streatham, Surrey/Census
1911/Samuel James Jesse/Son/13/London/Census
1911/Henry Freerick Jesse/Son/9/Peckham, London/Census
1911/Edith Amelia Jesse/Daughter/3/Tottenham, Middlesex/Census
1911/Ellanor Sanford/Domestic Servant/23/Bow, London/Census
1911/Lillian Edith Bryant/Domestic Servant/15/Bow, London/Census
1911/Arthur Percy Fish/Barman/24/Bow, London/Census

1913/Samuel Jesse/../../../Post Office Directory

1915/William Bunn/../../../Post Office Directory

1916/William Bunn/../../../Post Office Directory

1921/Frederick Charles Newitt/../../../Post Office Directory

1923/Frederick Charles Newitt/../../../Post Office Directory

1929/Thomas Abraham Dupree/../../../Post Office Directory

1932/Jack H Bodinetz/../../../Post Office Directory

Harry Goldapple is the son of Phillip Goldapple of the Fountain, at 86 Jamaica street by 1916 having previously been at the Rising Sun, Sidney street during the famous siege in 1911.

1934/Harry Goldapple/../../../Kellys Directory

1939/Harry Goldapple/Publican/Born 10th Feb 1884/../Electoral register
1939/Fanny Goldapple/Domestic Duties/Born 9th Nov 1894/../Electoral register

1942/Harry Goldapple/../../../Post Office Directory

1944/Harry Goldapple/../../../Post Office Directory

1948 - 60/Harry Goldapple/25 Bethnal green road/../../Electoral register
1948 - 60/Ida Goldapple/25 Bethnal green road/../../Electoral register
1948 - 60/Fanny Goldapple/25 Bethnal green road/../../Electoral register
1948 - 60/Leonard Goldapple/25 Bethnal green road/../../Electoral register

1961/Harry Goldapple of The Knave of Clubs 25 Bethnal Green Road London E1 died 25 November 1960 at the London Hospital London E1 Adminstration London 8 March to Leonard Goldapple public house manager. Effects £3736 15s 11d

1964 - 65/Leonard Goldapple/25 Bethnal green road/../../Electoral register
1964 - 65/Ida Goldapple/25 Bethnal green road/../../Electoral register



+ Provided by Friends of Tower Hamlets Cemetery Park

* Provided By Ewan

** Provided By Stephen Harris

*** Provided By Stephen Barratt