Search London wiki and Pub wiki history sites
All public house, restaurants, bars etc closed for the forseeable future on 20th March 2020, but this is a history site. But how about the landlords give their tenants a break, no business, then please charge them no rent.
Skiddaw Hotel, 46 Chippenham road , Paddington W9
Paddington pub history index
Existed from at least 1871. Renamed The Red Squirrel in 2011 and then simply The Squirrel around 2013. ***
A listing of historical public houses, Taverns, Inns, Beer Houses and Hotels in Paddington, West London.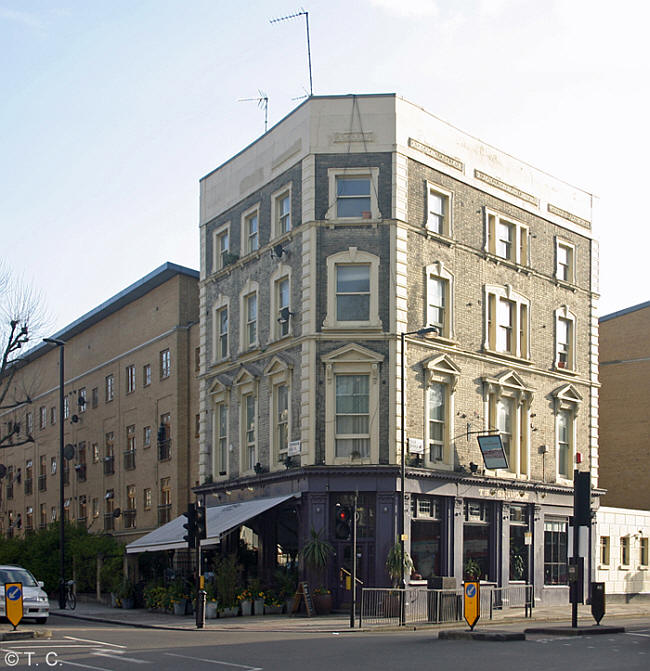 Skiddaw Hotel, 46 Chippenham Road, Paddington W9 - in April 2010
Kindly provided by Tris
Residents at this address.
My third Great uncle, Samuel Richardson & his family is listed as living here in 1871 census -occupation - licensed victualler.
They originally came from Skiddaw in Cumberland. *+

Also my 1st cousin 3x removed Elizabeth Loveday Hollister Short was born here on the 14th April 1868, her mother was Samuel's sister. *+

Samuel Richardson is the Licensed Victualler at the Portman Arms, Edgware road in the 1861 census, and just prior at the Green Man, at the Devonshire Castle, Desborough Place by 1867, Edgware road and other pubs during this period.

1871/Samuel Richardson/Licensed Victualler/45/Keswick, Cumberland/Census *+
1871/Ann Richardson/Wife/21/Paddington, Middlesex/Census
1871/Richardson Henderson/Visitor/16/Broughton, Cumberland/Census
1871/Isabella Wilkinson/Barmaid/23/St Johns Wood, Middlesex/Census
1871/Robert Collinson/Potman/18/Soho, Middlesex/Census
1871/Ann Daley/General Servant/46/Derbyshire/Census

July 1872/Joseph Richardson/Outgoing Licensee/../../Era

July 1872/Samuel Richardson/Incoming Licensee/../../Era

1874/S Richardson/../../../Licensed Victualler & Hotelier Directory

1881/Thomas W Guest/Licensed Victualler/44/Shorditch/Census
1881/Emma Guest/Wife/39/Peterboro/Census
1881/Annie Wooley/Niece/25/Shorditch/Census
1881/Charles Judd/Barman/23/Wilmslow, Wiltshire/Census
1881/Willie Chapman/Barman/26/Cambridge/Census
1881/William J Shipman/Servant/19/Hackney/Census
1881/Annie Palmer/Barmaid/23/Canterbury/Census
1881/Maria Shepherd/Barmaid/19/Islington/Census
1881/Annie Day/Cook/24/Wales/Census
1881/Elizabeth Thomas/Domestic Servant/23/Middlesex/Census
1881/Gertrude Guest/Daughter/6/Hackney/Census
1881/Thomas H Guest/Son/1 month/Middlesex/Census

1882/T W Guest/../../../Post Office Directory

1891/John Cook Cuthbertson/../../../Post Office Directory

1895/John Cook Cuthbertson/../../../Post Office Directory

1899/William George Coxen/../../../Post Office Directory

1910/William George Coxen/../../../Post Office Directory **

A great uncle, Percy Savage, was a barman at the Skiddaw hotel in the 1911 census. *

1911/Frank E Hill/Licensed Victualler, Widow/35/Islington, London/Census *
1911/George Henry Carter/Brother in Law, Barman/30/Feltham, Middlesex/Census
1911/John Henry Langston/Barman/24/Fulham, London/Census
1911/Thomas Pepper/Barman/23/Kilburn, London/Census
1911/Sarah Dowling/Cook/53/Clatford, Hampshire/Census
1911/Thomas Prior/Barman/26/Co Fermenagh, Ireland/Census
1911/Arthur Jenkins/Barman/23/Ruspidge, Gloucestershire/Census
1911/William Smith/Barman & Potman/34/Kensington, London/Census
1911/Marie Stow/Housemaid/22/Kensington, London/Census
1911/Percy Savage/Barman/28/Teddington, Middlesex/Census
1911/Margaret Bryce-Black/Manageress/32/Edinburgh, Scotland/Census

1915/William George Coxen/../../../Post Office Directory **

1921/William George Coxen/../../../Post Office Directory

1934/Caterers Ltd/../../../Kellys Directory

1938/Caterers Ltd/../../../Post Office Directory

1944/Caterers Ltd/../../../Post Office Directory



* Provided By Eileen Savage

*+ Provided By Lynda Wallis

** Provided By Ewan

*** Provided By Tris