Grand Junction Arms, 28 Praed street, Paddington W2
Paddington pub history index
Existed from at least 1827. At 4 Praed Street in 1869 and 1871 and earlier; renumbering happens by 1881, rebuilt in the early 20th century and recently closed (2008).
A listing of historical public houses, Taverns, Inns, Beer Houses and Hotels in Paddington, West London.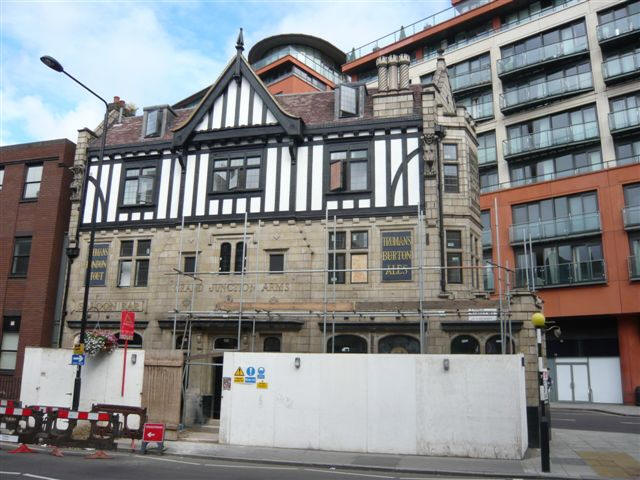 Grand Junction Arms, 28 Praed Street, London, W2 - in July 2008
Kindly provided by Stephen Harris
Residents at this address.
1827/William Archer, Grand Junction Arms, 1 Praed street/../../Pigot's Directory

Addenda 1827/John Lumley, Grand Junction Arms, 1 Praed street/../../Pigot's Directory

1832/John Woodyatt/../../../Robsons Directory

1839/John Rennison/../../../Pigots Directory

1842/E A Renninson/../../../Robsons Directory

1848/William Rennison/../../../Post Office Directory

1848/James Self/../../../Post Office Directory

January 1849/James Self/Outgoing Licensee/../../Era Newspaper

January 1849/John Rogers/Incoming Licensee/../../Era Newspaper

1851/John Rogers/../../../Kellys Directory

1856/James S Deller/../../../Post Office Directory

April 1856/James Miller Deller/Outgoing Licensee/../../Morning Advertiser

April 1856/Frederick Matthews/Incoming Licensee/../../Morning Advertiser

1864/John Gibbons/../../../Post Office Directory

February 1864/John Gibbons/Outgoing Licensee/../../Era

February 1864/Frederick Lock/Incoming Licensee/../../Era

1869/Thomas Frost/../../../Post Office Directory

1871/Thomas Frost/Licensed Victualler/36/Devon/Census
1871/Maria Frost/Wife/26/St Lukes, Middlesex/Census
1871/Henry Walter Poole/Barman/25/Canterbury, Kent/Census
1871/Charles Patience/Domestic Servant/39/Bath/Census

1875/Thomas Frost/../../../Post Office Directory **

1881/Thomas Frost/Wine Merchant/40/Kentisbeam, Devon/Census
1881/Maria Frost/Wife/35/St Luke, Middlesex/Census
1881/Jane White/Niece/9/Paddington, Middlesex/Census
1881/Charles C Elgie/Widow/25/Newton, Yorkshire/Census
1881/Ann Bailey/General Servant/22/Berkshire/Census
1881/Richard Rogers/Barman/15/London, Middlesex/Census
1881/Walter F Mann/Barman/17/London, Middlesex/Census

1882/Thomas Frost/../../../Post Office Directory

1884/Thomas Frost/../../../Post Office Directory

1899/Miss Mary Ann Longhurst/../../../Post Office Directory

1910/Mrs Jane Hunt/../../../Post Office Directory

1911/Jane Hunt/Licensed Victualler, Widow/59/Eastington, Gloucestershire/Census
1911/Fanny Annie Hunt/Daughter, Milliner/19/Paddington/Census
1911/Josephine Eleanor Walker/Daughter, Assistant/25/County Antrim, Ireland/Census
1911/Stanley Arthur Wells/Assistant/34/Madras, India/Census
1911/(Jones) Edward Flood/Assistant/35/Chelsea, London/Census
1911/Julia Elizabeth Jones/Assistant/35/Lingfield, Sussex/Census

1915/Mrs Janet Hunt/../../../Post Office Directory

1921/Thomas William Cutmore/../../../Post Office Directory

1932/Henry Herbert Hewitt/../../../Post Office Directory **

1938/William Rt Morrish/../../../Post Office Directory **

1944/Mrs Celia F Long/../../../Post Office Directory **



** Provided By Stephen Harris