Search London wiki and Pub wiki history sites
All public house, restaurants, bars etc closed for the forseeable future from 20th March 2020, but this is a history site.
Grundy Arms, 83 Grundy street, Poplar E14
Poplar index
Existed from at least 1836. At 20 Grundy Street in 1856;
The Festival Inn effectively replaced the Grundy Arms, which was demolished shortly after WWII. **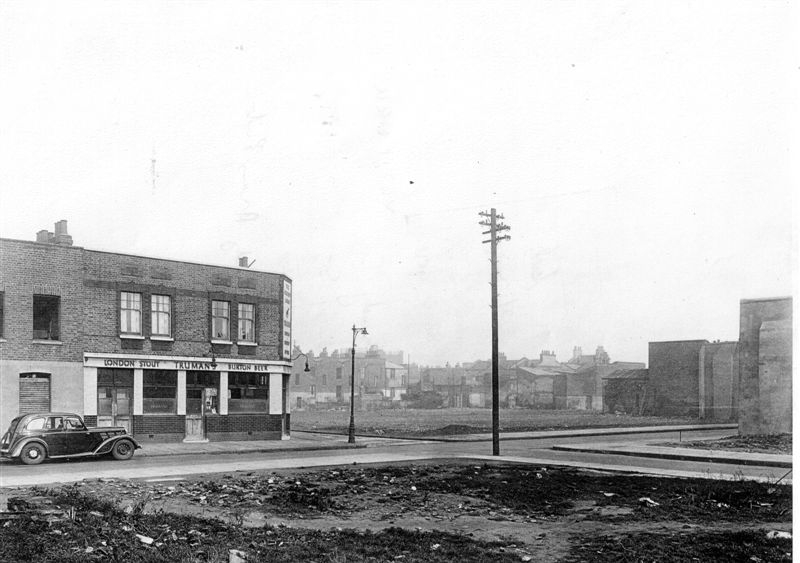 The Grundy Arms
Kindly provided by Jane Kelly
With permission of the London Metropolitan Archives who provided the original
Historical London public houses, Taverns, Inns, Beer Houses and Hotels.
Residents at this address.
1836/John Wormald / Victualler /../../Sun Fire Office records, Guildhall Library **

1838/John Wormald / Victualler /../../Sun Fire Office records, Guildhall Library **

John Wormald is at the London Stone, Cannon Street by 1841.

1842/William Vince / Public House Keeper /../../Proceedings of the Old Bailey **

1846/William Vince/../../../Post Office Directory **

1848/William Heard/../../../Post Office Directory

1851/William Heard/../../../Kellys Directory

1852/Mr Heard / Occupier /../../London Gazette, 25 May 1852 **

1856/William Heard/../../../Post Office Directory

1862/William Heard/../../../Post Office Directory **

November 1865/George Batts/Outgoing Licensee/../../Era

November 1865/Robert Minter/Incoming Licensee/../../Era

1869/Robert Minter/../../../Post Office Directory

1874/R Minter/../../../H.D. Miles London & Suburban Licensed Victuallers' Directory **

January 1875/Robert Minter/Outgoing Licensee/../../East London Observer

January 1875/William Harwood/Incoming Licensee/../../East London Observer

1881/John Gerlach/Licensed Victualler/37/Germany/Census
1881/Emma A Gerlach/Wife/37/Shoreditch, Middlesex/Census
1881/Emma Gerlach/Daughter/16/Kennington, Surrey/Census
1881/Frederick G Gerlach/Son/7/St Georges, Middlesex/Census
1881/Alice L Gerlach/Daughter/6/Hammersmith, Middlesex/Census
1881/Elizabeth Gerlach/Daughter/3/Hammersmith, Middlesex/Census
1881/Caroline J Gerlach/Daughter/2/Poplar, Middlesex/Census
1881/Caroline Seger/Niece/13/Whitechapel, Middlesex/Census
1881/Jane M Johnson/Domestic Servant/45/Pimlico, Middlesex/Census
1881/Arthur Childs/Barman/22/Whitechapel, Middlesex/Census
1881/George White/Potman/22/Blackwall, Middlesex/Census

1882/John Gurlach/../../../Post Office Directory

1884/Thomas Platt/../../../Post Office Directory

1891/Hy Anderson/../../../Post Office Directory

1895/Hy Anderson/../../../Post Office Directory

1899/Louis Straus/../../../Post Office Directory **

1901/Louis Straus/../../../Post Office Directory **

1901/Louis Straus/Licensed Victualler/49/St Georges, London/Census
1901/Sarah Straus/Wife/47/City, London/Census
1901/Tilly Straus/Daughter, Mantle Maker/25/Shoreditch, London/Census
1901/Lily Straus/Daughter, Barmaid/19/Mile End, London/Census
1901/Henry Straus/Son, Stoker Stationery Engine/17/Mile End, London/Census
1901/Maud Croft/Domestic Servant/19/Poplar, London/Census

1915/Mrs Alice K Beaumont/../../../Post Office Directory

1931/David T Baddeley/../../../Post Office Directory **

1933 - 51/John William Briggs/Beer Retailer/../../Black Eagle Journal

John William Briggs, licensee of Festival Inn, died on July 18th, 1953; since the opening of the Festival Inn in 1951. Before this, he held the Grundy Arms for 18 years. - Black Eagle Journal ***



** Provided By Stephen Harris

*** Provided by Alex Wilkinson

Provided By Kevan