London Stone, 109 Cannon Street, St Swithin London Stone EC4
St Swithin index
Historical London public houses, Taverns, Inns, Beer Houses and Hotels.
The Lodge of Peace and Harmony is listed as being here in 1738 according to an early list of Masonic lodges for 1813
Earlier address is at 82 Cannon Street. This pub was rebuilt in the basement of the redeveloped site in 1978 ** This pub's address is now 105 Cannon Street. *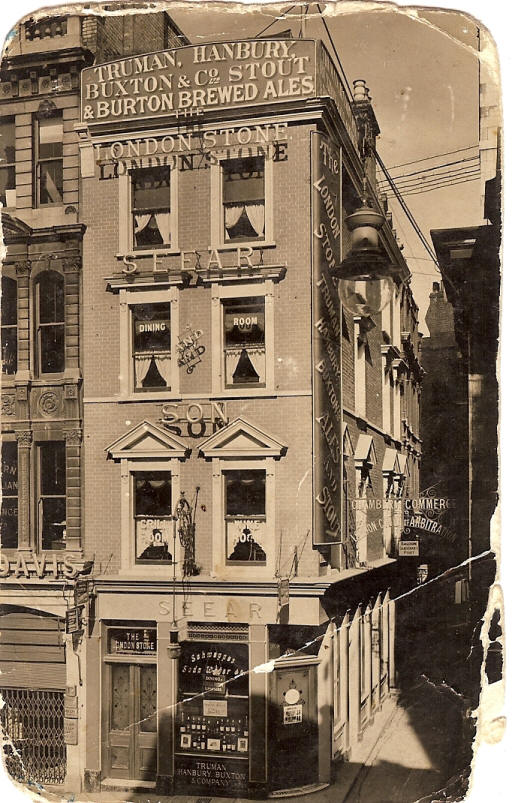 London Stone, 109 Cannon Street EC4 - circa 1930s
Kindly provided by David B Seear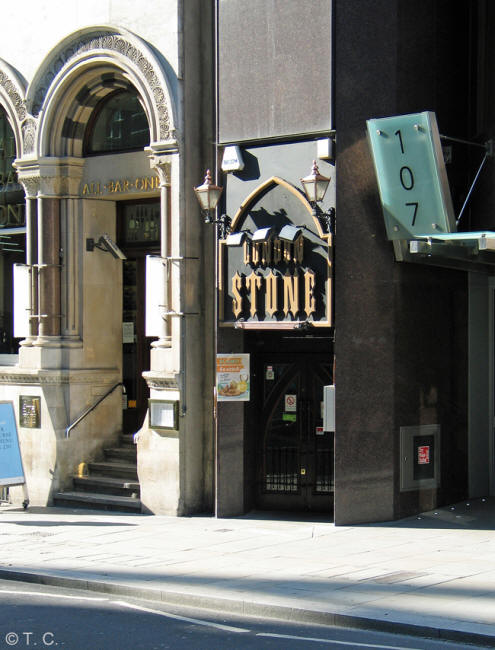 London Stone, 105 Cannon Street EC4 - in July 2014
Kindly provided by Tris
Residents at this address.
1826/John England / Cook/../../Sun Fire Office records held at Guildhall Library **

1839/Harry Hook/../../../Pigots Directory **

John Wormald had earlier been at the Grundy Arms, Poplar.

1841/John Wormald/../../../Post Office Directory **

1841/Jno Wormald/Victualler/53/Middlesex/Census
1841/Jeanett Wormald/../40/../Census
1841/Jessie Wormald/../16/Middlesex/Census
1841/Agness Wormald/../14/../Census
1841/Ann Elumb/Female Servant/19/Middlesex/Census
1841/James Davis/Male Servant/19/Middlesex/Census

1843/John Wormald/../../../Kellys Directory **

John Wormald is at the Windmill, Kennington Lane by 1848.

1851/Stephen Brown/../../../Kellys Directory **

1851/Stephen Brown/Licensed Victualler/49/St Stephens/Census
1851/Hannah Brown/Wife/49/Cornwall/Census
1851/Emily Brown/Daughter/15/Stepney, Middlesex/Census
1851/Joseph F Brown/Son, Druggist Apprentice/17/Holborn/Census
1851/Frederick Brown/Nephew, Assistant/28/Holborn/Census
1851/Thomas Smith/Servant/25/Berkshire/Census
1851/Hannah Cockburn/Servant/21/Cork, Ireland/Census

May 1853/Stephen Brown/Outgoing Licensee/../../Era

May 1853/Charles Scott/Incoming Licensee/../../Era

December 1853/Charles Scott/Outgoing Licensee/../../Era

December 1853/Robert Thornton/Incoming Licensee/../../Era

1856/Joseph Hibbert/../../../Post Office Directory

May 1862/Joseph Hibbert/LV Association/../../Era

1869/Joseph Hibbert/../../../Post Office Directory

1881/Ernest Smith/Licensed Victualler/23/Aylsham, Norfolk/Census
1881/Francis Smith/Brother, Manager Victualler/21/London, Middlesex/Census
1881/Jessie Wilson/Barmaid/29/Poplar, Middlesex/Census
1881/Emily Hodgkin/Barmaid/19/London, Middlesex/Census
1881/Margaret Buckley/Cook/38/Lambeth, Surrey/Census

1882/George Smith/../../../Post Office Directory

1884/George Smith/../../../Post Office Directory

1891/George Smith/../../../Post Office Directory

1894/Abraham Levy & Isaac Anidjah Romain / Licensed Victuallers trading in partnership/../../London Gazette, 4 May 1894 **

1895/George Smith/../../../Post Office Directory

1899/Robert Renton/../../../Post Office Directory

1910/Sidney Smith & Son/../../../Post Office Directory

1911/Sidney Henry Smith/Licensed Victualler/31/Canning Town, Essex/Census
1911/Alice Rosetta Smith/Wife, Assistant/29/Bow, Middlesex/Census
1911/Helen Hamburg/Cook/42/Southwark/Census
1911/Daisy Elizabeth Hourne/Nurse/24/Staplehurst, Kent/Census
1911/Ethel Elizabeth Belton/Housemaid/19/New Cross, London/Census
1911/William Charles Allen/Barman/21/Dalston, London/Census
1911/Henry Joseph Humphrey/Barman/21/Bexhill on Sea, Sussex/Census
1911/Norah Kathleen Smith/Daughter/5/City, London/Census
1911/Joan Mary Smith/Daughter/3/City, London/Census

1915/Thomas Sidney Smith/../../../Post Office Directory

1934/H W Seear & Son/../../../Kellys Directory

1938/H W Seear & Son/../../../Post Office Directory

1944/Arthur Seear/../../../Post Office Directory

Mr & Mrs G T Redpath, son in law and daughter of the late Mrs Seear are now at the London Stone, Cannon Street, thus maintaining a family link with the company. The late Mrs Seear was at the London Stone for many years ***

1950/Mr & Mrs G T Redpath/../../../Black Eagle Journal ***

Mrs A R Seear, licensee of the London Stone, Cannon Street, death recorded on July 11th, 1950, at the age of 49. Mrs Seear, first went to the London Stone in 1933 when her husband became joint licence holder. On his death in 1948 the licence was transferred to his widow. Mrs Seear was a well known and loved figure and will be greatly missed by all who knew her. ***



* Provided By Tris

** Provided by Stephen Harris

*** Provided by Alex Wilkinson