Search London wiki and Pub wiki history sites
All public house, restaurants, bars etc closed for the forseeable future from 20th March 2020, but this is a pub history site.
Pier Tavern, 283 Manchester Road, Poplar E14
Poplar pub history index
This pub was built in 1863 and remains open. ** Renamed Mourinho's in 2013, though its original name lives on as it's at the corner of Pier Street. This pub's address is now 299 Manchester Road. *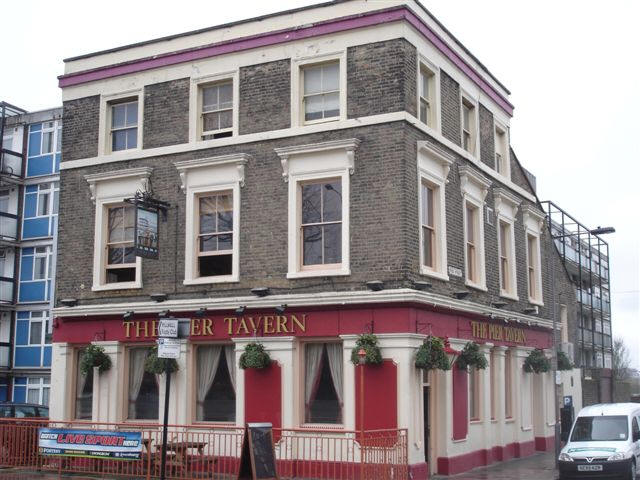 Pier Tavern, 283 Manchester Road - in March 2007
Kindly provided by Stephen Harris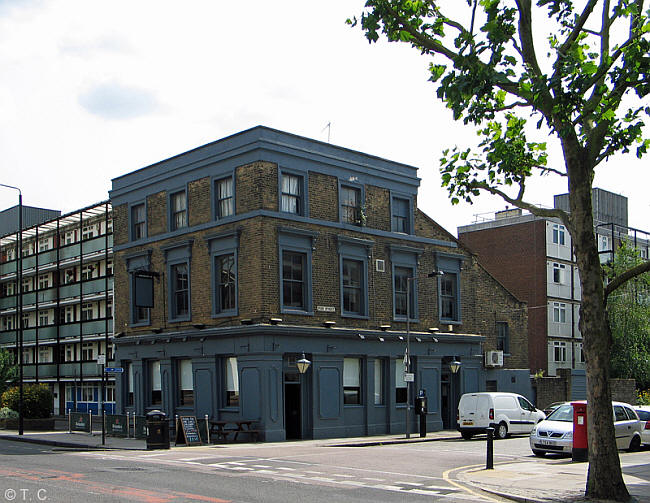 Pier Tavern, 299 Manchester Road E14 - in July 2014
Kindly provided by Tris
Residents at this address.
May 1865/William Malpas/Outgoing Licensee/../../Era

May 1865/John Nixon/Incoming Licensee/../../Era

1865/John Nixon & Thomas Ballard / Licensed Victuallers /../../London Gazette, 2 May 1865 **

11th March 1866/John Nixon/Outgoing Licensee/../../East London Observer +

11th March 1866/James Brown/Incoming Licensee/../../East London Observer +

1869/James Brown/../../../Post Office Directory

January 1875/James Brown/Outgoing Licensee/../../East London Observer

January 1875/Henry Brown/Incoming Licensee/../../East London Observer

30th March 1878/Henry Brown/Outgoing Licensee/../../East London Observer +

30th March 1878/James Smith/Incoming Licensee/../../East London Observer +

1881/James Smith/Licenced Victualler/30/Bethnal Green, Middlesex/Census
1881/Rose Smith/Wife/27/Whitechapel, Middlesex/Census
1881/Elizabeth Smith/Daughter/17 months/Poplar, Middlesex/Census
1881/Esther Smith/Daughter/7 months/Poplar, Middlesex/Census
1881/Alice J Fosgate/Cook/19/Ipswich/Census
1881/Sarah J Whitfield/Nursemaid/18/Poplar, Middlesex/Census
1881/Ann Boldock/Barmaid/17/Southwold, Essex/Census

1882/James Smith/../../../Post Office Directory

1884/James Smith/../../../Post Office Directory

1891/Aaron Phillips/../../../Post Office Directory

1895/Aaron Phillips/../../../Post Office Directory

1899/Henry John Morley/../../../Post Office Directory

1900/George Hy. Young/../../../Post Office Directory **

1901/George Young/Publican/45/London, Middlesex/Census
1901/Ellen Sampson/Barmaid/36/Woolwich, Kent/Census
1901/Emily Bailey/Barmaid/21/Bexley, Kent/Census
1901/Alice Betteridge/Barmaid/23/Surrey/Census

1902/George Hy. Young/../../../Post Office Directory **

1908/George Hy Young/../../../Post Office Directory **

1914/George Hy Young/../../../Post Office Directory **

1921/George Hy Young/../../../Post Office

1934/Walter George Benee/../../../Kellys Directory

1938/Chas Edwin West/../../../Post Office Directory

Licensees from August 1942 to February 1956 were James Herbert Shaw and his wife, Edith Maud. Edith Maud died in 1947 and James in Feb 1956. His second wife took over the licence for a short period of time. James and Edith are one set of my grandparents. ***

This is same James Herbert Shaw who was a butcher at 265 Poplar High Street in 1915. Although he ceased trading there the family lived above the shop until the went to Essex for a short period before returning to take over the Pier. At that time James was trading as a butcher in Manchester Rd, Isle of Dogs. ***

1944/Jas Edward Shaw/../../../Post Office Directory

The Heinrich Rock at the Old Five Bells in St Leonards Rd in 1899 is same Henry Rock who was at 281 Poplar High St in 1915 Ė he was Edith Maudís father.

My parents were Ron Vine & June Vine who took over the licence in 1956 (I don't know the exact date). We remained at the Pier as Whitbread tenants until September 1966 when mum & dad transferred with Whitbread, and we moved to the Victoria in Burnham on sea, Somerset, where mum & dad remained tenants until 1982. *+



+ Provided by Friends of Tower Hamlets Cemetery Park

* Provided By Tris

*+ Stephanie Sampson

** Provided By Stephen Harris

*** Provided By Paul Watts