Steam Packet, 1 Orchard Place, Poplar E14
Poplar pub history index
Existed from at least 1851. Much of Orchard Place was demolished in the slum clearance in the 1930's.
Historical London public houses, Taverns, Inns, Beer Houses and Hotels.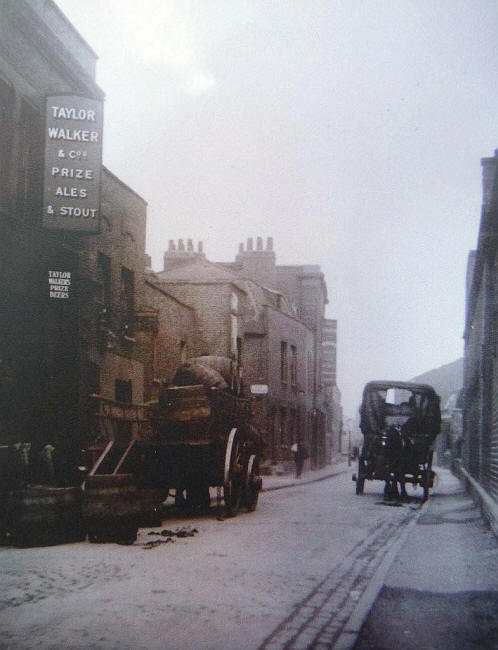 Steam Packet, Orchard Place in the foreground, with the Crown, Orchard Place in the background - circa 1920
Kindly provided by Stephen Harris
Residents at this address.
1851/Ebett Watkins/Beer Seller, Widow/57/Cornwall/Census
1851/James Gribble/Son, Iron Moulder/23/St Clements Danes, Middlesex/Census
1851/Sarah Watkins/Daughter/15/Ratcliff, Middlesex/Census
1851/Charles Gribble/Son, Blacksmith/27/St Clements Danes, Middlesex/Census
1851/Sophia Gribble/Daughter in Law/29/Limehouse, Middlesex/Census
1851/Charles Gribble/Grandson/5/Bromley, Middlesex/Census
1851/Harriett Gribble/Grand Daughter/3/Poplar, Middlesex/Census
1851/Amelia Gribble/Grand Daughter/8 months/Poplar, Middlesex/Census
1851/William Appleby/Potman/18/Hampstead, Berkshire/Census
1851/Edmond Willson/Lodger, Labourer, Widow/45/Hereford/Census
1851/James Wallace/Lodger, Engineer/45/Scotland/Census
1851/William Horlston/Lodger, Labourer/22/Northumberland/Census

1856/Mrs Ebett Watkins/Beer Retailer/../../Post Office Directory

Wine & Ale Store, 1 Glasshouse Place :
1861/Ebett Watkins/Wine and Ale House Keeper, Widow/66/St Irvines, Cornwall/Census
1861/James Gribble/Son, Iron Moulder/33/Holborn, Middlesex/Census
1861/Henry Gribble/Son, Blacksmith, Widow/32/Holborn, Middlesex/Census
1861/James Gribble/Grandson/10/St Anns, Limehouse, Middlesex/Census
1861/Elizabeth Gribble/Grand Daughter/7/Poplar, Middlesex/Census
1861/Eliza Caswell/Niece, Housemaid/26/Ratcliffe, Middlesex/Census
+ Lodgers

1869/Mrs Ebett Watkins/Beer Retailer/../../Post Office Directory

Ebett Watkins: 20th February 1869. The Will of Ebett Watkins late of the Steam Packet Orchard Place Blackwall in the County of Middlesex Widow deceased who dies 18 January 1869 at the Steam Packet aforesaid was Proved at the Principal registry by the oath of Henry Berry of east House Blackheath Hill Greenwich in the County of Kent Accountant the sole executor.

1881/George Beer/Beer Retailer/31/Stepney, Middlesex/Census
1881/Catherine Beer/Wife/25/Poplar, Middlesex/Census
1881/George Beer/Son/4/Poplar, Middlesex/Census
1881/Frederick Beer/Son/1/Poplar, Middlesex/Census
1881/Minnier Moyce/General Servant/15/Poplar, Middlesex/Census

1882/Geo Frederick Beer/Beer Retailer/../../Post Office Directory

1891/Mrs Catherine Hannah Beer/Beer Retailer/../../Post Office Directory

1895/Mrs Catherine Hannah Beer/Beer Retailer/../../Post Office Directory

1915/Edward Sutton/Beer Retailer/../../Post Office Directory

1921/Edward Sutton/Beer Retailer/../../Post Office Directory

Sidney Jn Busby is my mothers brother; and I am trying to find out more information about him. His father Arthur John Busby was listed as the publican of the Headley Arms in 1933 and 1937. *

1934/Sidney Jn Busby/Beer Retailer/../../Kellys Directory *

1938/Sidney Jn Busby/Beer Retailer/../../Post Office Directory



* Provided By Marguerite Wong