The Crown, 667 Commercial Road, Ratcliffe E14
At 7 Regents Terrace, Commercial Road in 1871 and earlier; prior to Commercial Road east being renumbered.
Ratcliffe pub history index
A listing of historical public houses, Taverns, Inns, Beer Houses and Hotels in Ratcliffe, London - in East London. The Ratcliffe, East London listing uses information from census, Trade Directories and History to add licensees, bar staff, Lodgers and Visitors.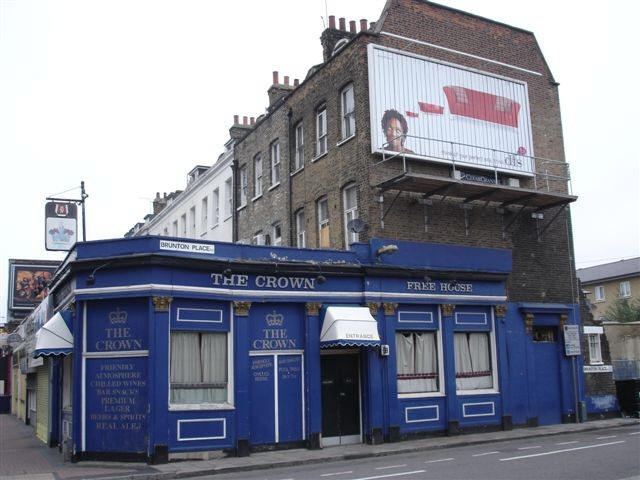 The Crown, 667 Commercial Road - in September 2006
Kindly provided by Stephen Harris
Residents at this address
August 1867/John Hill/Outgoing Licensee/../../Era Newspaper

August 1867/George Edmund Ludbrooke/Incoming Licensee/../../Era Newspaper

1869/James Myerscough/../../../Post Office Directory

May 1869/George Edmund Ludbrook/Outgoing Licensee/../../Era

May 1869/William Turner/Incoming Licensee/../../Era

1871/William Turner/Licensed Victualler/49/Cirencester, Gloucestershire/Census
1871/Mary Turner/Wife/45/Cirencester, Gloucestershire/Census
1871/Charles H Turner/Son, Cooper/21/Shoreditch, Middlesex/Census
1871/Henry H Turner/Son, Cooper/19/Stepney, Middlesex/Census
1871/Priscilla G Turner/Daughter/11/Whitechapel, Middlesex/Census
1871/Edward T Turner/Son/9/Whitechapel, Middlesex/Census
1871/Arthur T B Turner/Son/7/Limehouse, Middlesex/Census
1871/Amelia H Pierce/Niece, Assistant/17/Stepney, Middlesex/Census
1871/Ellen Drew/Barmaid/20/Eynham, Suffolk/Census
1871/Emily Morrison/Barmaid/16/Limehouse, Middlesex/Census
1871/George Finch/Potman/22/Brixton, Surrey/Census

23rd November 1872/William Turner/Outgoing Licensee/../../East London Observer +

23rd November 1872/Charles Thomas Goscheron/Incoming Licensee/../../East London Observer +

1874/C T Gosheron/../../../H.D. Miles London & Suburban Licensed Victuallers' Directory **

January 1874/Charles Thomas Gosheron/Outgoing Licensee/../../East London Observer

January 1874/George Reynolds Adams/Incoming Licensee/../../East London Observer

1877/George Reynolds Adam/../../../Post Office Directory **

1881/George R Adams/Publican/52/London, Middlesex/Census
1881/Charlotte Adams/Wife/49/Farnham, Buckingham/Census
1881/Alice Adams/Daughter/19/London, Middlesex/Census
1881/Charlotte Adams/Daughter/18/London, Middlesex/Census
1881/William Tay/Barman/19/Thorpe, Essex,/Census
1881/Mary A Mumford/Domestic Servant/20/London, Middlesex/Census

1882/George R Adams/../../../Post Office Directory

1884/George R Adams/../../../Post Office Directory

1891/George White/Licensed Victualler/39/Portsmouth/Census
1891/Mary Jane White/Wife/?/Limehouse/Census
1891/Lilian Rose White/Daughter/7/Bermondsey/Census
1891/Edith Maud White/Daughter/4/Limehouse/Census
1891/Alice Sheldon/Domestic Servant/29/Brighton/Census
1891/William Arnold/Barman/24/Mile End/Census

1895/George White/../../../Post Office Directory

George and Mary White were next, the licensees at the Colby Arms, Gipsy Hill, Norwood; and by the 1911 census, they are at the Black Swan, Bow road E3

1899/George Cox/../../../Post Office Directory

1903/Jacob Goldstein/../../../Post Office Directory

John Holland's [Exmouth Arms] sister Hester married Walter Benjamin Groves in 1903. Hester and John's father William Reuben Holland is the William Holland visiting Walter and Helen at The Crown, Commercial Road at the time of the 1911 census. William died later that year from septicaemia. ***

At the time of Walter and Hester's marriage Walter was managing the 'George Peabody' 146 High Street, Shadwell.
Walter's first wife, Alice May Harrison died at the George Peabody' in 1901. Their only surviving child was Alfred b 1896. Alfred went on to manage The White Horse at Hampstead which is where his father Walter B Groves died in February 1923. Prior to his death Walter had been managing 'The Kings Arms' by the Lion gate at Hampton Court.
About 1930 Walter's daughter, Lilian and her husband took over at the White Horse and remained there until after the war. They then bought, I think, The Beehive at Richmond and later moved to "The Rose of Lea" at Lea Green. ***

In the 1891 census Walter is at 'The Neptune 17 Neptune Street, Rotherhithe

1910/Walter Benjamin Groves/../../../Post Office Directory

1911/Walter b Groves/44/publican/ Stepney/Census ***
1911/Hester Groves/40/wife/Stepney/Census
1911/Alfred Groves/son/14/../Census
1911/Lilian Groves/ 7/daughter/../Census
1911/Violet Groves/5/daughter//Census
1911/Percy Groves/son/2/../Census
1911/Ivy Groves/2 months/daughter/../Census
1911/Vera Groves/16/daughter/../Census
1911/William Holland/75/visitor/Sussex/Census

Alfred went on to win the Military Medal in WW1, and was commissioned in the Coldstream Guards. ***

1915/Walter Benjamin Groves/../../../Post Office Directory

1917/Walter Benjamin Groves/../../../Post Office Directory

1921/Henry Ash/../../../Post Office Directory

1923/Henry Ash/../../../Post Office Directory **

1934/Alfred Herbert Tollady/../../../Kellys Directory

1938/Edward Wm Taylor/../../../Post Office Directory

1944/Mrs Gertrude Defries/../../../Post Office Directory

1948/Mrs Gertrude Defries/../../../Post Office Directory **

1971/../Crown, 667 Commercial Road/../../Pub Directory

1983/../Crown, 667 Commercial Road, Free House/../../Pub Directory

1991/../Crown, 667 Commercial Road/../../Pub Directory



+ Provided by Friends of Tower Hamlets Cemetery Park

** Provided By Stephen Harris

*** Provided By Don Hudson