Search London wiki and Pub wiki history sites
All public house, restaurants, bars etc closed for the forseeable future from 20th March 2020, but this is a history site.
Black Swan, 148 Bow Road, Bow E3
Bow pubs history index
Existed from at least 1811. At 1 High Street, Bow in 1871 and earlier; The earlier incarnation of this pub was hit and completely destroyed by a bomb dropped from a German zeppelin on the night of 23 September 1916. The landlord's two daughters, Cissie Reynolds (twenty) and Sylvia Adams (twenty-one), Sylvia's thirteen-month old daughter (also Sylvia) and their grandmother Mrs Potter all died. Eight year old George Reynolds and his brother Sydney (nine), along with Sylvia's husband Henry Adams were injured. The pub was rebuilt on the same site in 1920, but was demolished in 1970 in a road-widening scheme. **
Historical London public houses, Taverns, Inns, Beer Houses and Hotels.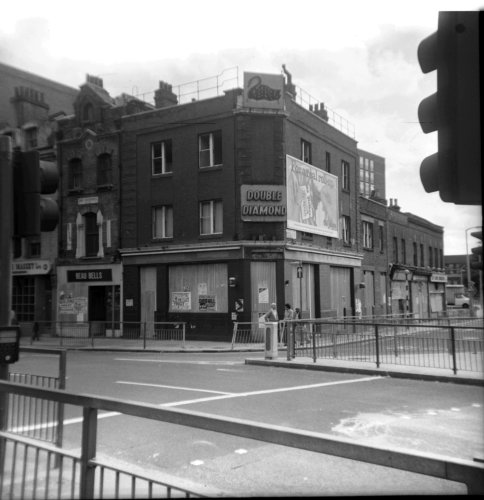 Black Swan,148 Bow Road E3 - circa 1970
Kindly provided by Keith Emmerson
Residents at this address.
1805/Thomas Surridge/../../../Holden's Directory *

1811/John Copeland, Black Swan, Bow, Middlesex/../../Holdens Directory

1826/Jn W Clapham/../../../Pigots Directory

1833-34/William Flower/../../../Pigots Directory

1836/Emily G Fairclough, Black Swan, High street, Bow/../../Pigots Directory

1848/John Tytheridge/../../../Post Office Directory *

1851/John Tytheridge/../../../Kellys Directory

1851/John Tytheridge/Victualler/32/Mitcham, Surrey/Census
1851/Jane Tytheridge/Wife/30/Bristol/Census
1851/George Coleman/Pot Boy/18/Oxford/Census
1851/Jane T May/General Servant/16/Liverpool/Census
1851/Mary Ann Short/Niece/3/Stratford, Essex/Census

November 1854/Robert Goldacre/Outgoing Licensee/../../Era Newspaper

November 1854/Samuel Summers/Incoming Licensee/../../Era Newspaper

1856/Samuel Summers/../../../Post Office Directory

March 1860/Francis Penny and Anne Penny/Outgoing Licensee/../../Era

March 1860/Anne Penny/Incoming Licensee/../../Era

19th November 1860/Ann Penny/Outgoing Licensee/../../East London Observer +

19th November 1860/Henry Brown/Incoming Licensee/../../East London Observer +

1861/Henry Brown/Publican/29/Lambeth, Surrey/Census
1861/Charlotte Brown/Wife/34/St Georges West, Middlesex/Census
1861/Sarah Ann Brown/Daughter/1/Bow, Middlesex/Census
1861/William Brown/Son/2/Rotherhithe, Surrey/Census
1861/Elizabeth Bird/Sister/49/St Georges West, Middlesex/Census
1861/Mary Ann Martin/General Servant/15/Bromley, Middlesex/Census
1861/George Pollard/Potman/24/Croydon, Surrey/Census

July 1861/Henry Brown/Outgoing Licensee/../../Era

July 1861/George Hammond Wright/Incoming Licensee/../../Era

1862/George H Wright/../../../Post Office Directory **

17th March 1866/William Pitt Steggall/Outgoing Licensee/../../East London Observer +

17th March 1866/George Davison/Incoming Licensee/../../East London Observer +

26th January 1867/George Davison/Outgoing Licensee/../../East London Observer +

26th January 1867/William Morris/Incoming Licensee/../../East London Observer +

1869/J Kipling/../../../Post Office Directory

January 1870/John Kipling/Outgoing Licensee/../../Era Newspaper

January 1870/Henry McDowall/Incoming Licensee/../../Era Newspaper

1871/George Morton/Licensed Victualler/51/Middlesex/Census
1871/Maria Morton/Wife/50/Middlesex/Census
1871/Emma Broughton/Servant/20/Lambeth, Surrey/Census

November 1871/Henry McDowall/Outgoing Licensee/../../Era

November 1871/George Morton/Incoming Licensee/../../Era

1881/George Morton/Licensed Victualler/61/St Georges West, Middlesex/Census
1881/Cecilia Maria Morton/Wife/40/Pimlico, Middlesex/Census
1881/Jemima Cecilia Proper/Step Daughter/19/Stoke Newington, Middlesex/Census
1881/George Garrett Morton/Son/7/Bow, Middlesex/Census
1881/Edith Morton/Daughter/6/Bow, Middlesex/Census
1881/Alice Robinson/Domestic Servant/23/Ware, Hertford/Census
1881/Edith Elizabeth Edbrook/Domestic Servant/19/Dagenham, Essex/Census
1881/Eliza Burton/Domestic Servant/14/Stepney, Middlesex/Census
1881/Sarah Amelia Hughes/Barmaid/21/Limehouse, Middlesex/Census
1881/Alice Durant/Barmaid/23/Chesterfield, Derby/Census

1882/George Morton/../../../Post Office Directory

1884/George Morton/../../../Post Office Directory

1886/George Morton/../../../Business Directory of London **

1891/Mrs Cecilia Maria Morton/../../../Post Office Directory *

1892/Mrs. C Morton/../../../Post Office Directory **

1895/Mrs C. M. Morton/../../../Post Office Directory *

1899/Mrs. Cecilia Maria Morton/../../../Post Office Directory

1901/Cecilia M Morton/Licensed Victualler, Widow/58/Paddington London/Census
1901/Arthur D Hobb/Licensed Victuallers Manager/27/Norwood Green, Middlesex/Census
1901/Catherine S Jackman/Barmaid/21/Trowbridge, Wiltshire/Census
1901/Emily E Groom/Barmaid/23/Bow London/Census
1901/Martha Hopkins/Cook/30/Lewisham, Kent/Census
1901/Maud E Christopher/Housemaid/18/Stepney, London/Census
1901/Florence L Thomas/Housemaid/23/Stepney, London/Census
1901/Ellen R Parsons/Potman, Barman/19/West Ham, Essex/Census
1901/George W Groves/General Servant/15/North Woolwich, Essex/Census

1906/Mrs Cecilia Maria Morton/../../../Post Office Directory *

1910/James Christopher Broadhurst/../../../Post Office Directory *

1915/Edwin John Reynolds/../../../Post Office Directory

1921/Edwin John Reynolds/../../../Post Office Directory *

1926/Henry Blake/../../../Post Office Directory **

1927/Frederick William Clark/../../../Post Office Directory *

1934/Thomas Henry Evans/../../../Kelly's

1938/William Gentle/../../../Post Office Directory

1940/Mrs Emma Oxley/../../../Post Office Directory *

1942/Mrs Emma Oxley/../../../Post Office Directory *

1944/Mrs Emma Oxley/../../../Post Office Directory *



+ Provided by Friends of Tower Hamlets Cemetery Park

* Provided By Ewan

** Provided By Stephen Harris