Kings Arms, 295 Hoxton Street, Shoreditch N1
This pub closed in 1993 and is currently lying empty. I was briefly called Deco but is now the Asorock Palace, a Nigerian restaurant ** / *** Listed as the Kings Arms, Hoxton Old town in the 1860 and 1862 license transfers. The address is 113 Hoxton Old Town in 1856, and 124 Hoxton Old Town in 1851 and earlier, prior to street renaming. It is also sometimes given as 124 High Street. *+

Shoreditch index
A listing of historical public houses, Taverns, Inns, Beer Houses and Hotels in Shoreditch, East London.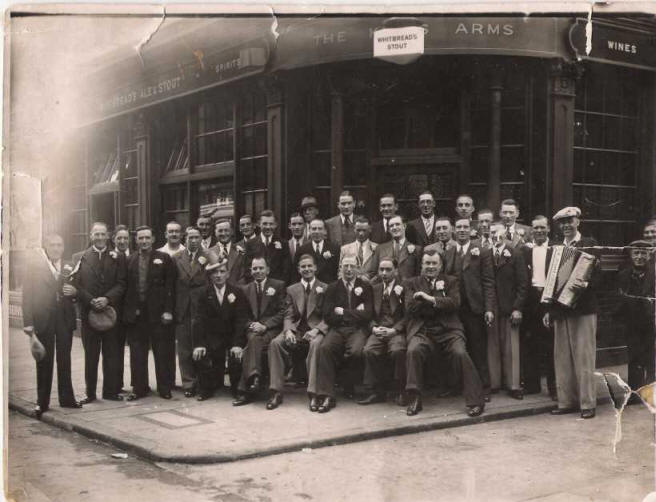 Kings Arms, 295 Hoxton Street, Shoreditch - circa 1940
At the front, second on the left was Albert Croll & third on the left was Maurice Croll.
The licensee of The King Arms, Admiral Keppel and Queen Victoria, i.e. Mrs L Croll was Albert's wife.
Kindly provided by Patricia Fenner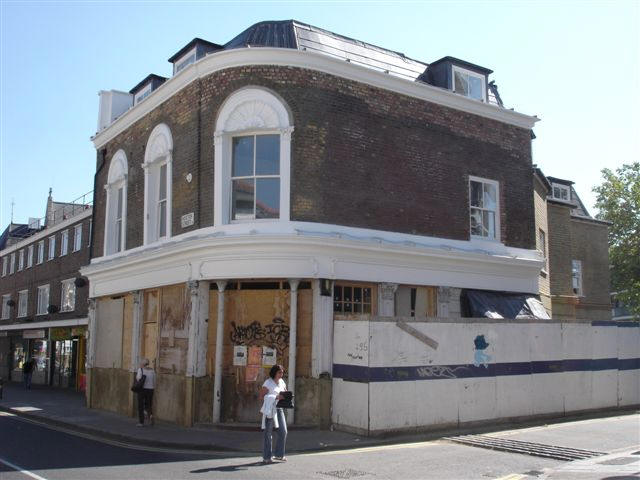 Kings Arms, 295 Hoxton Street, N1 - in May 2007
Kindly provided by Stephen Harris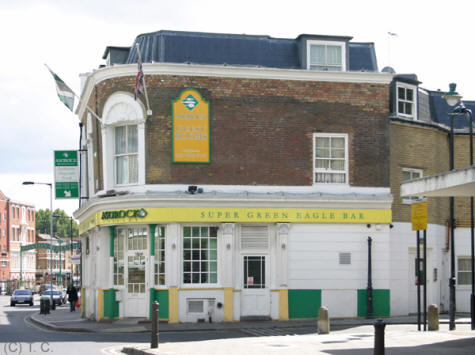 Kings Arms, 295 Hoxton Street. N1 - August 2010
Kindly provided by Tris
Residents at this address
1833/James Hobbs/../../../Licensed Victuallers Association

1839/James Hobbs/../../../Pigots Directory

1842/Jas Hobbs/Kings Arms, 124 Hoxton Old Town/../../Hobsons Directory

July 1849/James Hobbs sen/Outgoing Licensee/../../Era

July 1849/James Hobbs jun/Incoming Licensee/../../Era

1851/James Hobbs/Kings Arms, 124 Hoxton Old Town/../../Kellys Directory

January 1854/Thomas Jeremiah Worton/Outgoing Licensee/../../Era

January 1854/John Hayes Tamsett/Incoming Licensee/../../Era

1856/Henry Landon & Co/../../../Post Office Directory

August 1856/Mary Ann Tamsett/Outgoing Licensee/../../Era

August 1856/George Rothwell/Incoming Licensee/../../Era

March 1860/George Bentley/Outgoing Licensee/../../Era

March 1860/George Tilly/Incoming Licensee/../../Era

19th November 1860/Margaret White (executrix of George Tilley deceased)/Outgoing Licensee/../../East London Observer +

19th November 1860/George Allison/Incoming Licensee/../../East London Observer +

1861/William Hartland/Victualler/43/Bristol/Census
1861/Sarah Hartland/Wife/45/Ashburton, Gloucester/Census
1861/Eliza Sadleir/Servant/22/West Bergholt, Essex/Census
1861/William Deffree/Servant/24/Clerkenwell/Census

October 1862/William Hartland/ Outgoing Licensee /../../East London Observer

October 1862/William Henry Davis/ Incoming Licensee /../../East London Observer

March 1863/William Henry Davis/Outgoing Licensee/../../East London Observer +

March 1863/Albert Davis/Incoming Licensee/../../East London Observer +

May 1865/Albert Davis/Outgoing Licensee/../../Era

May 1865/John Samuel Sweasey/Incoming Licensee/../../Era

March 1867/John Samuel Sweasey/Outgoing Licensee/../../Era Newspaper

March 1867/John Samuel Sweasey sen/Incoming Licensee/../../Era Newspaper

1869/John Sweasey/../../../Post Office Directory

July 1869/John Samuel Sweasey/ Outgoing Licensee /../../The Era

July 1869/John William McCloud/ Incoming Licensee /../../The Era

March 1871/John William McLeod/Outgoing Licensee /../../Morning Advertiser

March 1871/Samuel Digby/ Incoming Licensee /../../Morning Advertiser

22nd January 1876/Samuel Digby/Outgoing Licensee/../../East London Observer +

22nd January 1876/John Edward Woolven/Incoming Licensee/../../East London Observer +

1881/Joseph W Heaton/Licensed Victualler/41/York/Census
1881/Ann Heaton/Wife/62/Kent/Census
1881/Jane Ann Nettleson/Daughter/27/London, Middlesex/Census
1881/Emily Cassy/Domestic Servant/19/Oxford/Census

1882/Joseph William Heaton/../../../Post Office Directory

My great great uncle, Thomas Rushent, was a licensed victualler at this pub in 1884 and details appear in Morris's Business Directory of London at that date. Thomas was quite a personality. He was a sergeant in the Grenadier Guards and fought and was injured in the Crimea. He was awarded the Queens Crimea Medal with 4 clasps, the Turkish Crimea Medal, the 1887 Jubilee Medal with 1897 clasp. In 1877 he was made a Yeoman of the Guard. He died in Walthamstow in 1905. *

1884/Thomas Rushent/../../../Morris Business of London Directory *

1891/Augustus Buckingham/../../../Post Office Directory

1891/Augustus T Buckingham/Licensed Victualler/40/Shoreditch, London/Census
1891/Emma E Buckingham/Wife/36/Shoreditch, London/Census
1891/Augustus O Buckingham/Son/14/Shoreditch, London/Census
1891/Emma F Buckingham/Daughter/12/Shoreditch, London/Census
1891/Ethel F Buckingham/Daughter/6/Shoreditch, London/Census
1891/Oscar S Buckingham/Son/4/Shoreditch, London/Census
1891/Robert Groom/Barman/20/Oxford/Census
1891/William Barber/Barman/18/Carlton, Norfolk/Census
1891/Kate Salter/Domestic Servant/26/Sudbury, Suffolk/Census

Augustus T Buckingham is next at the Green Man & French Horn

1895/Harry James Newman/../../../Post Office Directory

1899/William Rogers/../../../Post Office Directory

1910/William Geffers/../../../Post Office Directory

1911/Henry Geffers/Retired farmer/67/Germany/Census
1911/Anna Geffers/Wife/57/Germany/Census
1911/William Geffers/Son/21/Germany/Census
1911/William Only/Barman/23/England/Census

1915/William Geffers/../../../Post Office Directory *+

1921/William Cranwell/../../../Post Office Directory

1934/James Ainsworth/../../../Kellys Directory

1936/W F Stevens/../../../BT Telephone Directory [CLErknwl 5581]

1938/Walter Frederick Stevens/../../../Post Office Directory

1939/W F Stevens/../../../BT Telephone Directory [CLErknwl 5581]

1941/W F Stevens/../../../BT Telephone Directory [CLErknwl 5581]

1944/George Frederick Brooks/../../../Post Office Directory

My Aunt Lilian Rose Croll was licensee to both the Admiral Keppel, 232 Hoxton Street, Shoreditch and the Kings Arms, 295 Hoxton Street, Shoreditch in the mid 1900s. She also had another pub which I believe was The Queen Victoria. Above is a photo taken outside the Kings Arms of all the male customers who appear to be going off on a Pub Outing. ***


+ Provided by Friends of Tower Hamlets Cemetery Park

* Provided By Graham Jervis

*+ Provided By Ewan

** Provided By Stephen Harris

*** Provided By Carol Stocker