Prince Of Wales, 19 Finsbury Market / Pindar street, Shoreditch EC2
At 1 Finsbury Market in 1871. The later address is at Pindar street, being at the junction with Finsbury market; the entry in 1851 census is also at 1 Finsbury Market. There is also a Prince of Wales, 7 South street, Finsbury Market nearby and named in the 1851 census and 1856, I am yet to prove which pub this is.
Shoreditch index
A listing of historical public houses, Taverns, Inns, Beer Houses and Hotels in Shoreditch, East London.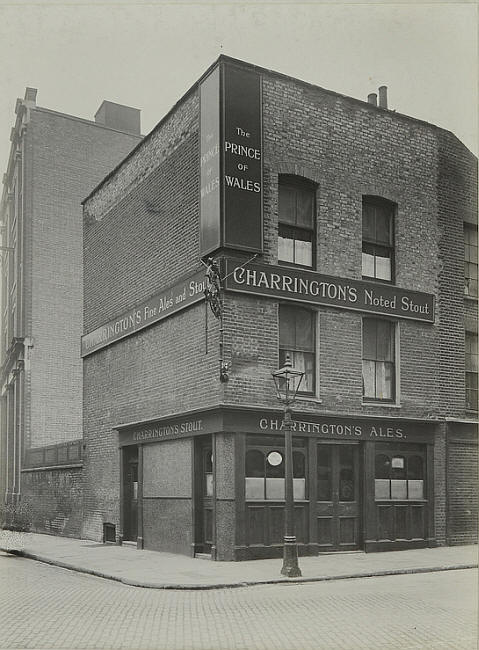 Prince Of Wales, Pindar street, Shoreditch EC2 - in 1928
Residents at this address
1851/William Harvey/Beer Seller/49/Shoreditch, Middlesex/Census

1856/George Hart/Beer Retailer/../../Post Office Directory

Charlotte Pidgeon, born in 1830 at Kenton, Devon married William Bennett at Marylebone in 1861. William was born at Bloxham, Oxfordshire about 1831 and was working as a coachman in Harley Street. By 1881 they were at the Roebuck in Brady Street, Whitechapel. *

1858/Henry Gee/Beer Retailer/../../Post Office Directory

1863/Henry Gee/Beer Retailer/../../Post Office Directory

1869/William Bennett/Beer Retailer/../../Post Office Directory

1871/William Bennett/Beer House Keeper/40/Oxford/Census
1871/Charlotte Bennett/Wife/40/Kenton, Devon/Census
1871/Louisa Bennett/Daughter/7/Sun Street, City/Census
1871/William Bennett/Son/1/Shoreditch, Middlesex/Census
1871/Ann Bennett/Sister/25/Oxford/Census

1872/W Hardwick/../../../Brabnerís Hackney Directory **

1881/Henry Bull/Beerhouse Keeper/26/London, Middlesex/Census
1881/Hannah Bull/Wife/22/Walsall, Stafford/Census
1881/Mary Ann Bassam/Domestic Servant/15/Bromley, Middlesex/Census

1882/Henry Bull/Beer Retailer/../../Post Office Directory

1901/George Edwards/Beer Retailer/39/Bethnal Green, London/Census
1901/Elizabeth A Edwards/Wife/41/City, London/Census
1901/George W S Edwards/Son, Electrical Apprentice/15/Walthamstow, Essex/Census
1901/Florence E Edwards/Daughter/12/Bermondsrey, Surrey/Census
1901/Frederick J Edwards/Son/8/Stoke Newington, London/Census
1901/Emil Schroeck/Boarder/29/Germany, Nat B S/Census

1910/Henry Forster/Beer Retailer/../../Post Office Directory

1911/Henry Forster/Beer Retailer, Widow/59/St Lukes, London/Census
1911/James Burns/Cellerman/58/Shoreditch, London/Census
1911/Clara Burns/Servant/57/Finsbury, London/Census
1911/Miltilda Manning/Cook, Widow/58/Bethnal Green, London/Census

1928 -1930/McLean/../../Leasehold

1931/Potter/../../Leasehold



* Provided By Ian Pidgeon

** Provided By Stephen Harris