Pub history and pub wiki
Eight Bells, 20 Collingwood Street, Southwark Christchurch, London
The address is listed as 31 & 33 Collingwood Street (and also 19 Meymott Street) in the 1915 Directory. It is at 33 Collingwood Street by 1891, and then 31 & 33 Collingwood Street by 1899, following street renumbering. The street name is Green Walk in the Sun Fire Office insurance records, prior to street renaming. *
Southwark Christchurch index
A listing of historical London public houses, Taverns, Inns, Beer Houses and Hotels in Southwark Christchurch, Surrey, London. The Southwark Christchurch, Surrey , London listing uses information from census, Trade Directories and History to add licensees, bar staff, Lodgers and Visitors.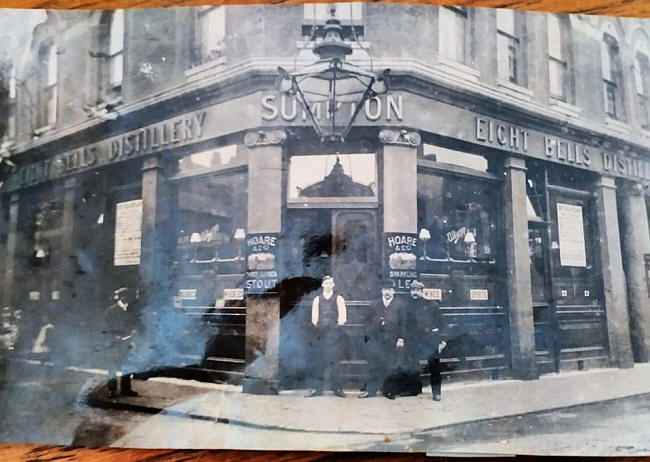 Eight Bells, 20 Collingwood Street, Southwark Christchurch, London - early 1900s
The following entries are in this format:
Year/Publican or other Resident/Relationship to Head and or Occupation/Age/Where Born/Source.
1802/Messrs Barclay & Co./victuallers/../../Sun Fire Office records held at the London Metropolitan Archives *

1811/W Rogers, Eight Bells, Collingwood street, Blackfriars road/../../Holdens Directory

1822/William Rogers/Eight Bells, Collingwood street/../../Petty Sessions ****

1825/William Rogers/Eight Bells, Collingwood street/../../Petty Sessions ****

1826/William Rogers/Eight Bells, Collingwood street/../../Petty Sessions ****

1833-34/George Hollord, Eight Bells, Collingwood Street, Blackfriars road/../../Pigots Directory ****

1839/George Hollord/../../../Pigots Directory ****

1851/William Day/../../../Kellys Directory ****

1851/William Day/Licensed Victualler/40/Norton, Somerset/Census ****
1851/Martha Day/Wife/39/Dockhead, Surrey/Census
1851/John Wm Day/Son/6/Middlesex/Census
1851/Martha Day/Daughter/9/Middlesex/Census
1851/Elizabeth Gibbs/Sister in Law/43/Dockhead, SurreyCensus
1851/Louisa Ratcliff/Servant/18/Middlesex/Census
1851/Eliza Sermon/Servant/22/Middlesex/Census
1851/Thomas Johnson/Servant/38/Nuneaton, Warwickshire/Census

1856/William Day/../../../Post Office Directory ****

1861/Lawrence Smith/Tailor, The Eight Bells Public House/68/Portsmouth, Hampshire/Census *
1861/George Smith/Son, Carpenter Journeyman/25/Lambeth, Surrey/Census
1861/Harry Smith/Son, Printer Journeyman/20/Lambeth, Surrey/Census

1869/George Smith/../../../Post Office Directory ****

June 1870/George Thomas Smith/Outgoing Licensee/../../Era ****

June 1870/John Burnman/Incoming Licensee/../../Era ****

1871/Sarah Franklin/Servant Licensed Victualler/36/City London/Census ***
1871/Henry Burman/Servant/21/Kennington Surrey/Census
1871/Mary Dumbarton/Servant/30/Barmaid/Suffolk/Census
1871/Edwin Benwell/Servant/21/Potman/Longford Gloucestershire/Census

November 1871/John Burnman/Outgoing Licensee/../../Era ****

November 1871/James Utting/Incoming Licensee/../../Era ****

1881/William Robert Knight/Licensed Victualler/33/Islington/Census ****
1881/Sophia Ann Knight/Wife/25/Tooting/Census
1881/Robt Heard Harris/Barman/21/Barnstaple, Devon/Census
1881/Willm Henry Jurmor/Barman/20/Exeter/Census
1881/Will Walter Tuescliter/Barman/26/Bishop Stortford, Essex/Census
1881/Elizabeth Knight/Domestic Servant/14/Clerkenwell/Census

1882/Robert William Knights/../../../Post Office Directory ****

1884/Rob W Knights/../../../Post Office Directory ****

1891/William Chaplin/../../../Post Office Directory ****

1895/Alfred Hine/../../../Post Office Directory ****

1899/Chapman & Warren/../../../Post Office Directory ****

1903 - 1910/William Sumpton/33 Collingwood street/../../Electoral Register

There is a William Sumpton at the Virginia Plant, 82 Great Dover Street, Newington in the 1911 census

1910/Maurice Hackman/../../../Post Office Directory ****

1915/Daniel T. Birkbeck/../../../Post Office Directory *



* Provided Ewan

** Provided by Bill Rigby

*** Provided By Bev Howlett

**** Provided By Kevan
Search for a pub, an address or person
And Last updated on: Wednesday, 03-Jul-2019 01:16:01 BST