Brunswick Tavern, 148 Old Kent Road, Southwark St George Martyr, London SE1
Southwark St George Martyr index
It has been rebuilt in modern times and is now renamed Virgo's and operating as a nightclub. **
A listing of historical London public houses, Taverns, Inns, Beer Houses and Hotels in Southwark St George Martyr, Surrey, London. The Southwark St George Martyr, Surrey , London listing uses information from census, Trade Directories and History to add licensees, bar staff, Lodgers and Visitors.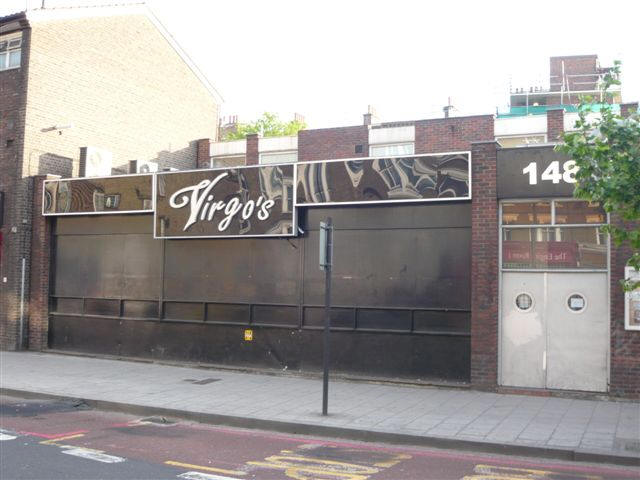 Brunswick Tavern, 148 Old Kent Road, SE1 - in May 2008
Kindly provided by Stephen Harris
This is a pub built on the site of the The Brunswick Tavern called originally "The Frog and Nightgown" and later became a nightclub as shown in the picture with the name "Virgo's". The Frog and Nightgown was built circa 1969 or early 70's. It was demolished a couple of months ago in 2013. I am told flats are to be built on the site.
I believe it was named after the fictional pub in comedian Ted Ray's radio show. I was also told that Ted Ray was to open the pub but did not for some reason. *
Residents at this address.
1861/John Dickson/Beerseller, The Brunswick Public House/44/London, Middlesex/Census **
1861/Elizabeth Dickson/Wife/39/Lambeth, Surrey/Census
1861/John Dickson/Son, Barman/20/Newington, Surrey/Census
1861/Edward P. Dickson/Son, Wood Engravers Apprentice/17/Deptford, Surrey/Census
1861/Elizabeth A. Dickson/Daughter/13/Lambeth, Surrey/Census
1861/Florence C. Dickson/Daughter/10/Lambeth, Surrey/Census
1861/Hugh W. Dickson/Son/8/Lambeth, Surrey/Census
1861/Allan F. Dickson/Son/5/Marylebone, Middlesex/Census
1861/Mary Burnett/Barmaid/19/Westminster, Middlesex/Census
1861/Charlotte Radcliff/Monthly Nurse (Widow)/61/Swanstead, Essex/Census
1861/Ann Humphries/Cook (Widow)/32/Garsington, Oxfordshire/Census
1861/James Smith/Potman/22/Ampthill, Bedfordshire/Census
1861/Mary A. Panstey/Nursemaid/14/../Census

1869/John Dickson/../../../Post Office Directory **

1874/Elizabeth Dickson/../../../Licensed Victualler & Hoteliers Directory

1881/Elizabeth Dickson/Licensed Victualler, Widow/57/Lambeth, Surrey/Census
1881/John Dickson/Son/40/Lambeth, Surrey/Census
1881/Alice J Dickson/Daughter/18/Lambeth, Surrey/Census
1881/Eliza Murphy/Housekeeper/53/Lambeth, Surrey/Census
1881/Minnie Colley/Barmaid/20/Southwark, Surrey/Census
1881/Eliza Underdonn/Barmaid/19/Rye, Sussex/Census
1881/Emily Leaworthy/Servant/19/Hemlock, Somerset/Census

1882/Mrs E Dickson/../../../Post Office Directory

1884/Elizabeth Dickson/../../../Post Office Directory

1891/James Smith/../../../Post Office Directory

1895/James Smith/../../../Post Office Directory

1899/Wm Richard Pace/../../../Post Office Directory

Mr Harry Weeks, tenant at the Magdala, Lordship Lane, East Dulwich for a number of years has decided to retire from business. He has a long and honourable record in Truman's trade.

Beginning in 1890, he acted as potman and barman at the Dun Cow, in Old Kent Road, until 1895. This was then a free house selling Truman's beers and was later purchased by the company. Following another period as a barman at the Princess of Wales, London Road, Southwark, Mr Weeks became manager and licensee of the Brunswick Tavern in the Old Kent Road. He resided there from 1900 until 1907.

After a break of three years, Mr Weeks became the tenant of the Claremont in Bermondsey, until 1922, when he was accepted as the tenant of the Magdala.

Mr Weeks name was mentioned on the annual renewal day at the Newington Bench as one of four who had either completed or were just completing 50 years as a licensee under the Bench of Magistrates. (1949) ***

1900-1907/Mr Harry Weeks/../../../Black Eagle Journal ***

1910/William Hy Turner/../../../Post Office Directory

1915/Jonah Joseph Cowell/../../../Post Office Directory

1921/Jonah J. Cowell/../../../Hughes Directory **

1934/Francis Ernest Phillips/../../../Post Office Directory **

1938/Fras Ernest Phillips/../../../Post Office Directory

1944/Jn Barnett/../../../Post Office Directory



* Provided by Ken Hampson

** Provided By Ewan

*** Provided by Alex Wilkinson

Provided By Kevan