Talbot, 75 Borough High Street, Southwark St Saviour, London
Southwark St Saviour pub history index
A listing of historical London public houses, Taverns, Inns, Beer Houses and Hotels in Southwark St Saviour, London.
The Talbot Inn, previously the Tabard Inn (1669) was demolished in 1873. For later detail, see the Old Tabard.
The pub was originally called The Tabard, built in 1307 for the Abbot of Hyde (a monastery in Winchester) as a base for his London business.

In the Prologue to The Canterbury Tales, (c1380) Geoffery Chaucer describes the characters meeting at The Tabard, before setting off to on their pilgrimage.

During the Dissolution of the Monastries (1536-41) The Tabard was taken from the Abbot and passed into private ownership.

It was destroyed in the Great Fire Of Southwark (26.5.1676) along with most of the other inns in the area. It was quickly rebuilt and was at this point renamed as the Talbot.

During the 18th & 19th centuries it flourished as a coaching Inn, but business declined with the coming of the railways and it though the pub continued the rest of the building became a parcel office for the train companies.

The building was demolished in 1873, and a smaller pub named the Old Tabard was built facing the main road at 85 Borough High Street **.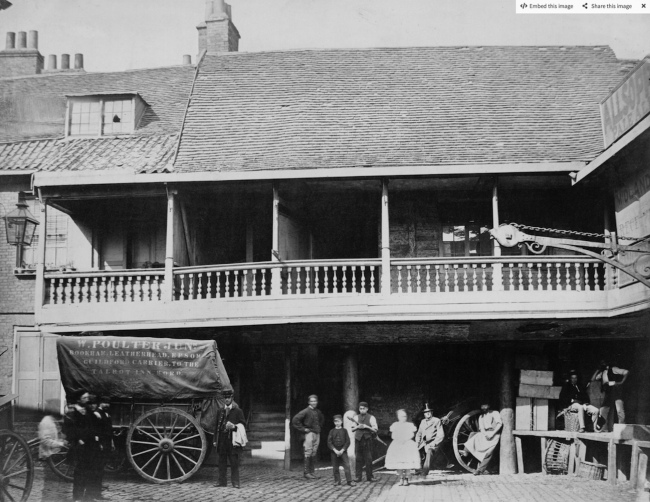 An circa 1870 photo of the the north side of The Talbot, Talbot Yard, 75 Borough High Street.
Kindly provided by Vincent O'Loughlin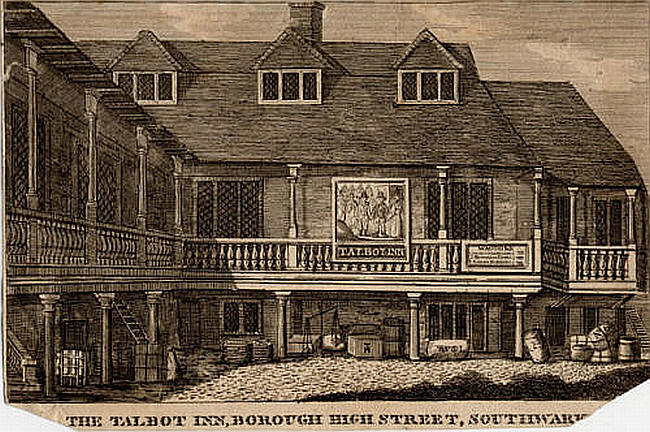 The Talbot Inn, Borough High Street, Southwark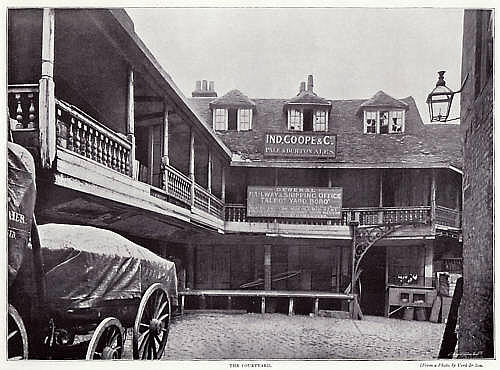 Talbot Yard, Southwark
Kindly provided by Colleen
Residents at this address.
1805/_ Collett, Talbot Inn, Borough High street/../../Holdens Directory

1817/Stanbury and Collett/ Inn holders/../../Johnstones London Directory

1822/Joseph Maynard/../../../Victuallers Recognizance

1823/Joseph Maynard/../../../Victuallers Recognizance

1825/Thomas Lott/../../../Victuallers Recognizance

1826/Thomas Lott/../../../Victuallers Recognizance

1832/James Fulljames, Talbot, Borough High street, Southwark/../../Robsons Directory

1841/John Fulljames/../../../Post Office Directory *

1842/John Fulljames/../../../Robsons Directory

1851/Elizabeth Fulljames/../../../Kellys Directory

1851/Elizabeth Fulljames/Licensed Victualler, Widow/48/Raysh, Kent/Census
1851/Mary Franklin/Sister, Widow/60/Raysh, Kent/Census
1851/Jane Thomas/Servant, Widow/56/Somerset/Census
1851/Elizabeth Smith/Charwoman, Widow/52/Somerset/Census
1851/Stephen Haliday/Potman, Widow/50/Yarmouth, Norfolk/Census
1851/Isais Curtis/Servant, Sailors Mate/36/Yarmouth, Norfolk/Census
1851/Daniel Suter/Lodger, Porter/37/Frant, Surrey/Census

November 1851/Elizabeth Sleep (late Fulljames)/ Outgoing Licensee /../../The Era

November 1851/Henry Sleep, her husband/ Incoming Licensee /../../The Era

1856/Henry Sleep/../../../Post Office Directory

1861/Robert Gooch/Inn Keeper/31/Bury, Suffolk/Census
1861/Caroline Gooch/Wife/31/Bury, Suffolk/Census
1861/Henry Mathias Gooch/Son/8/Bury, Suffolk/Census
1861/Arthur Edward Gooch/Son/6/Hoxton, Middlesex/Census
1861/Robert Gooch/Son/3/Bloomsbury, Middlesex/Census
1861/Douglas Gooch/Son/1/Southwark, Surrey/Census
1861/Steven Hallady/House Servant/48/Southwark, Surrey/Census
1861/Eliza Hallady/House Servant/50/Kent/Census
1861/Lewis Flook/Lodger, Hop Porter/56/Alderby, Gloucestershire/Census

1869/Robert Gooch/../../../Post Office Directory

November 1870/Walter Edward Johnson/Outgoing Licensee/../../Era

November 1870/John Wilson/Incoming Licensee/../../Era




* Provided By Ewan

** Provided By Vincent O'Loughlin

*** Provided By Bev Howlett