Search London wiki and Pub wiki history sites
Mitre Tavern, Mitre court, Fleet street, St Dunstan in West EC4
St Dunstan in West pub history Index
This pub was present by 1610 and originally had the address 37 Fleet Street. It was demolished in 1829 to accommodate an extension of Hoare's Bank. At this time a replacement, smaller Mitre was built to the rear of the former inn - the address now becoming Mitre Court, Fleet Street. By 1893 the pub was renamed the Clachan, and in 2005 it was further renamed Serjeants. This pub closed in 2007 and the premises are currently empty. **
A listing of historical London public houses, Taverns, Inns, Beer Houses and Hotels in St Dunstan in West, City of London. The St Dunstan in West, City of London Public House Trade Directory uses information from census, Trade Directories and History to add licensees, bar staff, Lodgers and Visitors.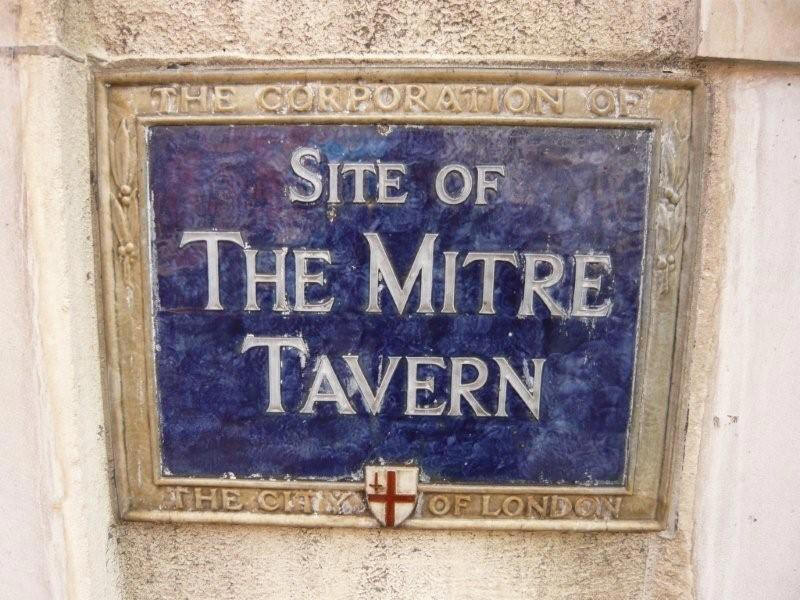 the blue plaque marking the site of the original inn. - in September 2008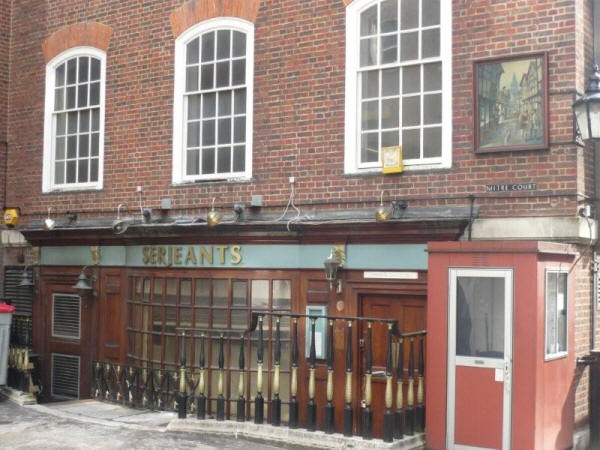 Mitre Inn, Mitre Court, Fleet Street, London, EC4 - now Serjeants in September 2008
Both Kindly provided by Stephen Harris
The following entries are in this format:
Year/Publican or other Resident/Relationship to Head and or Occupation/Age/Where Born/Source.
1825/Henry William Lawton/../../../Pigot's Directory **

1833-34/George Strutton, Mitre Tavern, Mitre court, Fleet street/../../../Pigot's Directory **

1841/Richard Poole/../../../Post Office Directory **

February 1847/Richard Poole/Outgoing Licensee/../../Era

February 1847/Joseph Gear/Incoming Licensee/../../Era

1851/Joseph Gear/../../../Kellys Directory

1851/Joseph Gear/Tavern Keeper/49/Marylebone, Middlesex/Census
1851/Fanny Gear/Wife/31/Rotherhithe/Census
1851/Joseph Lawson Whalley Gear/Son/4/Walworth, Surrey/Census
1851/Louisa Charney/Barmaid/26/Bath, Somerset/Census
1851/Bridget Quick/Cook/24/Tralee, Ireland/Census
1851/Katherine Lator/Housemaid/18/Kilmally/Census
1851/William Fapoe/Waiter/17/Pimlico/Census
1851/George Bolton/Waiter/19/City of London/Census

December 1851/Joseph Gear/ Outgoing Licensee /../../The Era

December 1851/James Price Mills/ Incoming Licensee /../../The Era

1856/James Price Mills/../../../Post Office Directory

1862/James Price Mills/../../../Post Office Directory **

1869/Frederick Hill/../../../Post Office Directory

1870/Frederick Hill/../../../Post Office Directory **

1871/William Hicken/Licensed Victualler/39/Ludlow, Shropshire/Census
1871/Elizabeth Hicken/Wife/38/Coventry, Warwickshire/Census
1871/Amelia Hicken/Daughter/19/Birmingham, Warwickshire/Census
1871/Jemima Truelove/Cook/27/Pimlico, Middlesex/Census
1871/Charlotte Wirzid/Housemaid/15/Millbank St Johns/Census

1876/Robert Richardson/../../../Post Office Directory **

1877/Robert Richardson/../../../Post Office Directory **

1878/Joseph Eaton/../../../Post Office Directory **

1880/Joseph Eaton/../../../Post Office Directory **

1881/George G Coursille/Tavern Manager/32/Soho, Middlesex/Census
1881/Eliza Coursille/Wife/24/Shoreditch, Middlesex/Census
1881/Harriet Schraver/Housemaid/24/Mile End, Middlesex/Census
1881/Ellen Kirby/Waiter/24/Stepney, Middlesex/Census
1881/Annie Palmer/Cook/24/Borough, Surrey/Census
1881/Susan Sarray/Barmaid/25/Hertford/Census
1881/Clarissa M Rave/Barmaid/24/Suffolk/Census

1882/Joseph Eaton/../../../Post Office Directory

1885/Joseph Eaton/../../../Post Office Directory **

I have been trying to put together the life of my great grand father, and trying to get information on the Clachan Public house, Sherborne Lane, EC4. This was the address when he was manager back In the year of 1908. after serving 21 years with them, so he must have started around 1887. ***

1893 Renamed the Clachan :

1893/Robert Francis Elphinstone Morison/../../../Post Office Directory **

1899/Robert Francis Elphinstone Morison/Clachan, Old Mitre Court/../../Post Office Directory

1900/Robert Renwick Lauder/../../../Post Office Directory **

1901/Alfred J Woodthorpe/Licensed Victualler Manager/35/Clerkenwell, London/Census
1901/Donald McKay/Barman/26/Scotland/Census
1901/Matilda Fuller/Barmaid/25/Red Hill, Surrey/Census
1901/Lizzie May/Barmaid/25/Hornsey, London/Census
1901/Annie Butler/Housemaid/17/Walham Green, London/Census

1902/Robert Renwick Lauder/../../../Post Office Directory **

1908/William Daniel Stewart/../../../Post Office Directory **

Colin Morgan Stewart (born 1879) is a younger brother of William Daniel Stewart (b1873) already associated with the Clachan in your notes. William Daniel is present at 11 Mitre Court in 1925 along with his widowed sister-in-law Rose Julia Stewart. *

1908 - 1911/Colin Morgan Stewart/../../../Electoral Rolls *

1910/Colin Morgan Stewart/Land Tax Valuation for the Clachan, Mitre Court £300/../../.. *

1910/William Daniel Stewart/../../../Post Office Directory

1911/Colin Morgan Stewart/Public House Manager/31/Edinburgh/Census *
1911/Morris Hutley/Barman/24/Midlothian/Census
1911/Rose Pankhurst/Barmaid/32/Camberwell/Census
1911/Hannah Rickwood/Cook/33/Hull, Yorkshire/Census
1911/Louisa Sophia Joyce/Kitchenmaid/19/Silvertown/Census

1915/William Daniel Stewart/../../../Post Office Directory **

December 1915/Colin Morgan Stewart Enlisted in Royal Fusiliers. Manager of Mitre Tavern - Clachan Mitre Court, Fleet Street, London. Identifies Rose Julia Pankhurst as next-of-kin. /../../../.. *

1916/Colin Morgan Stewart Married Rose Julia Pankhurst at St Dunstan in the Wall, London/../../../.. *

August 1916/Colin Morgan Stewart August 31st Transferred to Army Pay Corps on account of valvular heart disease fit only for Garrison Duty/../../../.. *

1917/William Daniel Stewart/../../../Post Office Directory **

March 1919/Colin Morgan Stewart recorded as casualty category B2/../../../.. *

March 1920/Colin Morgan Stewart Discharged as Corporal/../../../.. *

1920 March 22nd/The death took place on Saturday, after a brief illness, of Mr. Colin Morgan Stewart, who for the past 15 years had managed the Scottish establishment, "The Clachan". in Mitre Court. Fleet Street. Mr. Stewart, who was a native of Edinburgh, took a great interest in sports, and was an enthusiastic volunteer in pre-war days./The Times Newspaper *

1920/Record of death of Colin Morgan Stewart at 22 Manchester Street registered London Marylebone 1920-Q1 1a716. Probate for Colin Morgan Stewart who died March 20th 1920 names widow as Rose Julia Stewart née Pankhurst granted November 27th 1920/../../../.. *

Colin Morgan Stewart Buried Abney Park cemetery in same grave (133750) as wife (died 1956) and mother-in-law (died 1929). *

1927/../The Clachan, 1 Old Mitre Court/../../BT Telephone Directory

1934/William Daniel Stewart/../../../Kellys Directory

1937/../The Clachan, 1 Old Mitre Court/../../BT Telephone Directory

1938/William Daniel Stewart/../../../Post Office Directory

This pub was run by my Grandparents, Bertha and Harry Rothwell. After my Grandfather's death my Grandmother ran it on her own and remained open throughout the Second World War, despite many of the surrounding buildings being bombed. For this she was awarded the Freedom of the City of London. Her main customer base was the Fleet Street newspaper printers, which meant that she did not open on Sundays. *+

1941/../The Clachan, 1 Old Mitre Court/../../BT Telephone Directory

1944/Arthur Simmonds/../../../Post Office Directory

1946/../The Clachan, 1 Old Mitre Court/../../BT Telephone Directory

1971/../Clachan, Old Mitre Court EC4/../../BT Telephone Directory

1983/../Clachan, Old Mitre Court EC4, Scottish & Newcastle/../../Pub Directory

1991/../Clachan, Old Mitre Court EC4, Scottish & Newcastle/../../Pub Directory



* Provided By Mike Clifford

*+ Provided By Nick Rothwell

** Provided By Stephen Harris

*** Provided By Fred Woodthorpe