Search London wiki and Pub wiki history sites
All public house, restaurants, bars etc closed for the forseeable future on 20th March 2020, but this is a history site. But how about the landlords give their tenants a break, no business, then please charge them no rent.
Ship Tavern, 101 Great Tower street EC3
St Dunstan in the East pub history index
The earlier address for the Ship Tavern is at 11 Little Tower Street before this becomes renumbered as at the end of Great Tower Street
A listing of historical London public houses, Taverns, Inns, Beer Houses and Hotels in St Dunstan in East parish, City of London. The St Dunstan in East, City of London Public House Trade Directory uses information from census, Trade Directories and History to add licensees, bar staff, Lodgers and Visitors.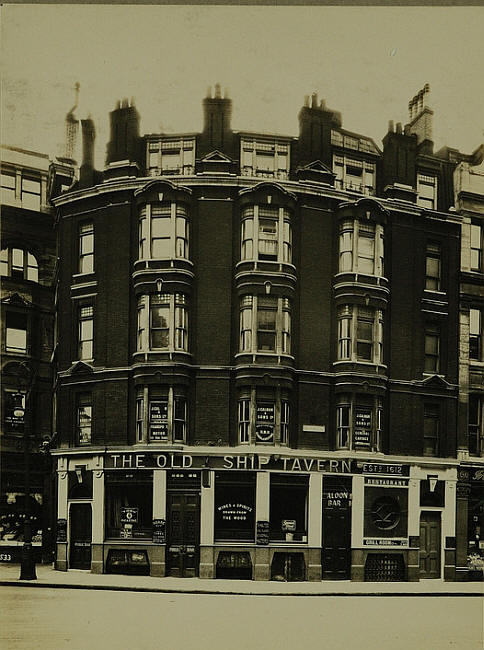 Old Ship Tavern, 101 Great Tower Street EC3
The following entries are in this format:
Year/Publican or other Resident/Relationship to Head and or Occupation/Age/Where Born/Source.
1811/H Marsden, the Ship, Little Tower street/../../Holdens Directory

1829/George Edwards, Ship, 11 Little Tower street/../../Robsons Directory

1836/George Edwards, Ship, 11 Little Tower street, City/../../Pigots Directory

1839/George Edwards/../../../Pigots Directory

1841/George Edwards/../../../Post Office Directory

1848/George Edwards/../../../Post Office Directory

September 1849/George Rees/ Outgoing Licensee /../../The Era

September 1849/Richard John Scott/ Incoming Licensee /../../The Era

1851/Rd Jn Scott/Ship & Booking Office/../../Post Office Directory

1851/Richard J. Scott/Licensed Victualler/39/Southwark, Surrey/Census *
1851/Eliza S. Scott/Wife/38/St George Hanover Square, Middlesex/Census
1851/John Scott/Son/6/Rotherhithe, Surrey/Census
1851/Mary Judge/Bar Maid/15/Blackfriars Christchurch, Surrey/Census
1851/Ellen Turney/House Servant/21/Ireland/Census
1851/Robert Smith/Waiter/22/Diss, Norfolk/Census

1856/Jesse Catt/booking office/../../Post Office Directory *

December 1859/George Reeves/Outgoing Licensee/../../London City Press

December 1859/George James Ford/Incoming Licensee/../../London City Press

1861/George James Ford/Licensed Victualler/29/Lambeth, Surrey/Census
1861/Charlotte J Ford/Wife/29/Kent/Census
1861/George N Ford/Son/8/Surrey/Census
1861/Ernest S Ford/Son/6/Surrey/Census
1861/Fredk C N Ford/Son/4/Surrey/Census
1861/Rosalie Isabella Ford/Daughter/2/Middlesex/Census
1861/Sarah Ann Mann/Friend/22/Surrey/Census
1861/Margaret Fitz/House Servant/22/Stepney, Middlesex/Census
1861/Jno Flack/Servant/26/City of London/Census

January 1862/George James Ford/Outgoing Licensee/../../Era

January 1862/George Reeves/Incoming Licensee/../../Era

October 1862/George Reeves/Outgoing Licensee/../../Morning Post

October 1862/Samuel Nye/Incoming Licensee/../../Morning Post

1869/Reuben Norriss/../../../Post Office Directory

1871/Sarah A Norriss/Licensed Victualler, Widow/40/Balls Pond, Islington/Census
1871/Charles Norriss/Father in Law, Boat Maker/60/Marcham, Lincolnshire/Census
1871/Susanna Norriss/Sister in Law/29/Stickney, Lincolnshire/Census
1871/Emma Taylor/Barmaid/28/Hackney/Census
1871/Emily E Fenner/Barmaid/17/Cambridge/Census
1871/Susan S Elliott/Cook/33/Shillingstone, Kent/Census
1871/Mary A Evans/Housemaid/28/Milford Haven/Census
1871/George Milner/Potman/25/Buckden, Huntingdonshire/Census

1881/Alfred Coles/Licensed Victualler/35/St Pancras, Middlesex/Census
1881/Jennie Cuckow/Barmaid/27/Maidstone, Kent/Census
1881/Annie Warren/Barmaid/19/Bayswater, Middlesex/Census

1882/Cole Brothers/../../../Post Office Directory

1884/Henry Cole/../../../Post Office Directory

1891/Albert E Cole/Brother, Manager/45/Regents Park, London/Census
1891/Amy A Crouch/Barmaid/27/Leicester Square, London/Census
1891/Margaret Schofield/Barmaid/22/Bermondsey, London/Census
1891/Louisa Pohla/Cook/27/Hanover, Germany/Census

1895/Henry Cole/../../../Post Office Directory *

1899/Henry Cole/../../../Post Office Directory

1901/Frederick Meadowcroft/Manager of Public House/42/Stepney/Census *
1901/Elizabeth Meadowcroft/Wife, Manageress of Public House/43/Camberwell/Census
1901/Emily Meadowcroft/Daughter/6/City/Census
1901/Emma Maslin/Aunt, Housekeeper/64/Long Sutton, Lincolnshire/Census
1901/Laura Strutt/Barmaid/30/Battersea/Census
1901/Bertha Alderman/Barmaid/19/Buckinghamshire/Census
1901/Annie Young/Barmaid/18/Clerkenwell/Census
1901/Alice Berkshire/Waitress/18/Rotherhithe/Census

1910/Henry Cole/../../../Post Office Directory

1911/Frederick Meadcroft/Public House manager/52/Stepney, London/Census
1911/Elizabeth Meadcroft/Wife, Manageress/53/Camberwell, London/Census
1911/Emily Meadcroft/Daughter/16/City, London/Census
1911/Marjorie McDowell/Visitor/15/Minories, London/Census
1911/Maria Lousia/Barmaid/26/Barnsbury, London/Census
1911/Maud Kendall/Barmaid/24/London/Census
1911/Miriam Seabourn/Barmaid/18/Canning Town, London/Census
1911/Ada Sturgeon/Kitchenmaid/25/Bethnal Green, London/Census

1915/Henry Cole/../../../Post Office Directory *

1921/Julia E Cole/../../../Hughes Directory

1944/Copes Taverns Ltd/../../../Post Office Directory