Search London wiki and Pub wiki history sites
All public house, restaurants, bars etc closed for the forseeable future on 20th March 2020, but this is a history site. But how about the landlords give their tenants a break, no business, then please charge them no rent.
Hope, 4 Kenton street, St George Bloomsbury, London WC1
St George Bloomsbury pub index
This is in Wilmot street prior to being called Kenton street in 1874 and earlier.
A listing of historical London public houses, Taverns, Inns, Beer Houses and Hotels in St George Bloomsbury parish, London.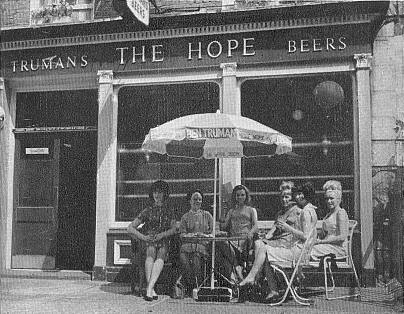 Mrs & Mrs Bonehill recently entertained some glamour models at their house, at the Hope, Kenton Street in 1963
Kindly provided by Alex Wilkinson
Residents at this address
1825/Mr Henry Salisbury/../../../Licensed Victuallers Association

1839/Catherine Hockley Salisbury/../../../Pigots Directory

1842/C S Salisbury/../../../Robsons Directory

1848/Henry John Salisbury/../../../Post Office Directory

November 1849/Henry John Salisbury/Outgoing Licensee/../../Era Newspaper

November 1849/Henry Smith/Incoming Licensee/../../Era Newspaper

1851/Henry Smith/Licensed Victualler/43/Eastbourne, Sussex/Census
1851/Samuel Crooks/Barman/31/Strand, Middlesex/Census
1851/Samuel Abson/Waitress/25/Stangrove, Brecon/Census
1851/Mary A Gray/Cook/25/Mere, Wiltshire/Census
+ Lodgers

1856/Henry Smith/../../../Post Office Directory

July 1855/to Ann Smith, administratix of Henry Smith/ Incoming Licensee /../../Era

1861/William H Manley/Publican/31/London/Census
1861/Anne Manley/Wife/18/Sussex/Census
1861/William H Manley/../1 month/London/Census
1861/Mary Shire/Mother in Law/47/Sussex/Census
1861/Maria Pinkney/House Servant, Widow/56/Surrey/Census
1861/Ruben Chaney/Potman/22/Kent/Census

1869/William Henry Manley/../../../Post Office Directory

September 1870/William Henry Manley/Outgoing Licensee/../../Era Newspaper

September 1870/Charlotte Stedman/Incoming Licensee/../../Era Newspaper

1874/M Barton/../../../LV Directory

1881/Walter Barber/Licensed Victualler/30/Islington, Middlesex/Census

1882/Walter Barber/../../../Post Office Directory

George Absell is at the Britannia I St Ann's Place, Limehouse 1864 - 1868; the Blue Anchor, Bell Court, 164 Fenchurch Street, City 1868 - 1870; the Crooked Billet, 43 King David Lane, Shadwell 1870 - 1873, and again 1882 -1887 (taken over by Florence Absell (? daughter); the Greyhound , 32 Old Ford Road, Bethnal Green 1880 - 1884; the Dreghorn Castle, 157 Queen's Crescent, Haverstock Hill, St Pancras 1880 - 1882 ; and the Hope, 4 Kenton Street, Brunswick Square, St Pancras 1883 - 1885. Helping to run the Norland Arms, 1 Addison Road North, Uxbridge Road, Notting Hill, Kensington, with his son, George E Absell, the landlord.

1884/George Absell/../../../Post Office Directory

1891/Ernest Edward Hy Clark/../../../Post Office Directory

1895/William Henry Redmond/../../../Post Office Directory

1899/William Henry Redmond/../../../Post Office Directory

1901/William H Redmond/Licensed Victualler/50/Shoreditch, London/Census
1901/Annette J Redmond/Wife/50/Bethnal Green, London/Census
1901/Charles J Redmond/Son, Wood carver/23/Westminster, London/Census
1901/Susan J Redmond/Daughter/21/Bromley by Bow/Census
1901/Florence E Redmond/Daughter/19/Bethnal Green, London/Census
1901/Percy J Redmond/Son/14/Walworth, London/Census
1901/Lillian Redmond/Daughter/11/Bermondsey, London/Census
1901/Henry B Redmond/Son/9/Mile End, London/Census
1901/William Norris/Barman/40/St Marylebone, London/Census
1901/Lucy Callopy/General Servant/23/Ireland/Census

1910/Mrs Annette Julia Redmond/../../../Post Office Directory

1915/Mrs Annette Julia Redmond/../../../Post Office Directory

1921/Mrs Annette Julia Redmond/../../../Post Office Directory

1944/Frederick Bonehill/../../../Post Office Directory

1963/Mr & Mrs Bonehill/../../../Black eagle Journal ***



*** Provided By Alex Wilkinson