Search London wiki and Pub wiki history sites
All public house, restaurants, bars etc closed for the forseeable future from 20th March 2020, but this is a history site.
Britannia, 44 Morris street E1
St George in East Index
Also listed as 44 Upper Chapman Street between to at least 1910. Morris Street intersected with Upper Chapman Street. It was closed in 2005 and is now a fast food outlet **
A listing of historical public houses, Taverns, Inns, Beer Houses and Hotels in St George In East, London - in East London.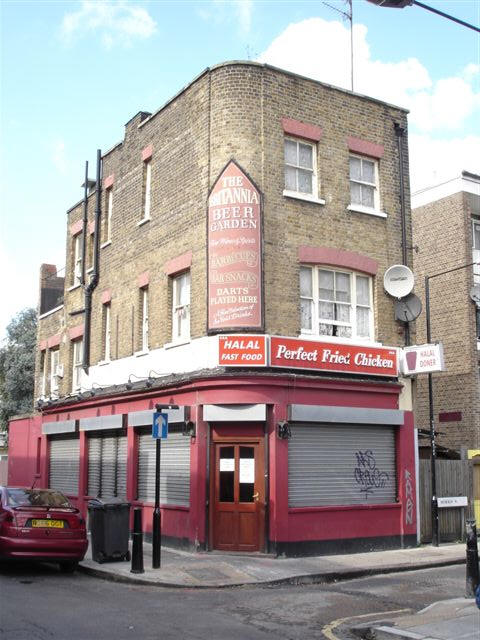 Britannia, 44 Morris Street - in September 2006
Kindly Provided by Stephen Harris
Residents at this address
1881/Reuben Hunt/Beer Retailer/45/Woburn, Bucks/Census ***
1881/Hephzibah Hunt/Wife/44/Spitalfields/Census
1881/Eliza A Hunt/Daughter, Assistant/20/Bethnal Green/Census
1881/Angelina Hunt/Daughter, Machinist/18/Bethnal Green/Census
1881/Hephzibah Hunt/Daughter/14/Bethnal Green/Census
1881/Ellen A Hunt/Daughter/12/Mile End Old Town/Census
1881/Reuben J Hunt/Son/5/Mile End Old Town/Census

In 1882, George Reuben Boustred, Book Binder marries Eliza Mary Ann Hunt, daughter of Reuben Hunt, Licensed Victualler at Tower Hamlets. They run the Prince Albert, Clark street for many years.

1891/Reuben Hunt/Beer Retailer/../../Post Office Directory

1891/Reuben Hunt/Beer Retailer/55/Buckinghamshire/Census
1891/Hepzibah Hunt/Wife/54/Spitalfields, London/Census
1891/Hepzibah Walbancke/Daughter/24/Bethnal Green/Census
1891/Charles Walbancke/Son in Law, Mineral water Traveller/26/Kingsland, London/Census
1891/Elizabeth Coombes/Granddaughter/10/Stepney, London/Census
1891/William H Walbancke/Grandson/3/Stepney, London/Census
1891/Mary A Smith/Visitor, Widow/76/Kingsland, London/Census
1891/Ellen Burwood/Domestic Servant/18/Shadwell, London/Census

In 1895 & 1899, Reuben Hunt is also a Beer Retailer at 87 & 89 Watney Street - the Old House at Home.

1895/Reuben Hunt/Beer Retailer/../../Post Office Directory

1899/Reuben Hunt/Beer Retailer/../../Post Office Directory

1901/Reuben Hunt/Beer Retailer, Widow/63/St Georges East, London/Census
1901/Angelina Weeks/Daughter, Housekeeper, Widow/38/St Georges East, London/Census
1901/Arthur Weeks/Grandson, Errand Boy/15/St Georges East, London/Census
1901/George Weeks/Grandson, Errand Boy/14/St Georges East, London/Census
1901/John Weeks/Grandson/10/St Georges East, London/Census
1901/Charles Weeks/Grandson/6/St Georges East, London/Census
1901/Alfred Weeks/Grandson/4/St Georges East, London/Census

1910/Reuben Hunt/Beer Retailer/../../Post Office Directory

1915/Mrs Angelina Weeks/Beer Retailer/../../Post Office Directory **

1921/Mrs Angelina Weeks/Beer Retailer/../../Post Office Directory ***

1934/Mrs Louisa Weeks/Beer Retailer/../../Kellys Directory ***

1938/Mrs Louisa Weeks/Beer Retailer/../../Post Office Directory ***

1944/Mrs Louisa Weeks/Beer Retailer/../../Post Office Directory ***

I came across your website on old East End pubs, when I was looking for the other pubs my great x3 grand father had. My grand father was Alfred Weeks, and he was the land lord of the Britannia up until 1983. He inherited it from his mother Louisa who was married to John Weeks - John Weeks' mother Angelina Weeks, formally Hunt was Reuben Hunts third daughter! ***

There is an article and a photograph in the local paper celebrating the 100 year anniversary of it being in the Hunt/Weeks family.....This was in the local paper in 1976; and I now know that Reuben took over the pub in 1876. He is in the "Britannia" in 1881, and they are in ''The British Queen'' on White Horse Lane in 1871. The historical details that have been passed down by my family are that Reuben had several daughters, three of which worked in Reuben's pubs. When Reuben died he left the pubs to his daughters. ***

With this information I found out the following:-

Elizabeth married Coombes and got the ''Old House at Home''.
Angelina got the Brittannia. Her husband Samuel Weeks was deceased. We knew this anyway.
Eliza married George Boustred and got the ''Prince Albert'' on Clark street.

The other two daughter Hepzibah and Ellen married the Walbancke brothers, who were tobacconists! ***

1963/Alf Weeks/../42/../Express Newspaper - 1976 ***

1976/Alf Weeks/../55/../Express Newspaper - 1976 ***

1988/A R Drake/../../../Trumans Watney List ***

1990/A R Drake/../../../Trumans Watney List ***




* Provided By Alex Wilkinson

** Provided by Stephen Harris

*** Lee Probyn