Search London wiki and Pub wiki history sites
All public house, restaurants, bars etc closed for the forseeable future from 20th March 2020, but this is a history site.
Old House at Home, 87 & 89 Watney street E1
St George in East Index
It closed in 2006 for conversion to residential use. **
A listing of historical public houses, Taverns, Inns, Beer Houses and Hotels in St George In East, London - in East London.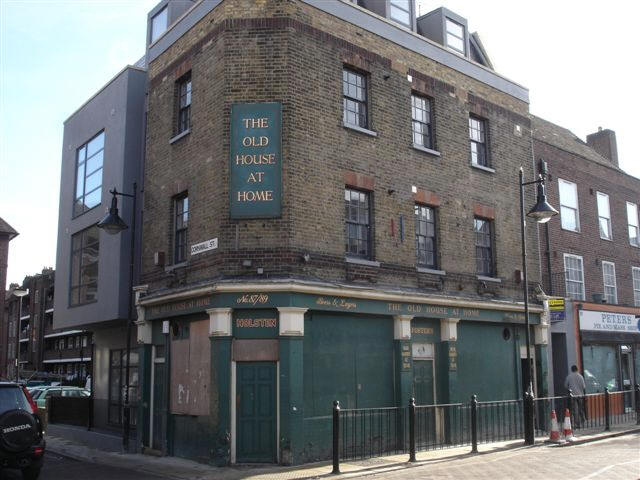 Old House at Home, 87 Watney Street - in February 2007
Kindly provided by Stephen Harris
Residents at this address
1882/Francis Daly/Grocer & Beer Retailer/../../Post Office Directory

Reuben Hunt is listed as the Beer Retailer at both here, and also 44 Upper Chapman Street - the Britannia. His grand daughter in 1891 is an Elizabeth Coombes, aged 10.

1891/Reuben Hunt/Beer Retailer/../../Post Office Directory

1891/Edward V Coombes/Beer Retailer/40/St Georges E, London/Census
1891/Elizabeth Coombes/Wife/32/Mile End, London/Census
1891/Angelina Coombes/Daughter/9/Stepney, London/Census
1891/Ada Coombes/Daughter/8/Stepney, London/Census
1891/Charles Coombes/Son/6/Stepney, London/Census
1891/Mary Ann Brown/Barmaid/19/St Georges E, London/Census

1895/Reuben Hunt/Beer Retailer/../../Post Office Directory

1899/Reuben Hunt/Beer Retailer/../../Post Office Directory

1901/Edmund V Coombes/Beer Retailer/50/St Georges East, London/Census
1901/Elizabeth A Coombes/Wife/42/Stepney, London/Census
1901/Ada E Coombes/Daughter, Barmaid/18/Stepney, London/Census
1901/Chas K Coombes/Son, Commercial Clerk/16/Stepney, London/Census
1901/Eliza Crawley/Barmaid/34/Whitechapel, London/Census
1901/Edith E Hall/Niece/13/Stepney, London/Census

1910/Edmund Vincent Coombes/Beer Retailer/../../Post Office Directory

My late Grandmother, Edith, lived with her aunt, Elizabeth Coombes in this pub at 87 Watney Street and worked as a barmaid until 1914 when she married my Grandfather, Frank Sheppard Williams who became the keeper of The Foresters beer house at 19 Rhodeswell Road, in Stepney. ***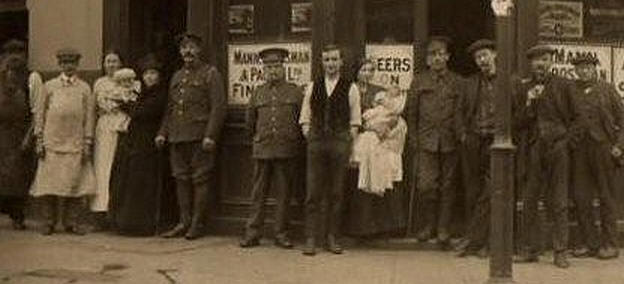 Outside the Forresters, Coutts Road - in 1914
Kindly provided by Bob Williams
I attach a photograph of The Foresters taken in August 1914 with my Grandfather (in waistcoat), Grandmother, holding my newborn Father, standing outside.
I was really thrilled to see a picture of The Old House at Home, it's nice to see it was still standing in 2007. My Great Grandfather, Augustus Williams was also a beer house keeper at the Gladstone, 37 Dean Street. ***

1911/Edmund Vincent Coombes/Beer House Manager/61/St Georges East, London/Census
1911/Elizabeth Ann Coombes/Wife, Assistant/52/Whitechapel, London/Census
1911/Edith Hall/Niece, Barmaid/23/Stepney, London/Census
1911/Lilian Allison/Niece, Domestic Servant/21/Stepney, London/Census
1911/Helen Needs/Aunt, Belt Hand/66/Spitalfields/Census
1911/Edmund Allen/Grandson/10/Stepney, London/Census

1914/Mrs Elizabeth Ann Coombes/Beer Retailer/../../Post Office Directory

1921/Mrs Elizabeth Ann Coombes/Beer Retailer/../../Post Office Directory

1938/Ernest W Reed/Beer Retailer/../../Post Office Directory

My parents owned this pub during WW2 and I remember we were surrounded by bomb ruins. My brother was born in 1945, after the War ended and we sold it. After pushing him home in his pram, where he had been born in the London Hospital, my Mother opened up the pub and served all evening.
I believe our brewers were Mann Crossman and Paulin. I was evacuated for a couple of years, with other pupils from Raines school in Arbour Square, Commercial Road, to Sussex.
We had a sign up in the bar which said "Hitler passed this way, Lest we forget". Shadwell Station was almost opposite, as was Shelstones, a shop owned by Jewish people and although I was very young, I seem to remember turning their light on, or off, if it was a Saturday as they would not do it on their Sabbath. During air raids, my mother would continue serving and the pianist would continue playing. Some of our customers were Dutch sailors. *

1944/Arthur Jn Ladbrook/Beer Retailer, 87 & 89 Watney Street E1/../../Post Office Directory

1971/../Old House at Home, 87 Watney Street E1/../../BT Telephone Directory

1983/../Old House at Home, 87 Watney Street E1, Watneys/../../Pub Directory

1988/Mr Ali/../../../Post Office Directory

1990/Mr Ali/../../../Post Office Directory



* Provided by Mrs Eileen Oliver (nee Ladbrook)

** Provided by Stephen Harris

*** Provided by Bob Williams