Search London wiki and Pub wiki history sites
All public house, restaurants, bars etc closed for the forseeable future from 20th March 2020, but this is a history site.
Balmoral Castle, 86 Glamorgan Street, Pimlico, St George Hanover Square SW1
St George Hanover Square pub history index
At 86 Glamorgan Street by 1910, although at 1 Rutland Terrace prior to this - the 1869 license transfer refers to Rutland Street. Now situated off Churchill Gardens Road, closed 2004 and covered with scaffold as of mid-2014. **
A listing of historical London public houses, Taverns, Inns, Beer Houses and Hotels in St George Hanover Square - London; and includes such areas of London as Knightsbridge, Mayfair and Pimlico.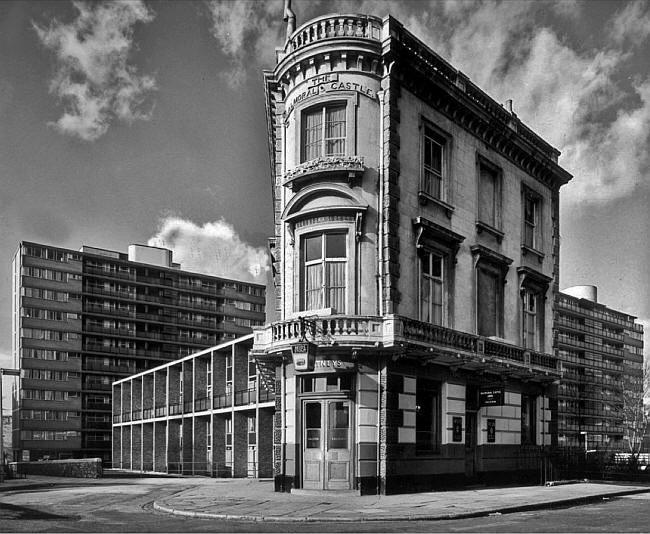 Balmoral Castle, 86 Glamorgan Street SW1 - circa 1969 surrounded by the newly built Churchill Gardens estate
Kindly provided by Vincent O'Loughlin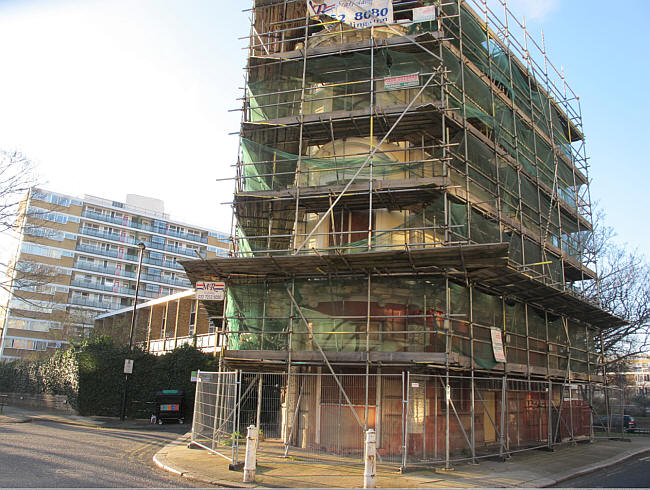 Balmoral Castle, 86 Glamorgan Street SW1 - in 2015
Kindly provided by Vincent O'Loughlin
Residents at this address
1856/James Burgess/../../../Post Office Directory

1862/Edwin Brisco/../../../Post Office Directory

1869/Alfred Henry Bell/../../../Post Office Directory

March 1869/Alfred Henry Hall/Outgoing Licensee/../../Era

March 1869/Richard William Newman/Incoming Licensee/../../Era

1871/Richard W Newman/Licensed Victualler/26/Pimlico, Middlesex/Census *
1871/Clara Newman/Wife/30/Tewkesbury, Gloucester/Census
1871/Richard Newman/Father, Widow/64/Longdon, Worcestershire/Census
1871/Elizabeth Thompson/Barmaid/25/Weston, Hereford/Census
1871/Henry Norman/Barman/17/Bulmer, Essex/Census
1871/Mary Rayner/Domestic Servant/48/../Census

Richard newman is at the Tyssen Arms, Dalston Lane by 1878*

1881/James Byrne/Hotel Keeper/35/Bloomsbury/Census
1881/Elizabeth Byrne/Wife/29/St Pancras/Census
1881/Amelia J Byrne/Daughter/2/St George Hanover Sq/Census
1881/William J Jennings/Head Barman/30/St Lukes/Census
1881/Charles Root/Second Barman/29/Cambridge/Census
1881/Lizzie Ramsden/Cook/30/Harpendon, Essex/Census
1881/Emily L Ramsden/Nurse/14/Harpendon, Essex/Census
1881/Walter H Johns/Third Barman/19/St George Hanover Sq/Census

1891/Charles George Butler/../../../Post Office Directory

Frank Cribb was at the Cross Keys, 31 Endell Street between 1879 & 1884

1891/Frank Cribb/Licensed Victualler/36/Kilburn, Middlesex/Census ***
1891/Alfred Cribb/Brother/39/Kilburn, Middlesex/Census
1891/Emelia Basten/Housekeeper/33/Marylebone/Census
1891/Philip Newcomb/Barman/22/Halsted, Essex/Census
1891/Robert Dean/Barman/19/Middlesex/Census

1895/Richard Maurice Jones/../../../Post Office Directory

1899/Richard Maurice Jones/../../../Post Office Directory

1910/Mrs Caroline Bannister/../../../Post Office Directory

1915/Edward Albert Jennings King/../../../Post Office Directory

1934/A W Brace/../../../Kellys Directory

1938/A W Brace/../../../Post Office Directory

1944/Harry Tetlow/../../../Post Office Directory



* Provided By Jackie Collings

** Provided By Tris

*** Provided By Tom Cribb