Search London wiki and Pub wiki history sites
All public house, restaurants, bars etc closed for the forseeable future from 20th March 2020, but this is a history site.
Cross Keys, 31 Endell street, Long acre WC2
St Giles pub history index
At 6 Endell Street before 1984; Endell street was earlier called Belton street; changing street name before 1848, but the wiki suggests this pub was constructed 1848-1849.
A listing of historical public houses, Taverns, Inns, Beer Houses and Hotels in St Giles in Fields, London. The St Giles in Fields , London listing uses information from census, Trade Directories and History to add licensees, bar staff, Lodgers and Visitors.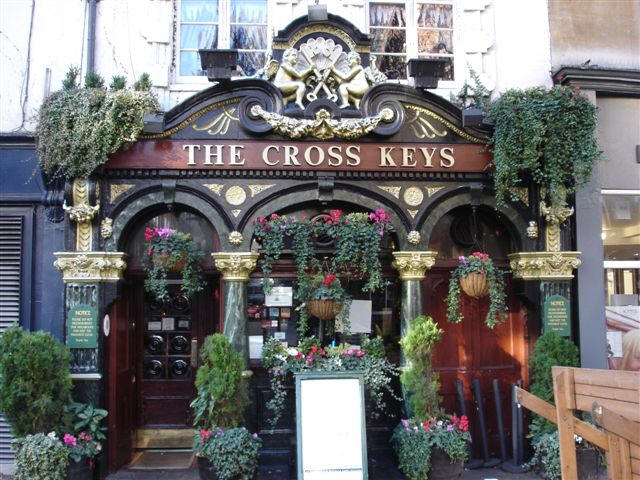 Cross Keys, 31 Endell Street - in December 2006
Kindly provided by Stephen Harris
The following entries are in this format:
Residents at this address
1829/J Goodwin, Cross Keys, 6 Belton street, Long acre/../../Robsons Directory

1832/David Wales/Cross Keys, 6 Belton street, Long acre /../../Robsons Directory

1833-34/David Wales/Cross Keys, 6 Belton street, Long acre /../../Pigots Directory

1839/James Cocks/Cross Keys, 6 Belton street, Long acre /../../Pigots Directory

1841/James Cox/Publican/65/../Census
1841/Sarah Cox/../45/../Census

1842/James Cox/Cross Keys, Belton street, Long acre /../../Robsons Directory

1843/James Cox/Cross Keys, 6 Belton street, Long acre /../../Post Office Directory

1846/James Cox/Cross Keys, 6 Belton street, Long acre /../../Post Office Directory

1848/James Cox/Cross Keys, 6 Endell street, Long acre/../../Post Office Directory

January 1849/James Cox/Outgoing Licensee/../../Era Newspaper

January 1849/Thomas Sutton Briggs/Incoming Licensee/../../Era Newspaper

August 1849/Thomas Sutton Briggs/Outgoing Licensee/../../Era

August 1849/William Henry Whiting Coman/Incoming Licensee/../../Era

1851/William Coman/Victualler/29/Brentford, Middlesex/Census
1851/Harriet Triphook/Sister/33/Brentford, Middlesex/Census
1851/Robert Triphook/Visitor, Publican/38/St James, Middlesex/Census
1851/George Bayant/Assistant/22/St Pancras, Middlesex/Census
1851/Catherine Riclett/House Servant/18/Worcestershire/Census
1851/Robert Triphook/Son/6 months/St Giles, Middlesex/Census

November 1852/William Whiting Henry Coman/Outgoing Licensee/../../Era Newspaper

November 1852/Ann Coman/Incoming Licensee/../../Era Newspaper

1856/Robert Triphook/../../../Post Office Directory

1861/William F Hards/Inn Keeper/33/Mereworth, Kent/Census
1861/Mary E Hards/Wife/33/Folkestone, Kent/Census
1861/Jane Hards/Daughter/3/Eltham, Kent/Census
1861/Louisa M Hards/Daughter/3/St Giles, Middlesex/Census
1861/John Crook/Barman/18/Lambeth, Surrey/Census
1861/George Amos/Potman/23/Walton, Norfolk/Census
1861/Mary Cockburn/House Servant/20/Liverpool, Lancashire/Census

1869/J Bayes/../../../Post Office Directory

1873/Henry Walter Pool/../../../Holborn Petty Sessions

1874/Henry Walter Pool/../../../Holborn Petty Sessions

1874/J A Prike/../../../Licensed Victualler & Hoteliers Directory

1875/James Alexander Prike/../../../Holborn Petty Sessions

1876/James Alexander Prike/../../../Holborn Petty Sessions

1877/James Alexander Prike/../../../Holborn Petty Sessions

1878/James Alexander Prike/../../../Holborn Petty Sessions

1879/Frank Cribb/../../../Holborn Petty Sessions

1880//Frank Cribb/../../../Holborn Petty Sessions

1881/Frank Cribb/../../../Holborn Petty Sessions

1881/Frank Cribb/Licensed Victualler/27/Kilburn, Middlesex/Census
1881/Anne Cribb/Wife/27/Rougham, Suffolk/Census
1881/Nellie Grant/Barmaid/18/Shadwell/Census
1881/Jane Anne Smith/General Servant/18/Finchley/Census

1882/Frank Cribb/../../../Holborn Petty Sessions

1884/Frank Cribb/../../../Post Office Directory

Frank Cribb was at the Balmoral Castle, Pimlico by 1891

1891/Wm W Langley/../../../Post Office Directory

1895/Wm W Langley/../../../Post Office Directory

1899/Harvey James Greenfield/../../../Post Office Directory

1901/Joseph Page/Public House Manager/28/Canewdon, Essex/Census
1901/Alfred Embleton/Barman/21/Bow, London/Census
1901/Harvey Totman/Barman/22/Ramsgate, Kent/Census
1901/Albert Adcock/Visitor, Farmers Son/24/Wakering, Essex/Census

1915/William Tozer/../../../Post Office Directory

1934/Alexander Prudhomme/../../../Post Office Directory

1938/Alexander Prudhomme/../../../Post Office Directory

1944/Arthur Horsman/../../../Post Office Directory