Search London wiki and Pub wiki history sites
All public house, restaurants, bars etc closed for the forseeable future on 20th March 2020, but this is a history site. But how about the landlords give their tenants a break, no business, then please charge them no rent.
Fountain, 4 Foster lane, St Leonard Foster lane EC2
St Leonard Foster Lane index
At 4 Foster Lane in 1869 and earlier; The circa 1890 photo is of the Fountain, Foster Lane EC2, with landlord William Green. Next to the pub is the church of St Vedast. Both church and pub were badly damaged in the Blitz on the night of December 29th 1940. The church was restored, the pub was not. *
A listing of historical London public houses, Taverns, Inns, Beer Houses and Hotels in St Leonard Foster Lane parish, City of London.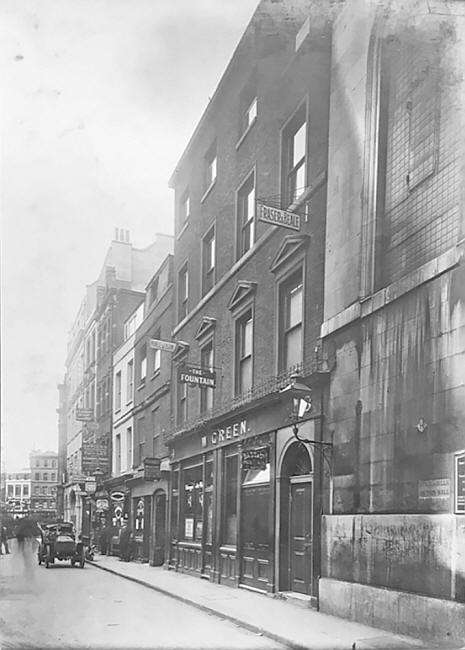 Fountain, 4 Foster Lane, St Leonard Foster lane EC2 - circa 1890 with landlord W Green
Kindly provided by Vincent O'Loughlin
Residents at this address.
1827/David Wilson, Fountain, Cheapside/../../Licensed Victuallers Association

1829/D Wilson, Fountain, Foster court, Cheapside/../../Robsons Directory

1833-34/David Wilson, Fountain, Foster court, Cheapside/../../Pigots Directory

1836/David Wilson, Fountain, 4 Foster Lane, Cheapside/../../Pigots Directory

1841/J Brodie/../../../Post Office Directory

1841/James Brodie/Victualler/35/Scotland/Census
1841/Jane G Brodie/../35/Scotland/Census
1841/Margaret Brodie/../13/Scotland/Census
1841/James Striblet/Male Servant/25/Middlesex/Census
1841/George Dance/Male Servant/15/Middlesex/Census
1841/Hannah Seller/Female Servant/30/../Census

1842/James Brodie/../../../Robsons Directory

1843/James Brodie/../../../Kellys Directory

1848/Mrs Elizabeth Matts/../../../Post Office Directory

1851/Mrs Elizabeth Matts/../../../Kellys Directory

1856/Mrs M H Sutton/../../../Post Office Directory

December 1860/Mary Head Sutton/Outgoing Licensee/../../Era

December 1860/Thomas Bourke/Incoming Licensee/../../Era

1861/Thos Rourke/Inn Keeper/30/Tunbridge Wells, Kent/Census
1861/Emma Rourke/Wife/34/Tamworth, Staffordshire/Census
1861/George Garward/Son/9/Westminster, London/Census
1861/Amelia Garward/Daughter/8/Westminster, London/Census
1861/Charlott Garward/Daughter/6/Westminster, London/Census
1861/Catherine Dillon/Servant/24/Ireland/Census

1869/Mrs Ann Eve/../../../Post Office Directory

1874/W M Hartridge/../../../Licensed Victualler & Hoteliers Directory

1881/William Green/Licensed Victualler/50/Paddington/Census
1881/Marian Green/Wife/42/St Pancras/Census
1881/Alice Maud Green/Daughter, Licensed Victualler/22/Camberwell/Census
1881/Sarah Green/Visitor, Licensed Victualler, Widow/81/Middlesex/Census
1881/Elizabeth Anderson/General Servant, Widow/45/(City)/Census

1882/William Green/../../../Post Office Directory

1884/William Green/../../../Post Office Directory

1891/Benjamin Green/../../../Post Office Directory

1899/Benjamin Green & Sons/../../../Post Office Directory

1910/Mrs Annie Eliz Gregory/../../../Post Office Directory

1911/Not a dwelling/../../../Census

1921/Mrs Elizabeth Harmer/../../../Post Office Directory

1923/Hannah Elizabeth Cartier/../../../Electoral Register

1934/Miss Gertrude Vale/../../../Post Office Directory

1938/Albert Vivian Cakebread/../../../Post Office Directory

1940/Albert Vivian Cakebread/../../../Post Office Directory



* Provided By Vincent O'Loughlin