Search London wiki and Pub wiki history sites
All public house, restaurants, bars etc closed for the forseeable future from 20th March 2020, but this is a pub history site.
College Arms, 2 Crowndale Road, Camden Town NW1
St Pancras index
The College Arms, Gloucester Place in the 1853 license transfer; and at 38 Gloucester place in the 1861 census. The address was also given as 191 Great College Street in 1862 and 1867 (the intersecting street). Rebuilt in the 1970s, closed and demolished in the 2000s. This pub's address was later 1 Royal College Street. *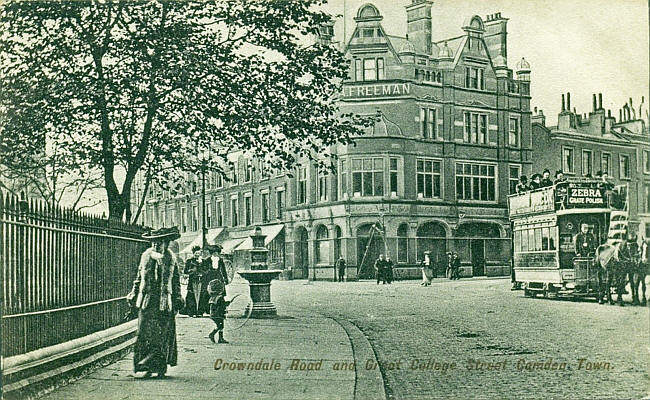 College Arms, Crowndale road at the corner of Great College street, circa1900 with landlord A Freeman
Kindly provided By Vincent O'Loughlin
Historical London public houses, Taverns, Inns, Beer Houses and Hotels.
Residents at this address.
September 1853/John Gethin Bartlett/Outgoing Licensee/../../Era Newspaper

September 1853/George Groome/Incoming Licensee/../../Era Newspaper

1856/George Groome/../../../Post Office Directory

1861/Mary Misons/Licensed Victualler, Widow/53/St Pancras, Middlesex/Census
1861/Elizabeth Jackson/Visitor, Widow/62/Montgomeryshire/Census
1861/Mary Gale/Barmaid/22/Lamberhurst, Sussex/Census
1861/Louisa Saville/Servant/18/St Pancras, Middlesex/Census
1861/David Ayling/Barman/17/Berkhampstead, Hertfordshire/Census
1861/Francis Francis/Potman/18/Thaxted, Essex/Census

1862/Henry Archer Purchase/../../../Post Office Directory *

1867/Henry Archer Purchase/../../../Licensed Victuallers Association records *

1869/Henry A Purchase/../../../Post Office Directory

1871/Henry A Purchase/Licensed Victualler, Widow/43/Dorchester/Census
1871/Jno Harris/Waiter/29/Dalston/Census
1871/Charles Stockley/Waiter/16/Hornsey/Census
1871/Eliza Hatton/Cook/24/Worcester/Census

1881/Frederick Austin/Publican/30/Surbiton, Surrey/Census
1881/Mary A Austin/Wife/30/Hook, Surrey/Census
1881/Marion Austin/Daughter/6/St Pancras, Middlesex/Census
1881/Frederick W Austin/Son/4/St Pancras, Middlesex/Census
1881/Florence Austin/Daughter/2/St Pancras, Middlesex/Census
1881/Herbert Austin/Son/8 months/St Pancras, Middlesex/Census
1881/John Leadbetter/Brother in Law, Publican/45/Stourport, Worcester/Census
1881/Mary Reeves/Barmaid/27/Chichester, Sussex/Census
1881/Annie Dunmore/Barmaid/23/London, Middlesex/Census
1881/Annie Lillie/Domestic Servant/25/Northampton/Census
1881/Caroline Frost/Nursemaid/19/Byfleet, Surrey/Census
1881/Charles Prince/Potman/30/Somerset/Census

1882/Frederick Austin/../../../Post Office Directory

1884/Frederick Austin/../../../Post Office Directory

1891/Frederick Austin/../../../Post Office Directory

1891/Frederick Austin/Licensed Victualler/40/Surbiton, Surrey/Census
1891/Mary A Austin/Wife/40/Hook, Surrey/Census
1891/Frederick W Austin/Son/14/St Pancras, London/Census
1891/John L Austin/Son/2/St Pancras, London/Census
1891/Emily A Miller/Barmaid/21/Barnsbury/Census
1891/Lily Evans/Barmaid/22/Camden Town, London/Census
1891/John Berry/Barman/24/Holborn/Census
1891/Mary Mathews/Domestic Servant/24/Chertsey, Surrey/Census
1891/Harris Matthews/Domestic Servant/19/Chertsey, Surrey/Census

Frederick Austin is next the licensee of the John Bull, Chiswick High road by 1894

1895/Frederick Austin/../../../Post Office Directory *

1899/Frederick Austin/../../../Post Office Directory *

1901/John A Freeman/Licensed Victualler/44/St Pancras, London/Census
1901/Fanny E Freeman/Wife/46/Somerset/Census
1901/Lilian M Freeman/Daughter/23/Islington, London/Census
1901/Eliza J M Freeman/Daughter/19/Bow, London/Census
1901/John A Freeman/Son/14/Bow, London/Census
1901/Elizabeth Brooks/Barmaid/31/Hoxton, London/Census
1901/Agnes Housden/Barmaid/23/Bedford, Bedfordshire/Census
1901/Eliza Barton/Cook/59/Scotland/Census

1910/John Albert Freeman/../../../Post Office Directory

1915/Drew & Fountain/../../../Post Office Directory

1921/Alfred Edward Drew/../../../Post Office Directory

1927/Davy & Co. Ltd/../../../Post Office Directory *

1934/Davy & Co Ltd/../../../Post Office Directory

1938/Phineas Morris Bass/../../../Post Office Directory

1940/Albert George Evans/../../../Post Office Directory

1942/Albert George Evans/../../../Post Office Directory

1944/Albert George Evans/../../../Post Office Directory

1966/Courage (E) Ltd & W Ellard, College Arms, 2 Crowndale road NW1/../../Licensed Victuallers Association



* Provided By Tris