Search London wiki and Pub wiki history sites
All public house, restaurants, bars etc closed for the forseeable future from 20th March 2020, but this is a history site.
John Bull, 590 High Road, Chiswick W4
Chiswick pub history index
All of the early census for the John Bull Inn are listed under Acton, whilst the directories refer to it being in Chiswick. The address in 1881 and 1891 is at Chingford road. This pub is now called the Gunnersbury. **
A listing of historical public houses, Taverns, Inns, Beer Houses and Hotels in Middlesex. The Middlesex listing uses information from census, Trade Directories and History to add licensees, bar staff, Lodgers and Visitors.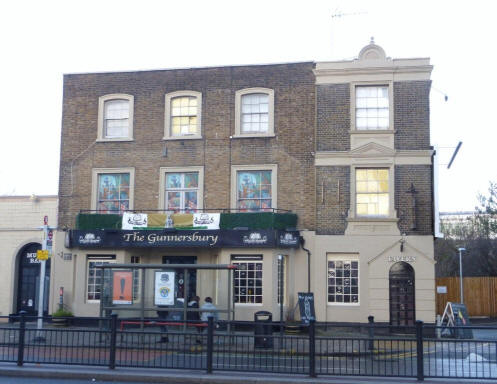 John Bull, 590 Chiswick High Street, W4 - in January 2010
Kindly provided by Stephen Harris
Residents at this address
May 1855/William Braid/Outgoing Licensee/../../Era

May 1855/Susan Hamilton/Incoming Licensee/../../Era

November 1856/Susan Hamilton/Outgoing Licensee/../../Era Newspaper

November 1856/Wm Budnell/Incoming Licensee/../../Era Newspaper

1881/W C Harrison/Licensed Victualler/38/Teddington, Middlesex/Census
1881/M Harrison/Wife/39/Surrey/Census
1881/F W Harrison/Son/13/Paddington, Middlesex/Census
1881/Ada Harrison/Daughter/11/Paddington, Middlesex/Census
1881/Sidney Harrison/Son/9/Paddington, Middlesex/Census
1881/Ernest Harrison/Son/7/Cranford, Middlesex/Census
1881/Ethel Harrison/Daughter/5/Acton, Middlesex/Census
1881/Edgar Harrison/Son/3/Acton, Middlesex/Census
1881/Clara Milner/Barmaid, Widow/35/Bloomsbury, Middlesex/Census
1881/A Taylor/General Servant/20/Longney, Gloucester/Census
1881/_ Trundgett/Nurse/30/Chiswick, Middlesex/Census

1890/William Harrison/../../../Post Office Directory

1891/William C Harrison/Licensed Victualler/48/Paddington, London/Census
1891/Marian Harrison/Wife/48/Souithwark, Surrey/Census
1891/Frederick W Harrison/Son, Coach Builder/23/Paddington, London/Census
1891/Ada Harrison/Daughter/21/Paddington, London/Census
1891/Sidney A Harrison/Son, Saddler/19/Paddington, London/Census
1891/Ernest Harrison/Son, Clerk to Wood Worker/17/Cranford, Middlesex/Census
1891/Edgar Harrison/Son/13/Acton, Middlesex/Census
1891/Percy S Harrison/Son/6/Acton, Middlesex/Census
1891/Maud Washington/Barmaid/20/Bermondsey, Surrey/Census
1891/Emily Ruth/General Servant/27/Harleston, Norfolk/Census

1893/W E Harrison/../../../Kelly's Directory for Ealing & Acton etc.. 1893-94 **

Frederick Austin is previously the licensee of the College Arms, 2 Crowndale road, Camden town.

1894/Frederick Austin/../../../Post Office Directory

1896/Frederick Austin/../../../Post Office Directory

1899/Frederick Austin/../../../Post Office Directory

1901/Mary A Austin/Licensed Victualler, Widow/50/Epsom, Surrey/Census
1901/Frederick W Austin/Son/24/Camden Town, London/Census
1901/Florence Austin/Daughter/22/Camden Town, London/Census
1901/Herbert Austin/Son, Job Master/20/Camden Town, London/Census
1901/Adeline Austin/Daughter/16/Camden Town, London/Census
1901/John Austin/Son/12/Camden Town, London/Census
1901/Kate Boon/Barmaid/27/Stamford West, Essex/Census
1901/Edith Gatley/Barmaid/23/Kingston on Thames, Surrey/Census
1901/John G Broadribb/Page/17/Paddington, London/Census

1907/Arthur Turnell/../../../Kelly's Directory for Ealing & Acton etc.. **

1914/Robert James/../../../Post Office Directory

1926/Rt James/../../../Post Office Directory

1938/Wm N Fitzgibbon/../../../Post Office Directory

1944/Wm N Fitzgibbon/../../../Post Office Directory



** Provided By Stephen Harris