Red Lion, 13 St Marys Road, Ealing, Middlesex W5
at Park Place in 1871 census
Ealing pub history index
A listing of historical public houses, Taverns, Inns, Beer Houses and Hotels in Middlesex. The Middlesex listing uses information from census, Trade Directories and History to add licensees, bar staff, Lodgers and Visitors.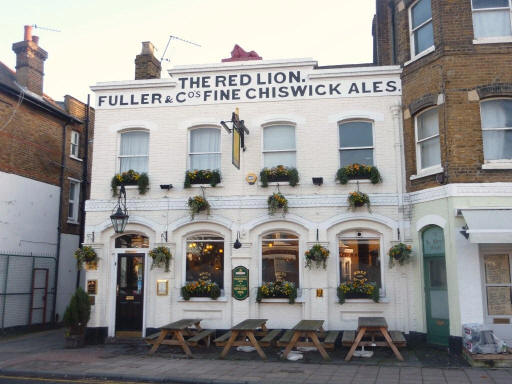 Red Lion, 13 St Mary's Road, Ealing, W5 - in January 2010
Kindly provided by Stephen Harris
[an error occurred while processing this directive]
Residents at this address.
1825/Mary Whitehead of Kingsland Road / Owner/../../Fullers Brewery records held at London Metropolitan Archives **

1826/Charles Mathews/../../../Pigots Directory

1830/Mary Whitehead / Owner/../../Sun Fire Office records held at Guildhall Library **

1836/James Littleboy of Hanwell / Owner/../../Fullers Brewery records held at London Metropolitan Archives **

1839/Charles Mathews/../../../Pigots Directory

1851/William Argent/../../../Post Office Directory *

1851/William Argent/Victualler/36/Hammersmith, Middlesex/Census
1851/Sarah Argent/Wife/36/Hammersmith, Middlesex/Census
1851/William Argent/Son/5/Ealing, Middlesex/Census
1851/Henry Argent/Son/4/Ealing, Middlesex/Census
1851/George Argent/Son/2/Ealing, Middlesex/Census
1851/Ann Argent/Daughter/11 months/Ealing, Middlesex/Census
1851/Hannah Weeden/General Servant/19/Ruislip, Middlesex/Census
1851/James Monksfield/Lodger/76/London, Middlesex/Census
1851/Patrick Rogers/Lodger, Bricklayers Labourer/50/Rosbourn, Ireland/Census

1855/William Argent/../../../Post Office Directory **

1861/Joseph Clark/Licensed Victualler/36/Hammersmith, Middlesex/Census
1861/Hannah Clark/Wife/40/Thornham, Gloucestershire/Census
1861/Elizabeth Weston/Sister in Law/25/Gloucestershire/Census
1861/Mary Wallace/House Servant/16/Alperton, Middlesex/Census
+ Lodgers

1866/Joseph Clark & James Cooke/../../../Post Office Directory *

1871/James Cook/Publican/46/Bisham, Berkshire/Census
1871/Maria Cook/Wife/46/Marylebone, Middlesex/Census
1871/James Cook/Son, Carpenter/21/Bisham, Berkshire/Census
1871/Mary E Cook/Daughter/22/Bisham, Berkshire/Census
1871/Arthur J Cook/Son, Butcher/18/Bisham, Berkshire/Census
1871/Herbert Cook/Son/9/Bisham, Berkshire/Census

James Cook & family are at the Alfreds Head, Lambeth by 1881

May 1872/James Cook/Outgoing Licensee/../../Era

May 1872/George Driver/Incoming Licensee/../../Era

1874/George Driver/../../../Post Office Directory *

1878/George Driver/../../../Post Office Directory *

1881/George Driver/Publican/52/Barham, Suffolk/Census
1881/Harriet Driver/Wife/25/Harrow, Middlesex/Census
1881/Elizabeth Walker/Sister, Widow/49/Barham, Suffolk/Census
1881/John T Walker/Nephew, Barman/21/Lambeth/Census

1889/Walter George King/../../../Kelly's Ealing & Acton Directory, 1889-90 **

1890/Walter G King/../../../Post Office Directory

1891/Walter G King/Licensed Victualler/31/Hammersmith, Middlesex/Census
1891/Elizabeth King/Wife/36/Commale, Devon/Census
1891/Francis G King/Son/4/Welbury, Middlesex/Census
1891/Wilfred V King/Son/6 months/Ealing, Middlesex/Census

1893/Walter George King/../../../Kelly's Ealing & Acton Directory, 1893-94 **

1894/W G King/../../../Post Office Directory

1896/Walter G. King/../../../Kelly's Directory *

1899/Walter G King/../../../Post Office Directory

Walter G King is a retired publican by the 1901 census

1907/Thomas Arthur Groves/../../../Kelly's Directory **

1914/Benjamin Westlake/../../../Post Office Directory

1926/Gilbert F Durston/../../../Post Office Directory

1933/Gilbert F. Durston/../../../Kelly's Directory *

1937/Albert W Lambert/../../../Post Office Directory



* Provided By Ewan

** Provided By Stephen Harris