Packhorse, Egham Hill, Egham, Surrey TW20 0BQ
Egham Pubs history index
This pub is now called the Royal Ascot Inn (2011); then named the Monkeys Forehead; and again the Packhorse in 2017. It is a not-for-profit enterprise, i.e. a community pub! **
Directory of Pubs in the UK, historical public houses, Taverns, Inns, Beer Houses and Hotels in Surrey . The Surrey listing uses information from census, Trade Directories and History to add licensees, bar staff, Lodgers and Visitors.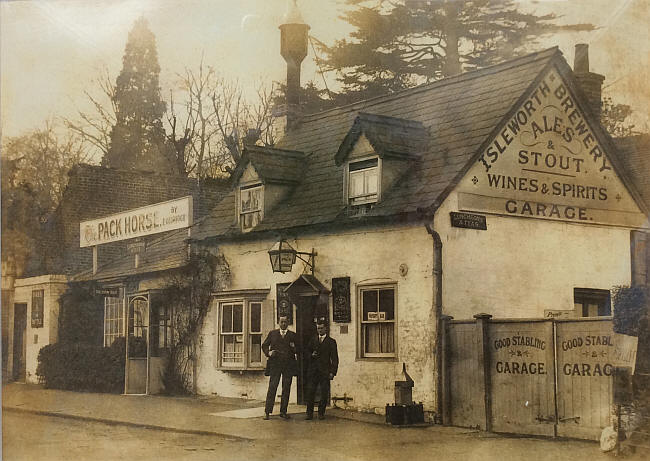 Pack Horse, Egham Hill, Egham - Licensee George Boddy on the left of picture
Kindly provided by Veronica (nee Boddy)
The following entries are in this format:
Year/Publican or other Resident/Relationship to Head and or Occupation/Age/Where Born/Source.
1822/Francis Perkins/Pack Horse/../../Petty Sessions

1825/Francis Perkins/Pack Horse/../../Petty Sessions

1839/Mrs Woodham/../../../Pigots Directory

1855/Maurice Davey/../../../Post Office Directory **

1867/B Hall/../../../Post Office Directory of Surrey **

In 1861, George is an Errand Boy, living at or next to the Mansion House Tavern, Kennington Park Road. By the 1871 census, George Boddy is a barman at his fathers pub, the Duke of Sussex, Acton. His father is also George Boddy.

1878/George Boddy/../../../Post Office Directory of Surrey **

1881/George Boddy/Publican/35/Mortlake, Surrey/Census
1881/Eliza Boddy/Cousin, Housekeeper/23/Blackfriars, Surrey/Census

1891/George Boddy/../../../Kelly's Directory **

1891/George Boddy/Licensed Victualler/44/Mortlake, Surrey/Census
1891/William Boddy/Nephew/15/Pimlico, London/Census
1891/Eva M Davis/General Servant/21/Salisbury, Wiltshire/Census

The February 1892 Petty sessions lists the Pack Horse, Egham hill. George Boddy is the current licensee; and it is 360 yards from Waggon and Horses, alehouse

1901/George Boddy/Licensed Victualler/55/Mortlake, Surrey/Census
1901/Emily L Paris/General Servant/43/Acton, Middlesex/Census
1901/William Pidgeon/Lodger, Labourer/47/Basingstoke, Hampshire/Census

The 1903 Petty sessions lists the Pack Horse, Egham Hill, Robert Dobbs is the current licensee; and it is 300 yards from Waggon and Horses, 391 yards from The Castle, with 1 room and stabling for 7 horses

1911/Robert Dobbs/Publican/46/Peterborough, Northampton/Census
1911/Annie Dobbs/Wife/50/Egham, Surrey/Census
1911/Jane Elizabeth Randall/Sister in Law, Assistant/44/Egham, Surrey/Census
1911/Maria Oades/Servant/64/Egham, Surrey/Census

1913/John H Randall/../../../Kelly's Directory of Surrey **

1937/Sidney Albert Moth, Pack Horse, Egham Hill, Egham/../../Kellys Directory

1938/Sidney Albert Moth/../../../Kelly's Directory of Surrey **



** Provided By Stephen Harris