Bell, 617 Forest Road, Walthamstow
Walthamstow pub history index
The 1915 winner of the East London & City CAMRA East London pub of the year.
A listing of historical public houses, Taverns, Inns, Beer Houses and Hotels in Essex. The Essex listing uses information from census, Trade Directories and History to add licensees, bar staff, Lodgers and Visitors.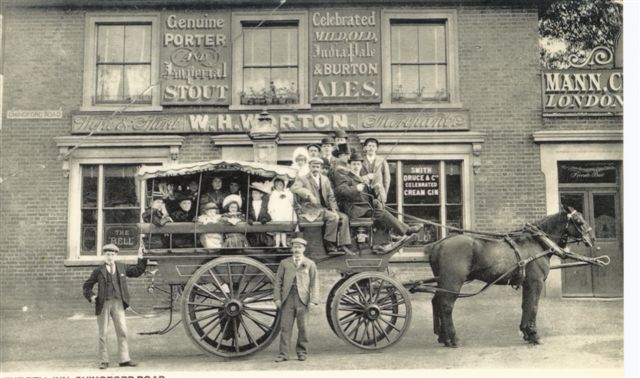 The Bell Inn circa 1900-1910

The Bell Inn, Hoe Street circa 1900 ( this is a thumbnail to a huge picture)
Kindly provided by Colleen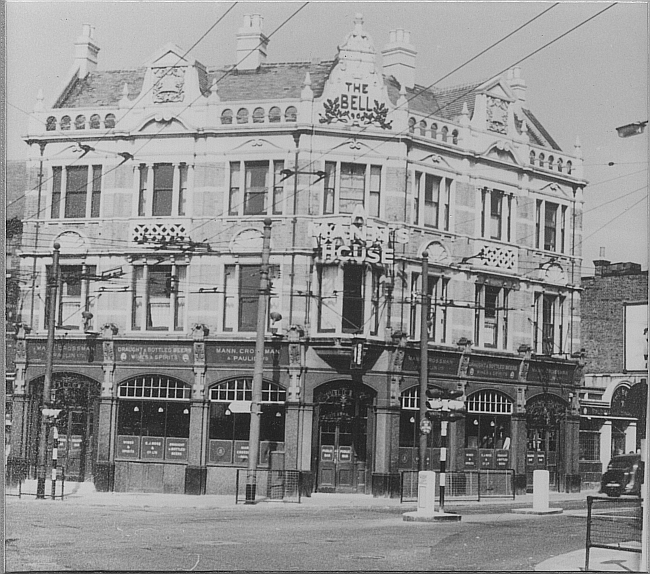 Bell, 617 Forest Road, Walthamstow - circa 1947
Kindly provided by, and copyright of Brian Fowler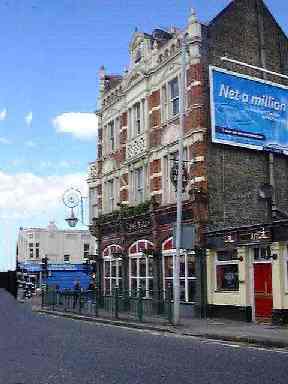 6th April 2000
Taken by Ian Rose.
Residents at this address.
1861/William Foyne/Licensed Victualler/../../History of Walthamstow 1861

1862/William Foyne/../../../Kelly's

1870/James Gilburt/../../../Kelly's

1874/Henry Nunn/../../../Kelly's

1881/William F. McDaniel/Licensed Victualler/61/Shoreditch, Middlesex/Census
1881/Martha A. McDaniel/Wife/51/Aylesbury, Buckingham/Census
1881/Annue McDaniel/Daughter, Assistant/27/Shoreditch, Middlesex/Census
1881/John McDaniel/Son, Assistant/21/Shoreditch, Middlesex/Census
1881/Fanny McDaniel/Daughter, Assistant/20/Shoreditch, Middlesex/Census
1881/Thomas Bromley/Father in Law, Annuitant/79/Aylesbury, Buckingham/Census
1881/Maria Ginger/General Servant/22/Aylesbury, Buckingham/Census

1882/William Frederick McDaniel/../../../Kelly's

1886/William Frederick McDaniel/../../../Kelly's

In 1891 and earlier, William Henry Worton is at the Duke of Wellington, Cyprus Street, Bethnal Green.

1896/William Henry Worton/../../../Petty Sessions

1901/William H Worton/Licensed Victualler/48/Shoreditch, London/Census
1901/Louisa M Worton/Wife/40/Shoreditch, London/Census
1901/William J Worton/Son, Barman/17/Bethnal Green, London/Census
1901/Julius H Worton/Son, Barman/15/Bethnal Green, London/Census
1901/Walter Hagger/Barman/21/Wood Green, London/Census
1901/Charles Hagger/Barman/17/Wood Green, London/Census
1901/John Knights/Barman/15/Walthamstow, Essex/Census
1901/William Porter/Potman, Widow/29/Bethnal Green, London/Census

1902/William Henry Worton/../../../Petty Sessions

1902/William Henry Worton/../../../Kelly's

1908/William Henry Worton/../../../Kelly's

1911/William Henry Worton/Licensed Victualler/58/Shoreditch, London/Census
1911/Louisa Maria Worton/Wife/50/Shoreditch, London/Census
1911/Archibald Shaw/Barman/23/Edinburgh/Census
1911/Arthur Martin/Barman/23/Bow, London/Census
1911/William Rolan/Barman/21/Ballyjamesduff/Census
1911/Gordon Jarrard/Barman/21/Tottenham/Census
1911/Robert Tarbard/Barman/21/Bow, London/Census
1911/Martrha Byard/Cook/47/Holborn, London/Census

1912/William Henry Worton/../../../Kelly's

1917/William Henry Worton/Wine & Spirit Merchant/../../Kelly's

27/9/1919/Athole Murray Kemp-Gee & Thomas Urbane Blanchett/../../../Petty Sessions

12/6/1920/Athole Murray Kemp-Gee & John Arnold Osteritter/../../../Petty Sessions

5/11/1921/Athole Murray Kemp-Gee & William George Mason/../../../Petty Sessions

21/7/1923/Henry Levy/../../../Petty Sessions

25/7/1925/Henry Levy & Ernest Walter Burden/../../../Petty Sessions

1925/Ernest Walter Burdon/../../../Kelly's

6/11/1929/Henry Levy & Arthur Frederick Pearson/../../../Petty Sessions

24/9/1930/Thomas Herbert Smythers & Arthur Frederick Pearson/../../../Petty Sessions

19/7/1933/Percy Francis Cole & Ivy Ethel Maude Cole/../../../Petty Sessions

1946 - October 1947/Frederick and Frances Fowler/Under Managers/../../Family History ***

Frederick and Frances Fowler were next at the The Mitre, Duke Street Hill, London Bridge. ***



*** Provided by Brian Fowler