Mitre, 242 Tooley Street, Southwark St Olave, Surrey, London
Southwark St Olave pub history index
Address becomes 14 & 15 Duke Street Hill, SE1 sometime after 1921. The pub was part of the Levy & Franks (Chef & Brewer) chain from about 1934. Now replaced with an office block.
A listing of historical London public houses, Taverns, Inns, Beer Houses and Hotels in Southwark St Olave, Surrey, London.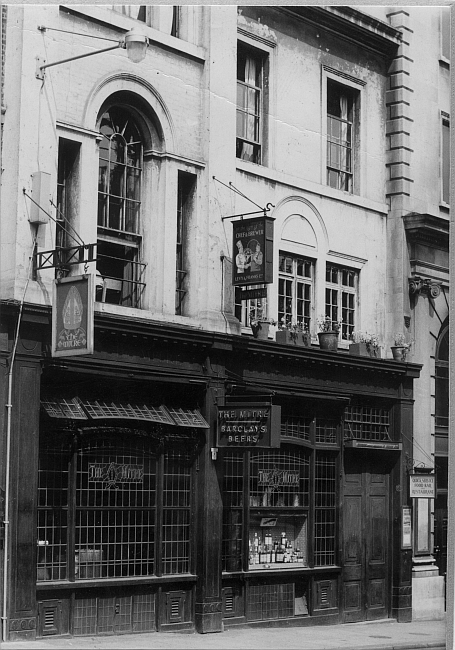 The Mitre, 14 & 15 Duke St Hill, London Bridge SE1 - in 1947
Kindly provided by, and copyright of Brian Fowler
Residents at this address.
1822/William Moffatt/Mitre, Tooley street/../../Victuallers Recognizance

1823/William Moffatt/Mitre, Tooley street/../../Victuallers Recognizance

1825/William Moffatt/victualler/../../Sun Fire Office records held at the London Metropolitan Archives *

1825/William Moffatt/Mitre, Tooley street/../../Victuallers Recognizance

1826/William Moffatt/Mitre, Tooley street/../../Victuallers Recognizance

1828-29/William Moffatt/../../../London Trade Directory **

1829/John Chapman/victualler/../../Sun Fire Office records held at the London Metropolitan Archives *

William Moffatt is listed as a dealer in bottled ale, at 8 Basinghall Street in the 1839 Pigots Directory, and then at the Admiral Benbow by 1842. **

1839/John Shaw/../../../Pigots Directory

1841/Jno Shaw/Mitre, 14 Duke Street & 242 Tooley Street/../../Pigots Directory

1843/John Shaw/Mitre, 14 Duke Street & 242 Tooley Street/../../Kellys Directory

1848/John Shaw/Mitre, 14 Duke Street & 242 Tooley Street/../../Post Office Directory

1851/Peter Nash Adkins/Mitre, 242 Tooley Street/../../Kellys Directory

1851/Peter Nash Adkins/Publican/33/Woolwich, Kent/Census
1851/Elizabeth Adkins/Wife/36/Hunton, Kent/Census
1851/Jane Bodkin/Servant/40/Hunton, Kent/Census
1851/Robert Blackburn/Servant/48/St Olaves/Census
1851/Elizabeth Matthews/Servant/18/Bermondsey, surrey/Census
1851/Julia Tobin/Servant/27/Ireland/Census

1856/John Morley/Mitre, 242 Tooley Street/../../Post Office Directory

1861/James Smith/Licensed Victualler/34/Norfolk/Census
1861/Sarah Smith/Wife/40/Leeds, Yorkshire/Census
1861/Sarah A Smith/Daughter/11/Southwark, Surrey/Census
1861/William Smith/Son/9/Southwark, Surrey/Census
1861/Harriet M Smith/Daughter/3/Southwark, Surrey/Census
1861/Jane L Smith/Daughter/2/Southwark, Surrey/Census
1861/Charles J Smith/Son/9 months/Southwark, Surrey/Census
1861/Martha Sparrow/Servant/14/Runham, Norfolk/Census
1861/Mary Atkin/Servant/14/Cambridge/Census
1861/Caroline Atkin/Servant/15/Southwark, Surrey/Census
1861/John Crook/Servant//Streatham, Surrey/Census

1869/Mrs Sarah Smith/Mitre, 242 Tooley Street/../../Post Office Directory

1881/Sarah Smith/Licensed Victualler, Widow/60/York/Census
1881/Charles J Smith/Son, Grocers Assistant/20/St Olaves, Surrey/Census
1881/Fanny Mickleburgh/Barmaid/18/Lambeth, Surrey/Census
1881/Daniel Toomey/Potman/23/Westminster, Middlesex/Census
1881/Marian Miller/Barmaid/19/Bermondsey, Surrey/Census
1881/Louisa Tirstshelt/Cook/28/St Albans, Hertford/Census

1882/Mrs Sarah Smith/../../../Post Office Directory

1884/Sarah Smith/../../../Post Office Directory

1891/Cornelius Driscoll/../../../Post Office Directory

1891/Cornelius Driscoll/Licensed Victualler/38/Limehouse, London/Census
1891/Kate Driscoll/Wife/37/St Georges East, London/Census
1891/Ge Jno Driscoll/Son/14/Poplar, London/Census
1891/Cornelius F Driscoll/Son/13/Poplar, London/Census
1891/Ada S Driscoll/Daughter/12/Poplar, London/Census
1891/Beatrice M Driscoll/Daughter/11/Poplar, London/Census
1891/Walter B Penny/Visitor/35/St Georges East, London/Census
1891/Emma L Price/Barmaid/20/Poplar, London/Census
1891/Rose Theakston/Cook, Widow/38/Dalston, London/Census

1895/Richard Edwards/../../../Post Office Directory

1899/George Shouler Gregory/../../../Post Office Directory

1910/Richard Kingston/../../../Post Office Directory

1915/Richard Kingston/../../../Post Office Directory

1921/Arthur Messenger/../../../Post Office Directory

1923/William Alfred Denney/Mitre, 24 Tooley street/../../Electoral Register
1923/Gertrude Mary Denney/../../../Electoral Register
1923/Charles Papps/../../../Electoral Register
1923/Harry Treblecock/../../../Electoral Register

1934/Levy & Franks Ltd/../../../Kellys Directory

1938/Levy & Franks Ltd/../../../Post Office Directory

1944/Levy & Franks Ltd/../../../Post Office Directory

Frederick and Frances Fowler started their careers as the under managers at the Bell, Forest Road, Walthamstow. ***

October 1947 - November 1951/Frederick and Frances Fowler/Managers, Levy & Franks/../../Family History ***

Frederick and Frances Fowler were next at the Golden Dragon, St Norbert Road, Brockley until May 1952; then at the Euston Tavern, Euston Road, Kings Cross. ***



* Provided By Ewan

** Provided By Jenny Pedley

*** Provided By Brian Fowler