Search London wiki and Pub wiki history sites
All public house, restaurants, bars etc closed for the forseeable future from 20th March 2020, but this is a history site.
Camberwell Arms, 17 Kimpton Road, Camberwell SE5
Camberwell pubs history index
Historical London public houses, Taverns, Inns, Beer Houses and Hotels.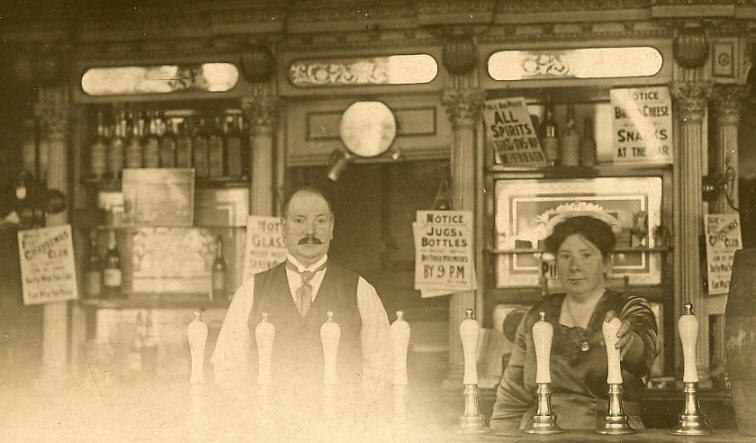 William Henry Newby, and assistant inside the Camberwell Arms - circa 1919
Kindly provided by Nicki Donaldson
Residents at this address.
March 1860/John Hight/Incoming Licensee/../../Era

April 1865/Stephen Knight/Outgoing Licensee/../../South London Chronicle

April 1865/John Chapman/Incoming Licensee/../../South London Chronicle

1867/Mrs Foster/../../../../Suburban Post Office Directory

Thomas Foster was my Great Great Grandfather. He had the Camberwell Arms in the 1871 census as well as 1881. In 1859, at the White Hart where his son is born. And again in 1861 he was a Beer Retailer at 64 Kennington Lane, named the White Hart in the census. Later, in the 1891 census, his son Arthur Bradwell Foster (my Great Grandfather) had the City of Norwich at 7 Maygood Street Islington; whilst Thomas was at a restaurant in Sevenoaks. *

1871/Thomas Foster/Licensed Victualler/42/Clapham, Surrey/Census *
1871/Elizabeth Foster/Wife/43/Cerne Abbas, Dorset/Census
1871/Harry E Foster/Son, Apprentice Cook/14/Kennington, Surrey/Census
1871/Arthur B Foster/Son/11/Kennington, Surrey/Census
1871/Beatrice E Foster/Daughter/10/Kennington, Surrey/Census
1871/Susan Johnson/Boarder, widow/68/Great Brumble Barton, Suffolk/Census
1871/Eliza Willis/General Servant/17/Walworth, Surrey/Census

1874/Thomas Foster/../../../Licensed Victualler & Hoteliers Directory

1878/Thomas Foster/../../../../Suburban Post Office Directory

1881/Thomas Foster/Licensed Victualler/53/Clapham, Surrey/Census
1881/Hannah Foster/Wife/33/Stroud, Gloucester/Census
1881/Beatrice E Foster/Daughter/19/Kennington, Surrey/Census
1881/Beatrice A Yoxall/Step Daughter/12/Bury St Edmond, Suffolk/Census
1881/Harry E Foster/Son, Cook/23/Kennington, Surrey/Census
1881/Arthur B Foster/Son, Inn Servant/23/Kennington, Surrey/Census
1881/Thomas P Foster/Son/7 months/Camberwell, Surrey/Census

1896/Henry Hill/../../../../Post Office Directory

1901/Mrs Charlotte Gauge/../../../../Post Office Directory

1904/William Lewis/../../../../Post Office Directory

1905/William Lewis/../../../../Post Office Directory

1908/Henry Prior/../../../../Post Office Directory

For earlier detail on Walter G Liles; see the Goldsmiths Arms, 34 Wynford Road, Islington **

1909/Walter G Liles/../../../../Post Office Directory **

1911/Alfred Lambert/../../../../Post Office Directory

1914/William Whay/../../../../Post Office Directory

I believe my Great Grandad, William Henry Newby, was the publican/worked at the Camberwell Arms and that my Grandmother grew up there.
Her name was Ethel Rhoda Newby, she was born in 1919, at that time their address was 61 Kimpton Road. Not sure if they lived at the pub, assumed they had but then see the numbers are different. I am attaching a photo taken within the pub of my Great Grandad, and an assistant.
I did go down to Kimpton Road to see if the house/pub were still there but a new housing development was now there. ***

1919/William Whay/../../../../Post Office Directory

1921/William Whay/../../../../Post Office Directory

1938/William Whay/../../../../Post Office Directory

1944/James George Bassett/../../../../Post Office Directory



* Provided By Stephen Reinstadtler

** Provided By Raymer Lofts

*** Provided By Nicki Donaldson