Search London wiki and Pub wiki history sites
All public house, restaurants, bars etc closed for the forseeable future on 20th March 2020, but this is a history site
Alderman, 37 Stannary Street, Lambeth SE11
Lambeth pub history index
10 Queen Street renamed 37 Stannary Street 16 February 1883, this was the Craven Arms 1852-73, renamed Alderman in 1873 **
A listing of historical London public houses, Taverns, Inns, Beer Houses and Hotels in the Lambeth parish, Surrey, London. This includes Kennington, Brixton, Lambeth, Norwood, Peckham & Waterloo Road.The Lambeth parish, Surrey, London Public House Trade Directory uses information from census, Trade Directories and History to add licensees, bar staff, Lodgers and Visitors.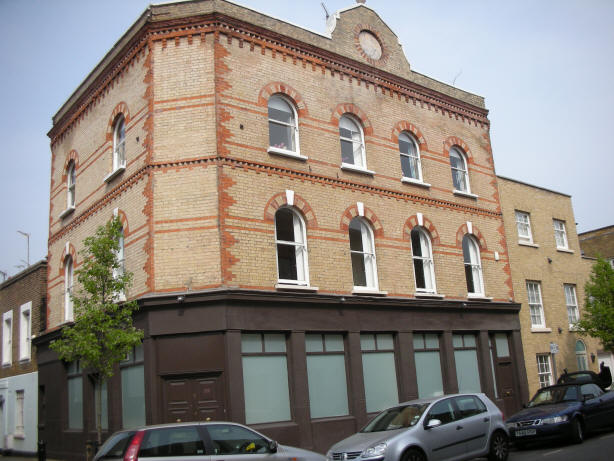 Alderman, 37 Stannery Street, London SE11 - circa 2007
Kindly provided by Trish Brown
Residents at this address.
1881/G H Stubbs/Licensed Victualler, Widow/54/Liverpool, Lancashire/Census
1881/Thomas Stubbs/Son/31/Liverpool, Lancashire/Census
1881/Maria Flux/Housekeeper/53/Isle Of Wight, Hampshire/Census
1881/Mary A Bolton/Domestic Servant/16/Cork Co, Ireland/Census

1884/Geo H Stubbs/../../Post Office Directory

1891/George Henry Stubbs/../../Post Office Directory

1895/George Henry Stubbs/../../Post Office Directory

1899/Arthur Edward Cutchey/../../Post Office Directory

1910/Mrs Martha Twigg/../../Post Office Directory

1915/Mrs Martha Twigg/../../Post Office Directory

1921/Samuel William Twigg/../../Post Office Directory

I believe my grandfather, as well as his son, ran this pub up until 1939. I have found it listed in the phone directory under William Kirby (along with the King and Queen in Newington, and the Lamb and Flag in Homerton). Although grandad (William Kirby) kept control of the Alderman, I believe his son, William James Kirby ran it along with his brother George Kirby. William James went down to Dorking area and started working on other pubs: The Star in Dorking, the Parrot at Forest Green near Dorking and the Cricketers at Downside near Leatherhead. I know all of this because I have recently communicated with William James's son, Bryan who worked with "Bill" until Bill's untimely death at age 57.

The Alderman only bears an identifying plaque, and must be a residence now. My cousins Bryan and Pamela were both born above the pub and the place of residence on William James' marriage certificate in 1933, was The Alderman on Stannary street. When George married in 1939, The Alderman was given as his address as well. However, I do know that George was at that time running The Railway Hotel in Egham. During the war, his wife Phyllis Kirby (phone directory in 1943) ran it until his return. Shortly after George's return, he left it - about 1946. Apparently it was once a lovely pub but has fallen into bad times. ***

1933/William James Kirby/../../Marriage Certificate***

1933/W J Kirby/../../BT Telephone Directory [RELiance 1855] ***

1934/Wm Jas Kirby/../../Kellys Directory

1935/W J Kirby/../../BT Telephone Directory [RELiance 1855] ***

1938/Wm Jas Kirby/../../Post Office Directory

1944/Wm Verge/../../Post Office Directory

1955/Rosina Verge/../../../.. **



** Provided By Bill Rigby

*** Provided By Trish Brown